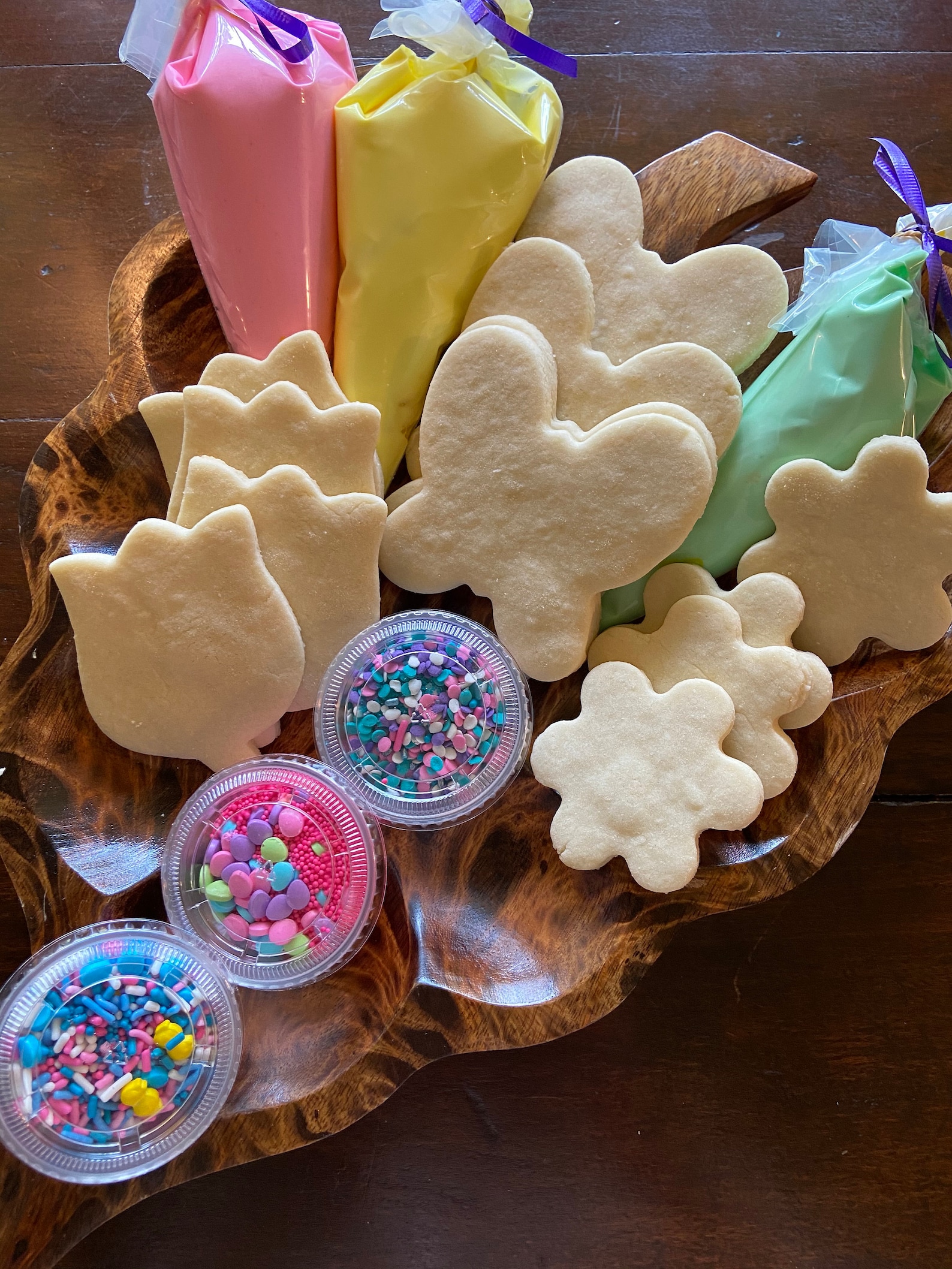 Spring Cookie Decorating Kit, Butterfly Cookie Decorating Kit
Springtime cookie decorating kits for you and your kids. Kids love this because it's not only creative but delicious!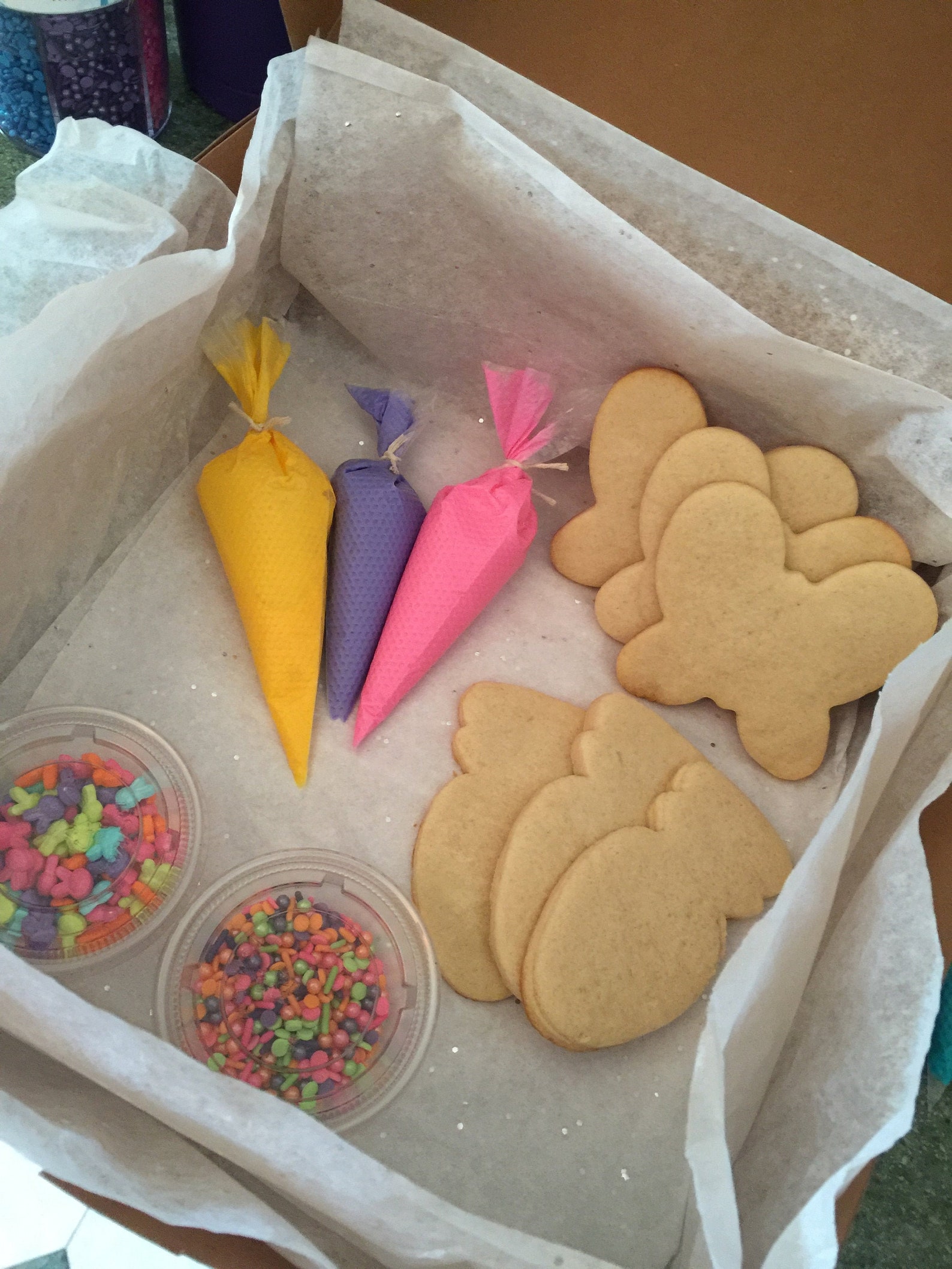 Quarantine Cookie Kit / Easter Spring Cookie Kit! Half Dozen: Carrot, Butterfly, & Sprinkles | Decorate Your Own Cookie Kit
Right now, it is safe to say that children (and adults) are cooped up! This decorate-your-own cookie kit provides a fun, and delicious, distraction! Give your kids or a friend the opportunity to make a tasty masterpiece! I make each kit fresh upon order, so allow 1 day before being shipped.
The cookies are roughly 3 – 3.5″
Royal icing colors (Option A)
1- Yellow
2- Pink
3- Purple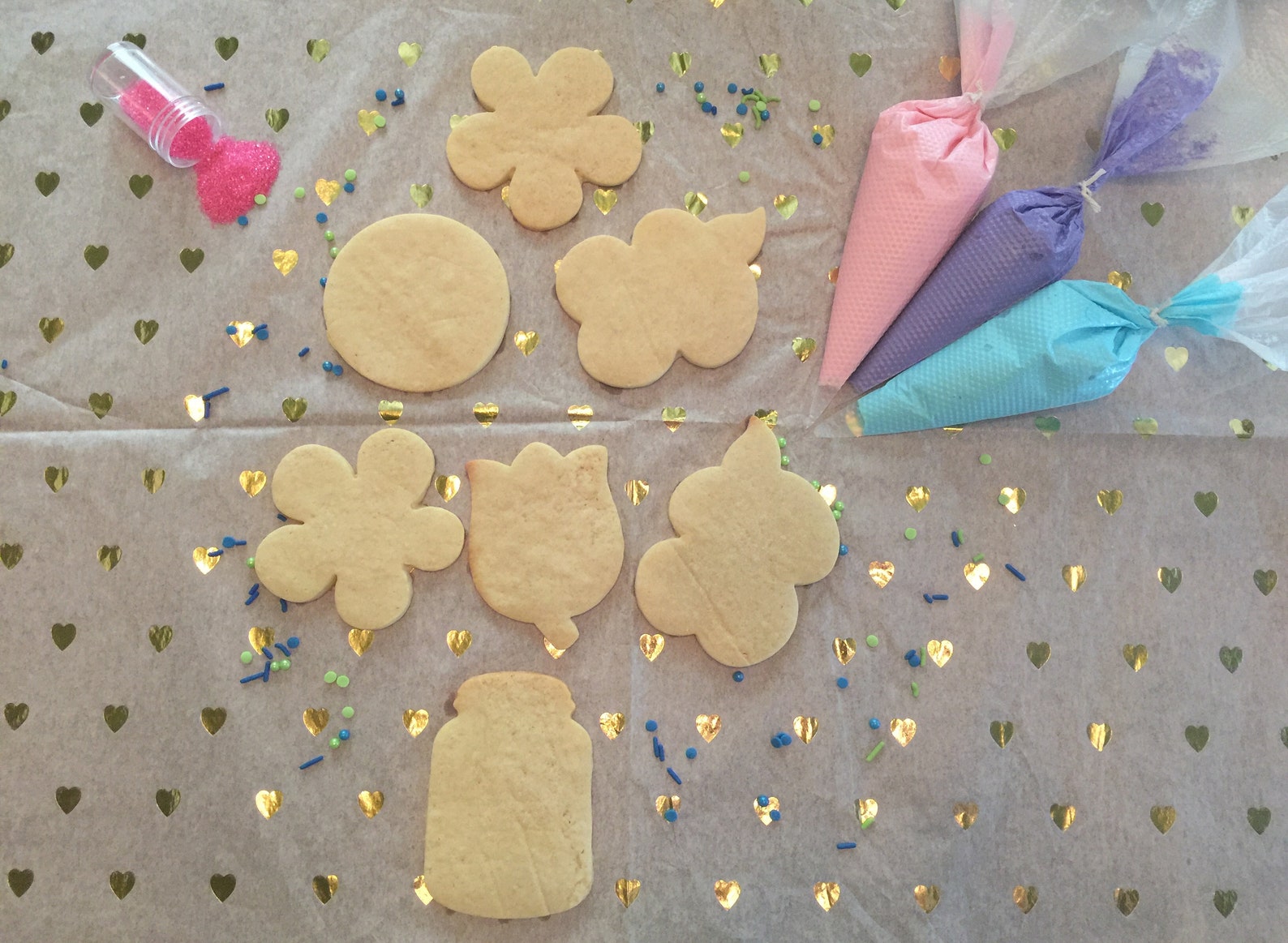 Sugar Cookie Kit | Cookie Boquet Gift | Spring Cookies
The cookies are roughly 3 – 3.5″
Royal icing colors
1- Light Pink
2- Purple
3- Light Blue. light pink sanding sugar and white pearl sphere sprinkles.
Cookies will be wrapped to ensure freshness.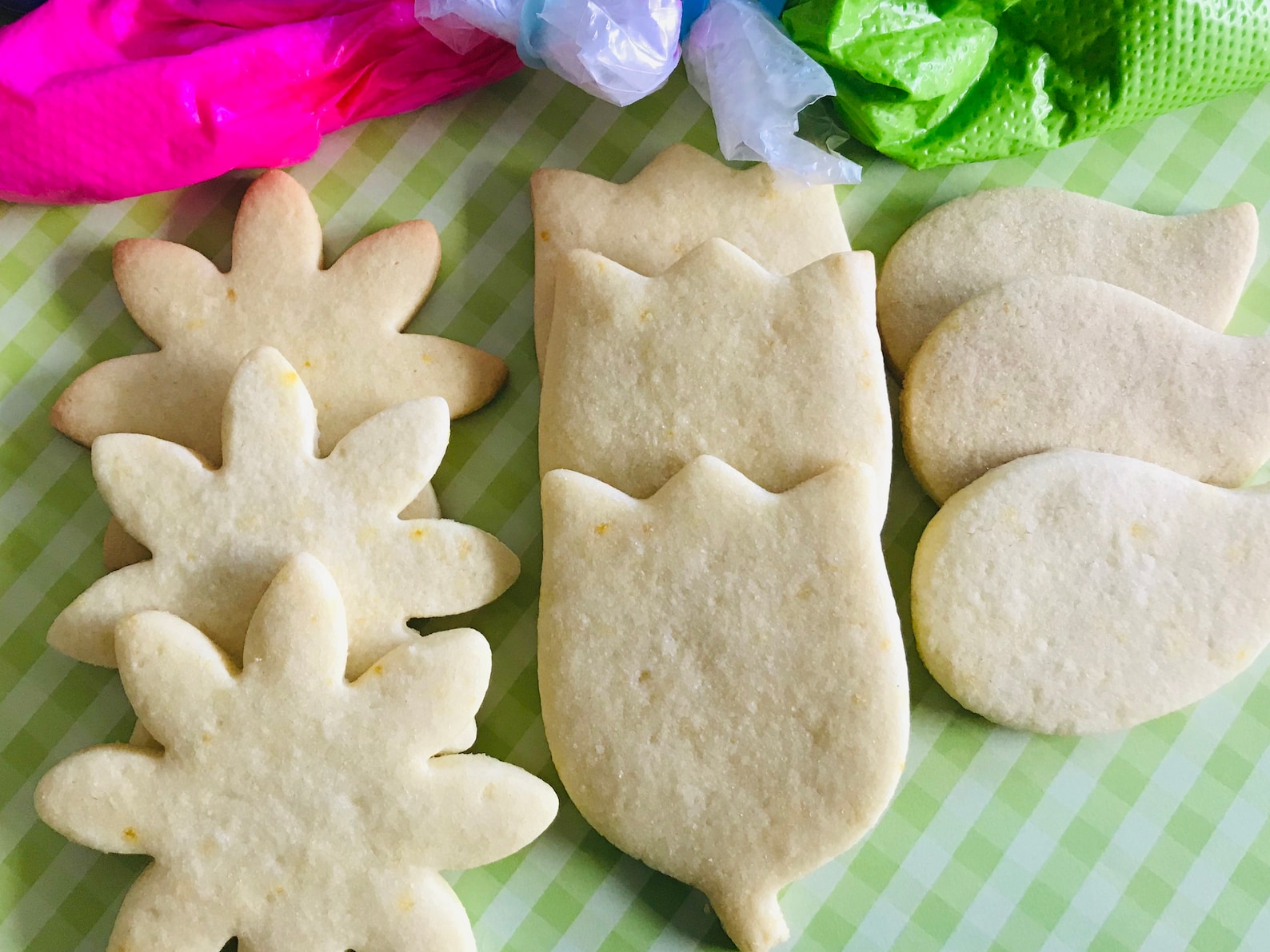 The DIY Cookie Kit is perfect for a party activity or with friends and family. Each kit is designed for all ages to decorate . Everything has been included so you can let your creativity run wild without the mess of baking.
Kit includes:
9 Orange-Vanilla fresh baked sugar cookies that are heat-sealed for maximum freshness.
4 different icing colored bags
2 bags of sprinkles
1 set of instructions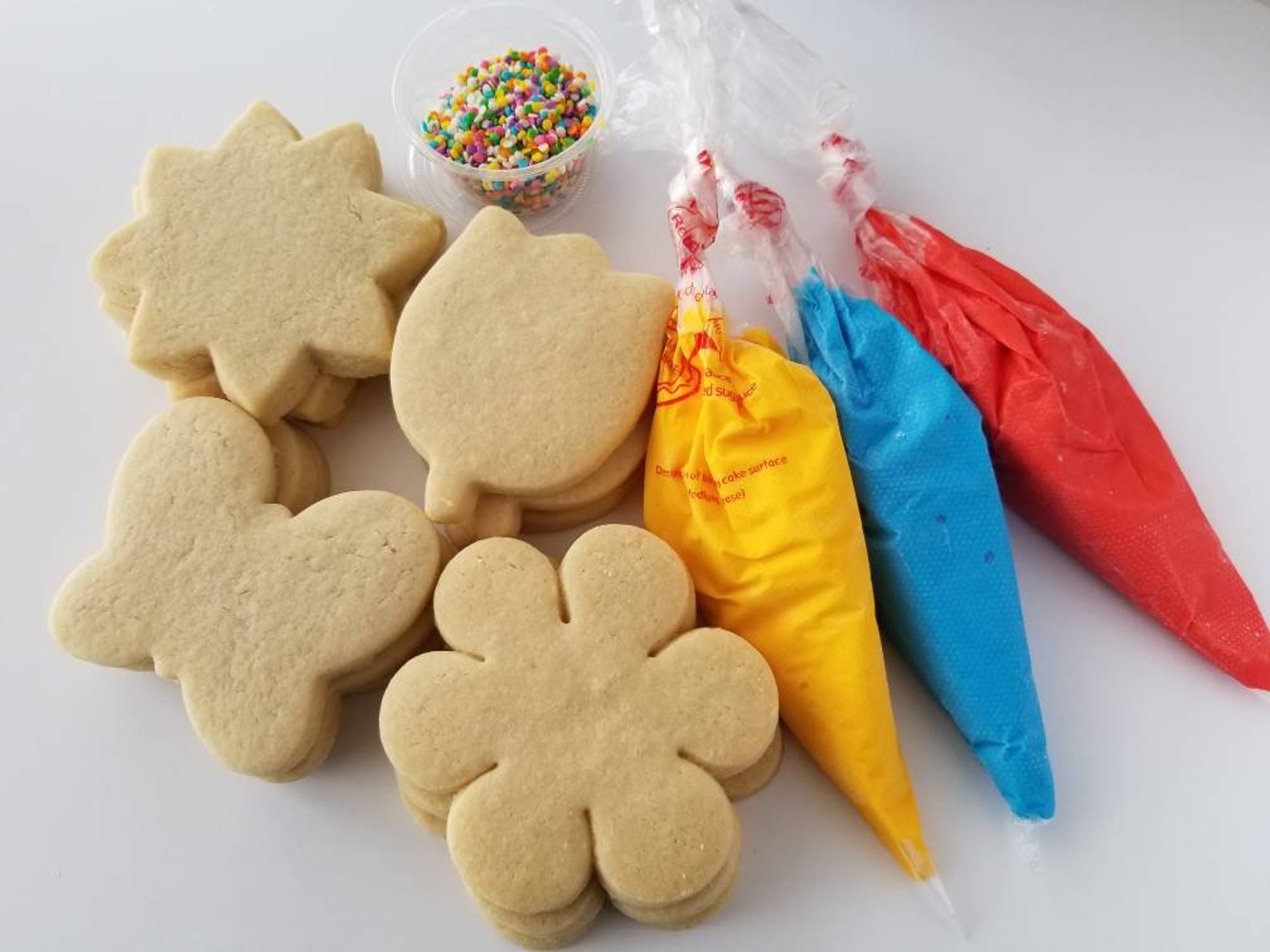 Cookie Decorating Kit (SPRING)
Save the hassle of making your own cookies and icing and purchase this kit instead. Includes: 1 dozen Spring cookies, 3 colors of royal icing in piping bags, sprinkles, and basic instructions.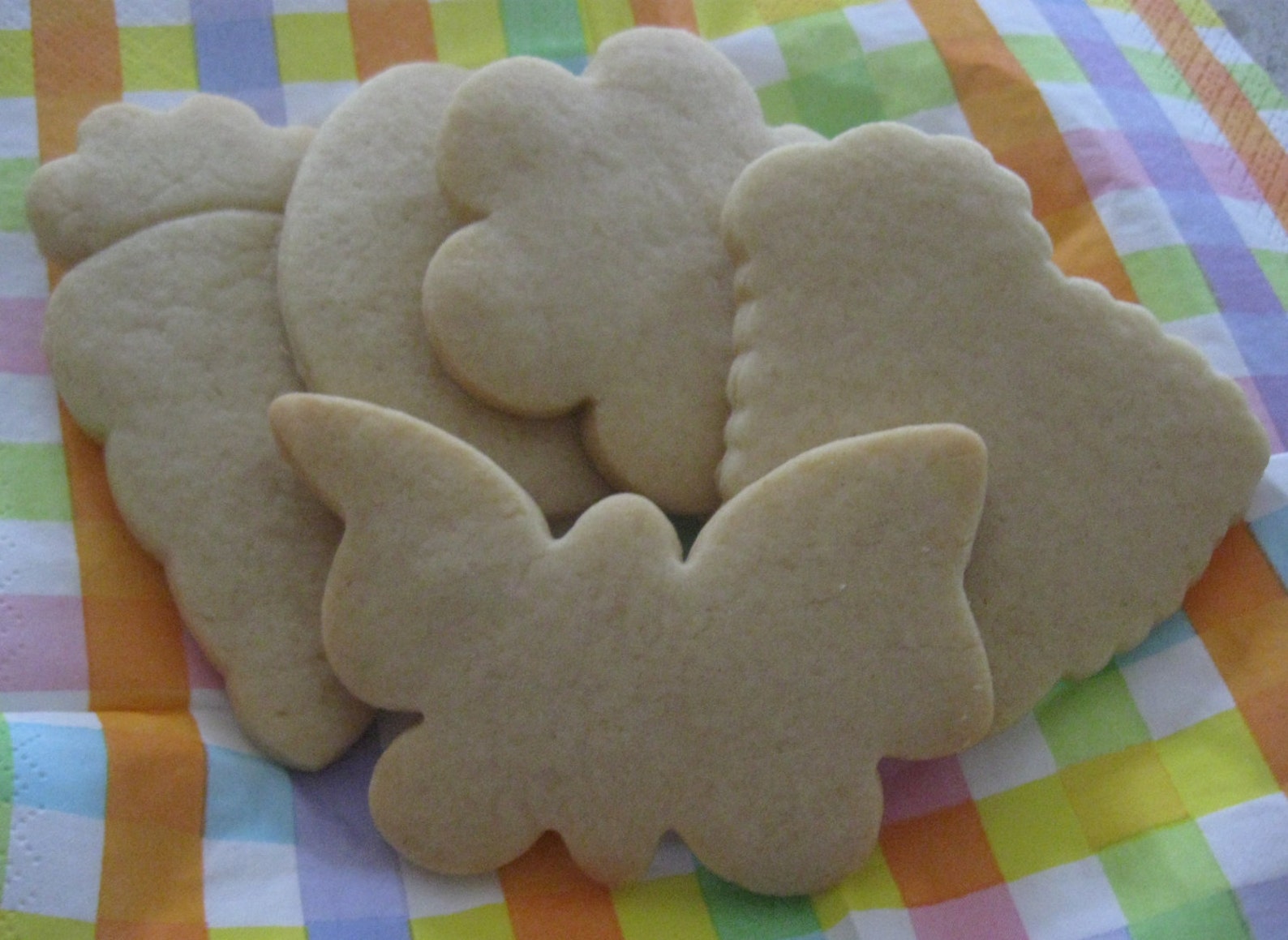 Easter Cookie, Spring Cookie, Almond Cookie, Kids Craft, Decorating Party, CutOut Cookie
You will receive 2 dozen unfrosted Spring cut out cookies (lamb, egg, bunny, carrot, flower and butterfly) 4 of each shape unless otherwise specified.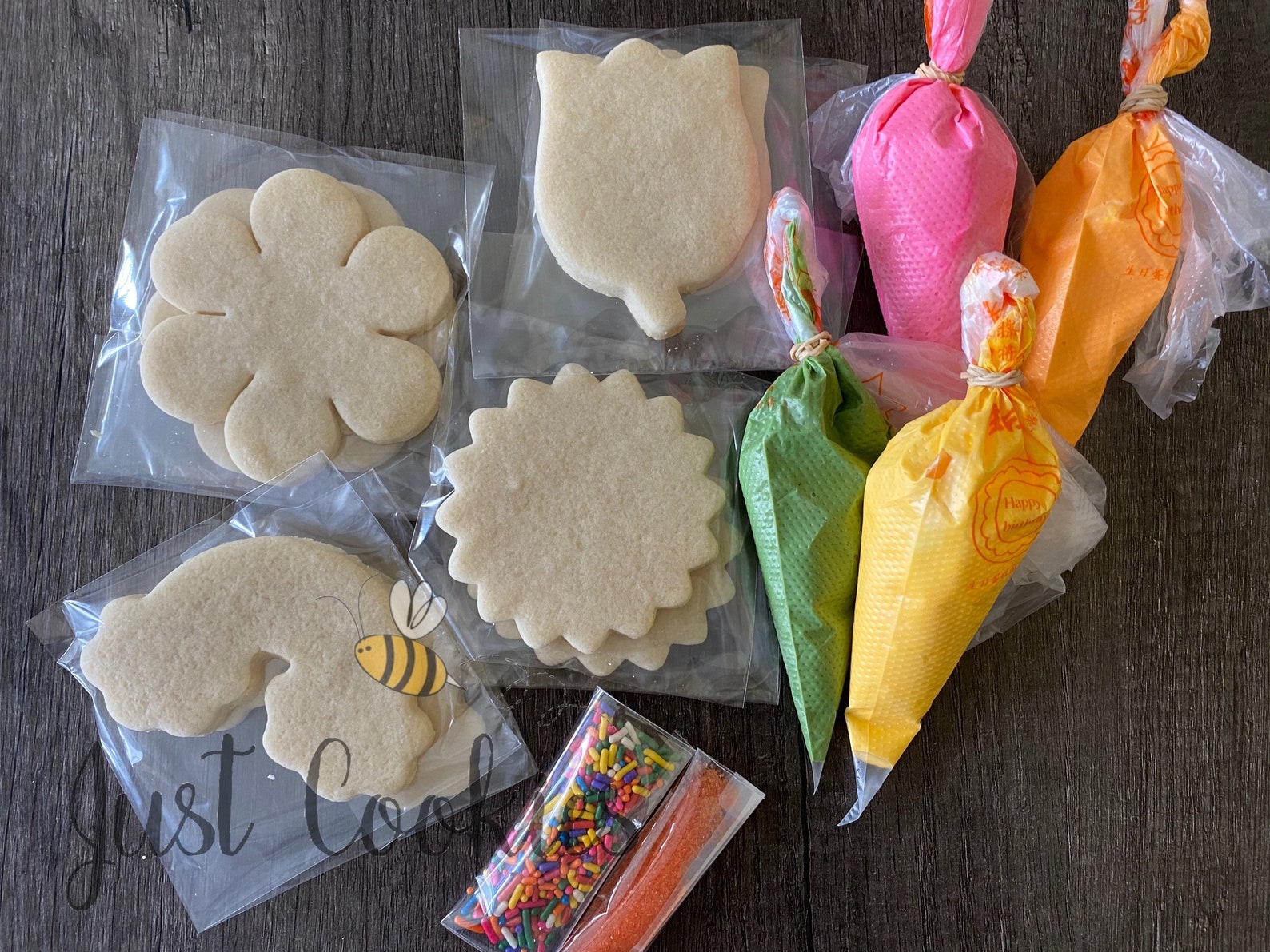 Decorate Your Own Cookie Kit-Spring
8 cookies
4 bags of icing
Sprinkles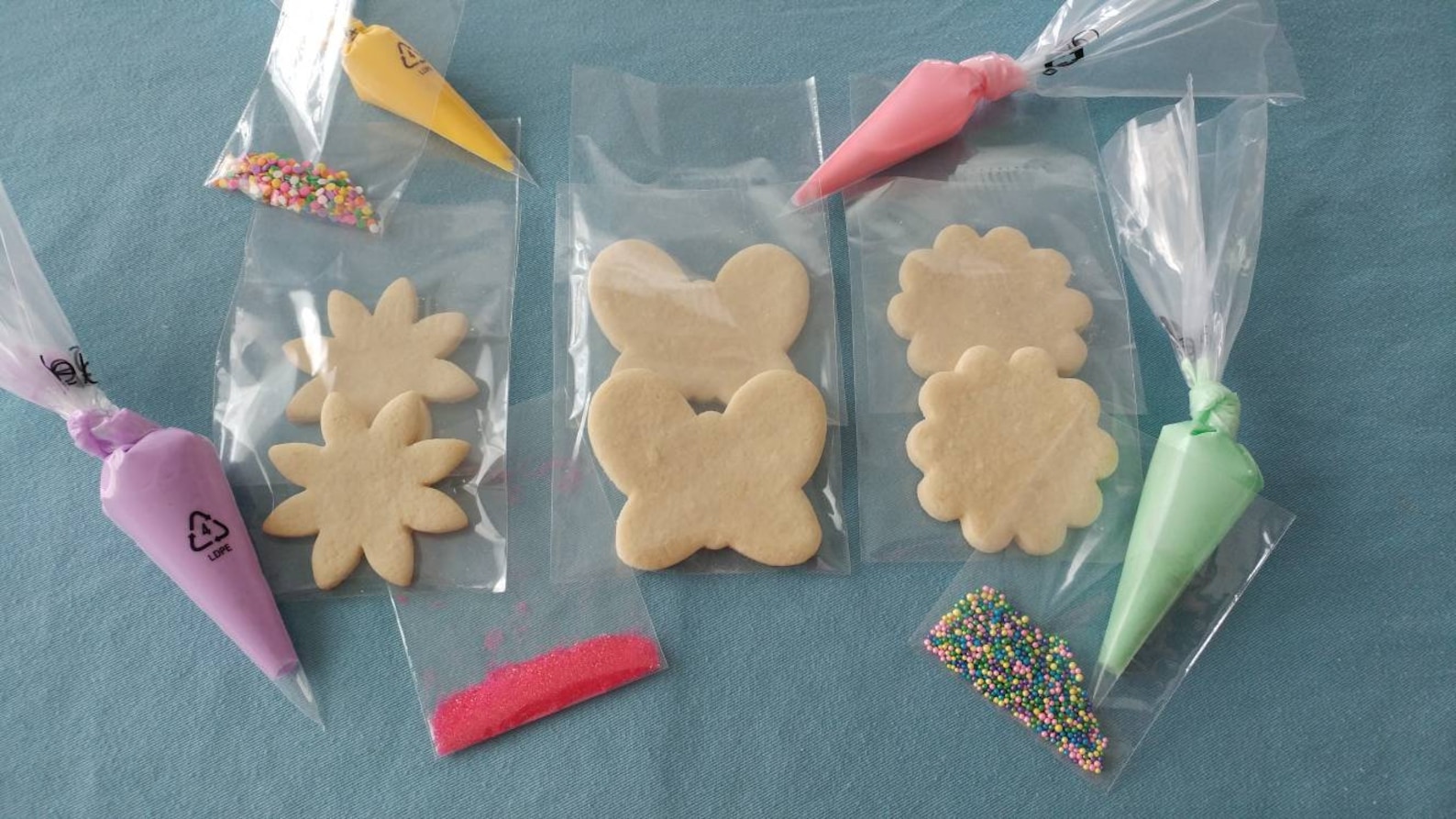 Six (6) Spring- themed vanilla sugar cookies with four (4) bags of royal icing (colors of your choice) for your decorating enjoyment!
Ingredients:
Sugar Cookies: all-purpose flour, sugar, eggs, baking powder, butter, vanilla
Royal Icing: powdered sugar, water, meringue powder, cream of tartar, vanilla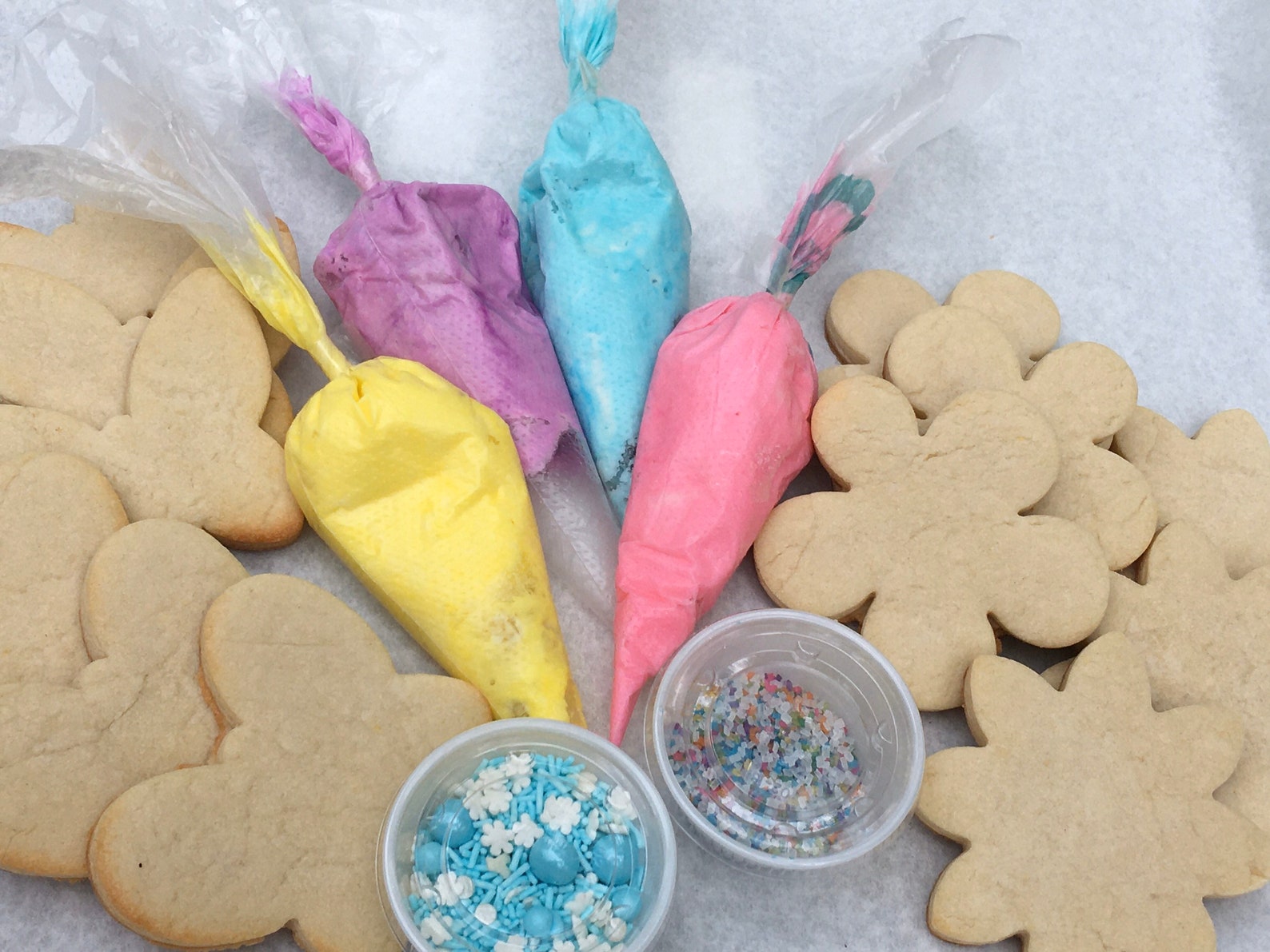 Mother's Day is a great excuse to treat yourself to my yummy,soft sugar cookies.
12 spring shapes- flowers and butterflies
4 different colors of my yummy butter cream frosting.
A couple of containers of sprinkles, a skewer tool and instructions complete this activity kit.
Get all the moms you love together (via the web!) and have a virtual party!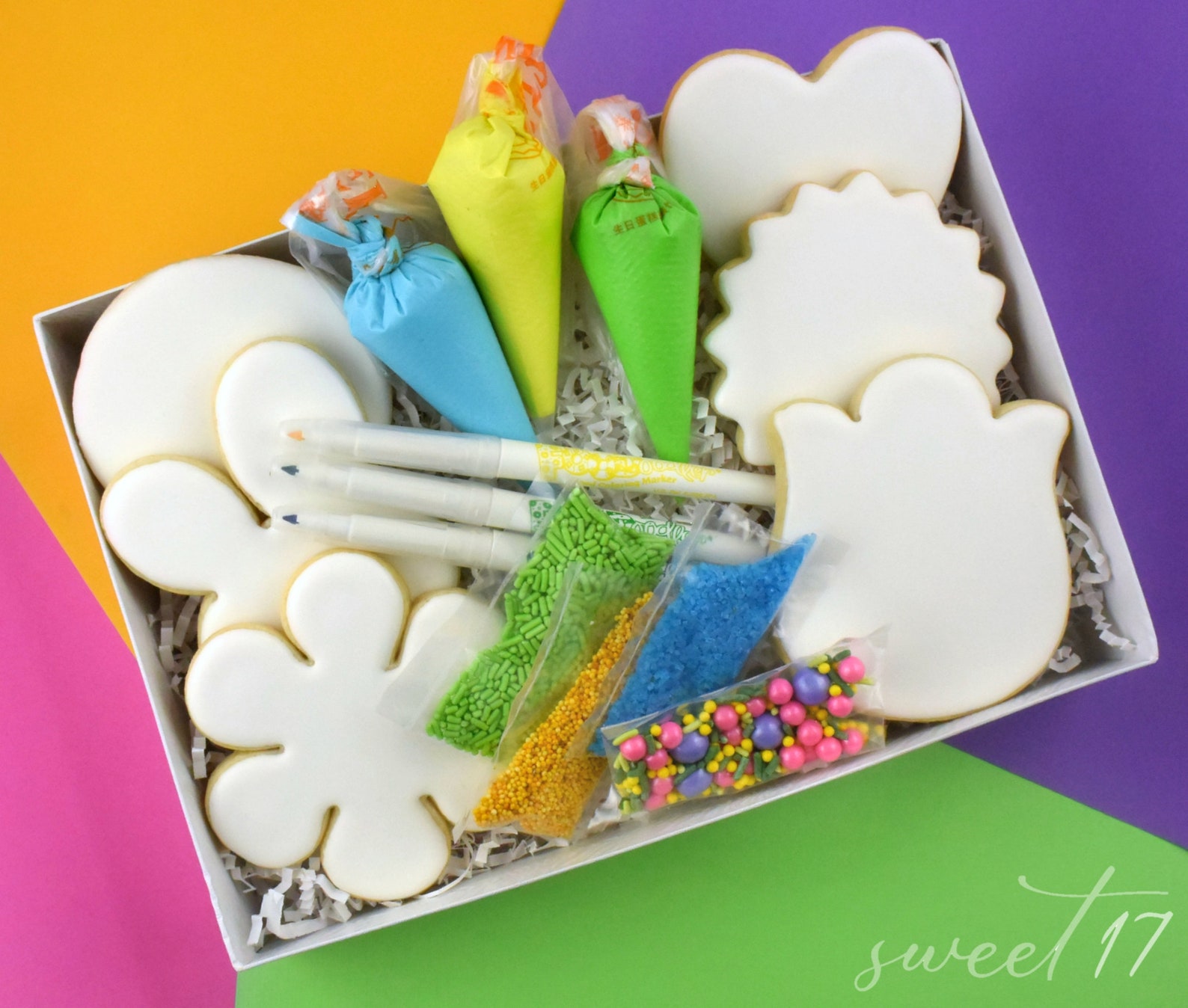 Decorate your own Spring Sugar Cookies
Decorate your own spring sugar cookies are made to order and come with all the supplies you (or your kids) need to decorate their own spring cookies. Kit includes:
>6 spring shaped cookies
>3 Edible markers
>3 Bags of royal icing
>4 Bags of sprinkles including a spring mix