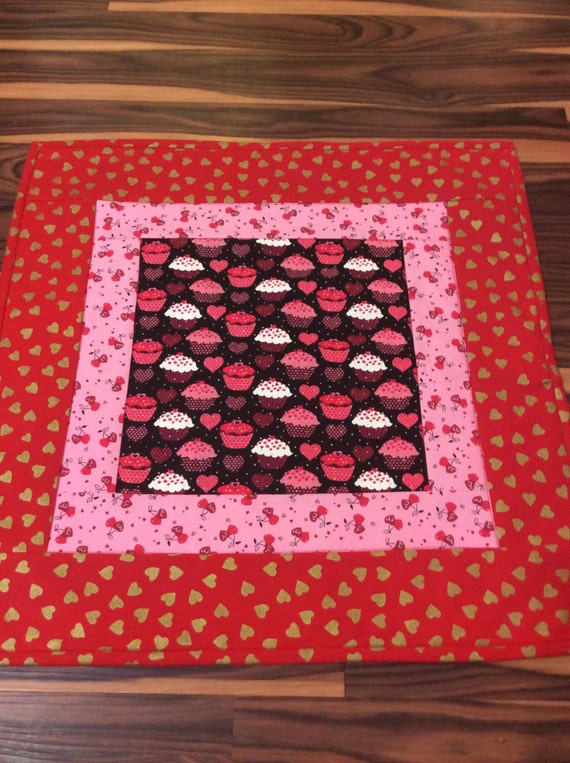 Cupcake Valentine's Table Topper Centerpiece Table Runner End Table Decor with Novelty Cupcakes and Heart Cherries
Enjoy this Valentine's Day quilted centerpiece for your dining room table, or wall hanging!
Perfect for table decor, or for that romantic look in your home. Could also be used as a wall hanging! Measuring 21 X 21 inches.
I used great quality Cupcake hearts fabric, in a large panel pattern, with coordinating borders.
I used quality cotton fabric for both the top and bottom, with Warm and Natural batting in between. I top stiched in stitch in the ditch pattern in red and black, and hand finished the binding.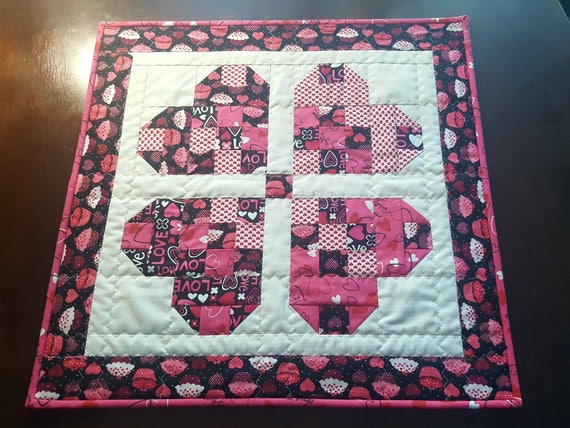 Valentine's Day Heart Tabletopper, Black and Pink Tabletopper
Hi and thank you for taking the time to stop in, I hope you like what you see!
This quilted table topper is made from various Valentine's day prints all pieced into 4 cute hearts. All Fabrics are 100% cotton. It is zig zag quilted throughout.
The table topper measures approximately 23″ Square and is machine washable on cold/gentle cycle and hang or lie flat to dry.
Thank you for your interest and please feel free to contact me with any questions!
Have a great day!