Unicorn Lollipops Candy Suckers, 12 Count


Includes strawberry, blueberry, grape and lime flavors
2″ sucker on a 4″ plastic stick
Fat-free
Total wt., 7 oz.
Box of 12 assorted


Unicorn Horn Twisty Lollipops – 12 ct

Size: Each 3″ pop is on a 4″ plastic stick; paper cutout, 4″
Mixed fruit flavor
Individually wrapped
Simple assembly required.
12 lollipops and 12 paper cutouts


Unicorn Hitcher with Lollipop

This is 1.5 ounces, 6 1/2 inches long, of rainbow cherry twister lollipop on a 12 inch stick. The 4 inch stuffed unicorn is "hitchin'" a ride around the lollipop. A great party favor too!Unicorn Hitcher® with Lollipop


Unicorn Party Favors Rainbow Lollipop Twist Unicorn Birthday Party Favors – 10 Lollipops


10 Lollipops
Individually wrapped
Great for party favors or treat tables
Measures approximately 6 inches (including stick)
Cherry Flavored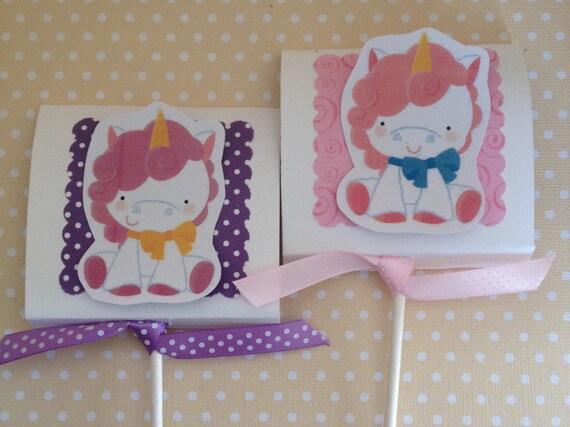 Unicorns and Rainbows Party Lollipop Favors – Set of 10

Colorful unicorns and rainbows make these lollipops a wonderful party favor for a special birthday party!
You can get all the designs shown or just your favorite.
The lollipops are assorted flavored Charm brand pops, tied with a satin ribbon. There are 10 in a set. If you need more than 10 please click on the quantity button.
Matching cake topper, cupcake toppers, candy bar wrappers, favor boxes and favor bags are all available in my shop!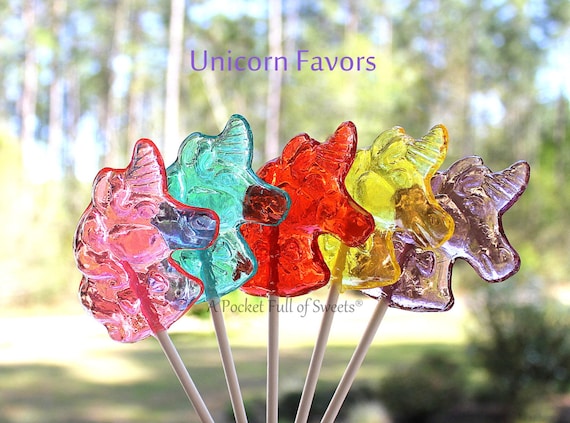 Unicorn Birthday, Magical Unicorn, Enchanted Forest Party

A Qty of 1 = 8 unicorn pops, individually wrapped/sealed. – see photo #3
• Each pop measures 2.75″ and comes on a 4.5″ stick.
• You may select ONE color/flavor per set of 8 pops.
• Click on the drop-down box above 'add to cart' button to view color/flavor options.
• Custom made per order
• Hard candy
• NO high-fructose corn syrup
• NO preservatives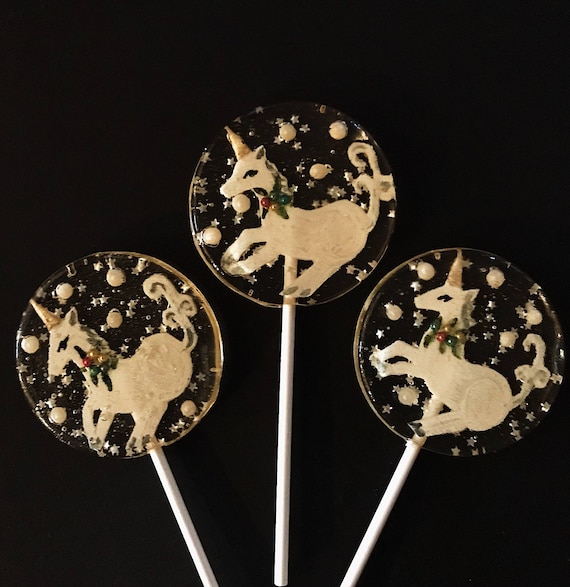 3 Enchanted Unicorn Holiday Wedding Party Favors Lollipops

A little something magical for you!
The order is for three handmade to order 3" round cotton candy flavored hard candy lollipops with hand painted and cut enchanted fondant unicorns. The unicorns are dusted with iridescent edible glitter and they wear pretty garlands with tiny metallic edible candy dragees. Their horns are hand painted with gorgeous edible gold dust The candy is dotted with candy pearls and a sprinkling of edible glitter silver stars.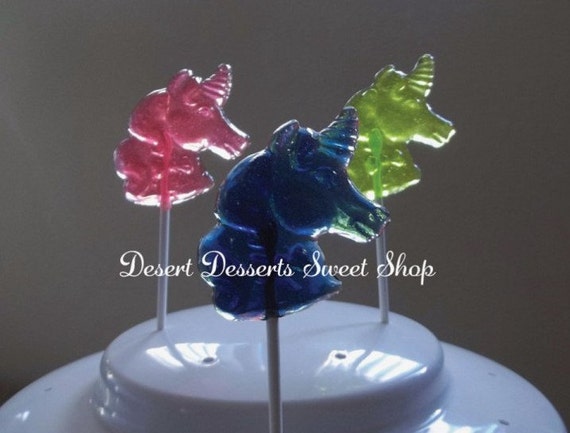 UNICORN LOLLIPOPS, Unicorn Party Favors

Available in a variety of delicious flavors & beautiful colors.
*Unicorn head measures just over 2.5 inches & stick is 4 inches long.
*Individually wrapped & tied with curling ribbon(included).
*Made fresh in small batches. Shelf life is approximately 6 weeks.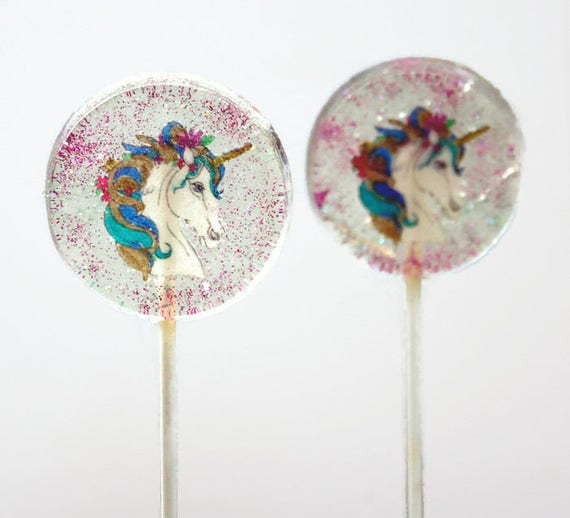 Unicorn Party Favor Lollipops, Unicorn Party Favors, 50 Edible Image Lollipops

Absolutely stunning clear lollipops feature an edible image of a beautiful unicorn, encapsulated inside, and surrounded by sparkly, edible glitter. These would not only make a perfect addition to your childs' birthday party, but would also fit in with just about any sort of party decor.
* Each unicorn image is 100% edible, using edible ink on edible wafer paper, which is encapsulated inside the lollipop and surrounded by edible glitter.
* Available in our 1.5 inch or our 2 inch size, for better detail and a more dramatic look.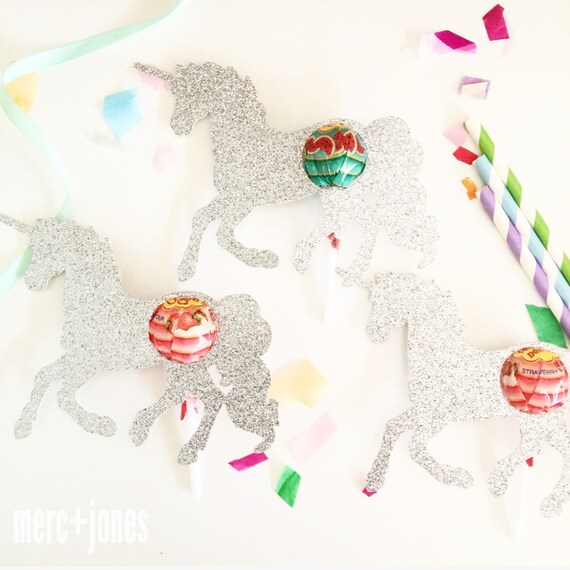 Glitter Unicorn Lollipop Chuppa Chup holders

Sweet Glittery Pops!!
Pack of 8 Chuppa Chup Lollipop holders.
Perfect for party favors and classroom gifts for children.
Fits Regular and Mini Chuppa Chups – please advise your preference when placing your order in 'notes to seller'
Available in
-Flamingos
-Swans
-Pineapples
-Mermaids
-Unicorns
-Seahorses
-Hearts
-Stars
Available in Gold or Silver Glitter.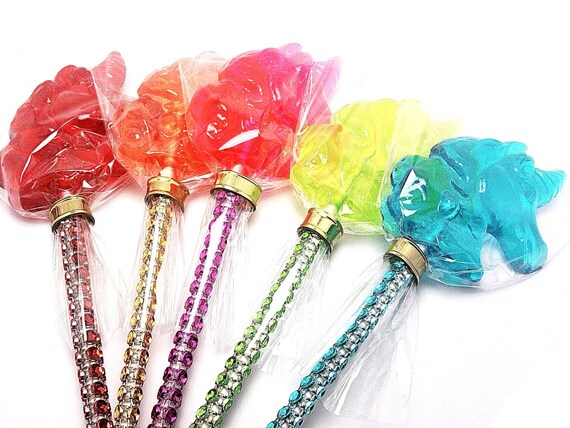 12 UNICORN LOLLIPOPS with BLING Sticks – Unicorn Party, Unicorn Baby Shower

At Candied Cakes, we LOVE to send extras with every order!
Lollipop Measurements: 2 1/2 inches
Stick Size: 4 1/2 inch bling stick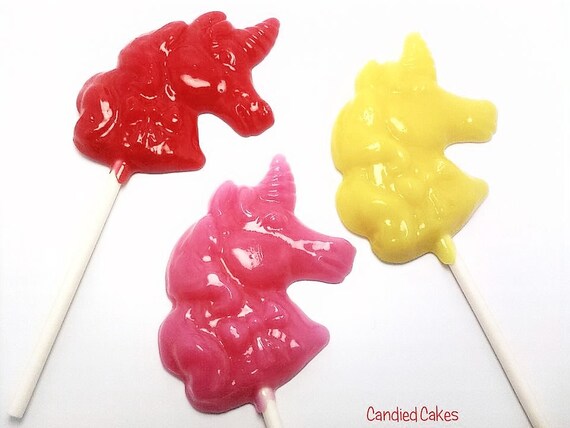 12 OPAQUE (Solid) UNICORN LOLLIPOPS – Unicorn Themed Party

At Candied Cakes, we LOVE to send extras with every order!
Lollipop Measurements: 2 1/2 inches
Stick Size: 4 1/2 inches
Wrappings: Individually wrapped and sealed in super clear cellophane
Shelf Life: Up to 6 weeks when stored properly in a cool dry area.