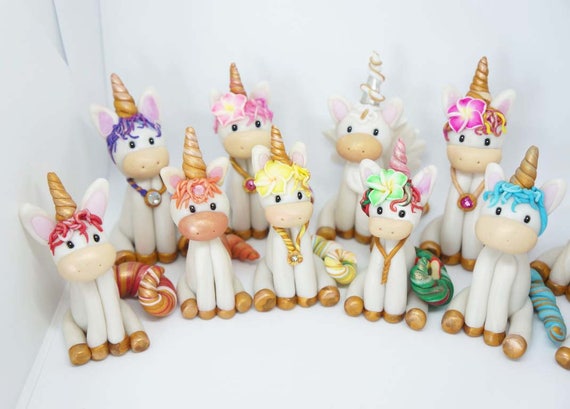 ONE customised unicorn, unicorn party, bridesmaid gift, unicorn party, Christening gift

Magical personalized unicorn ornament. One of a kind made especially for you!
Super cute unique Unicorn ornament. Perfect present for any wedding, Christening or unicorn lover. Approx 7cm from horn to hoof.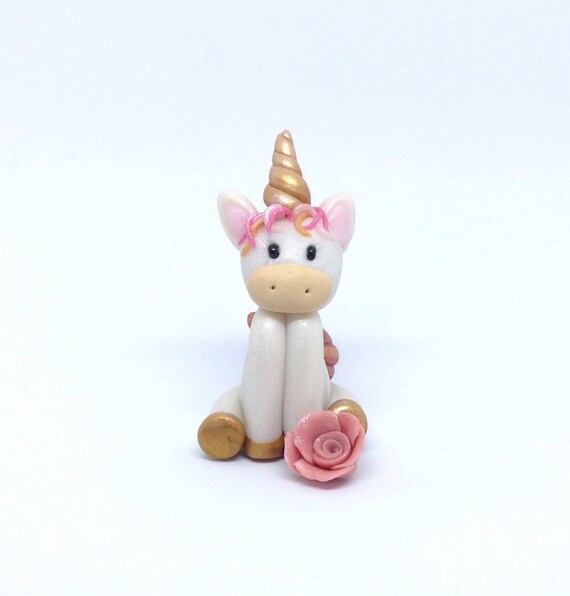 Unicorn cake topper, unicorn ornament, unicorn gift

Pink haired unicorn ornament made from marble effect polymer clay. A lovely little first birthday caketopper and keepsake.
* Approx 5.5 from horn to hoof with pink hair.
* pink/gold swirl tail. The gold horn shimmers and the body has a lovely marble effect
Made with black seed bead eyes and jewellery wire (not visible)
This should be treated as an ornament and is not intended as a toy.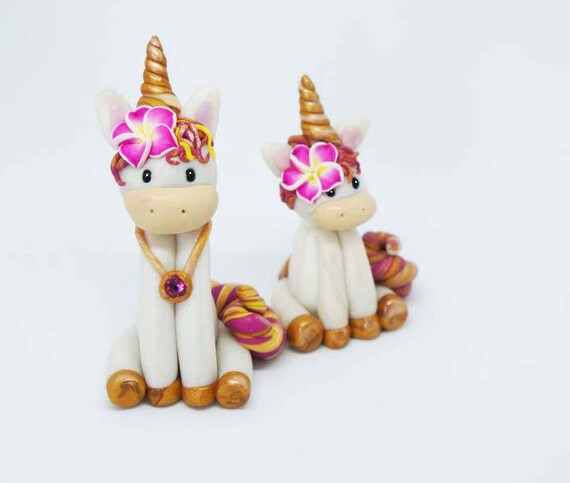 Unicorn baby shower, unicorn party, baby shower decor

Unicorn baby shower in hot pink and gold is the perfect unicorn party gift, baby shower decor. This mother and baby pair will bring a bit of magic for the new mum to be. This polymer clay unicorn mother and baby in hot pink/yellow/magenta and gold, not edible – it will love forever, just like the bond between mother and child.
This is a wonderful mother and baby pair of brightly coloured unicorns to use as cake toppers, keepsakes or ornaments.
Both have fabulous hot pink flower beads in their hair and the mother has a beautiful pink Swarovski flatback embellishment on her necklace which sparkles in a dazzling array of colours in the sunlight. Their horns and hooves are gold coloured and they have extra long swirl tails.
Individually designed and handmade.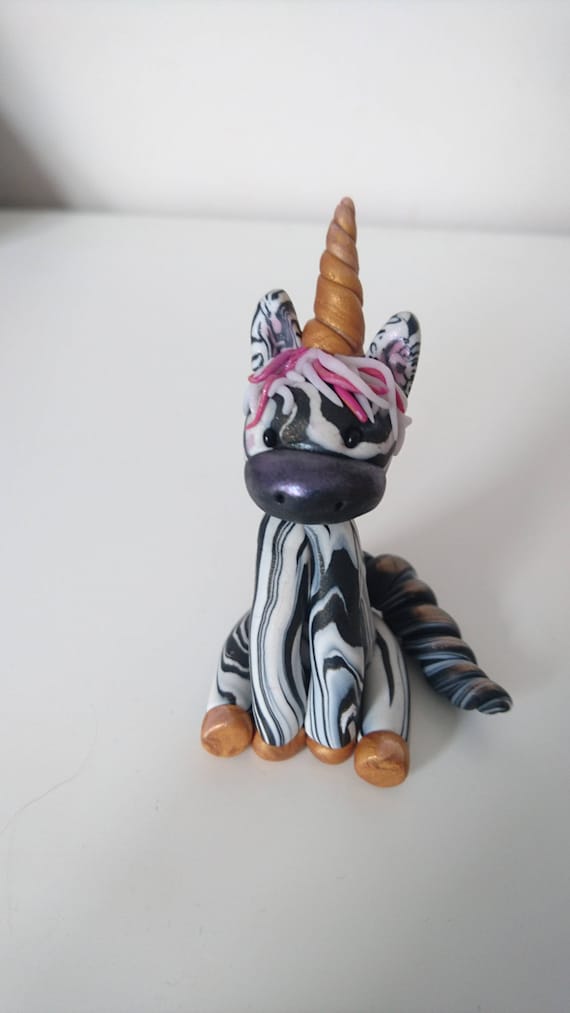 safari nursery decor, nursery decor, safari nursery

A wonderful original piece of safari nursery decor combining the gorgeous zebra with the mythical magical unicorn and a funky flash of hot magenta hair.
A miniature clay Zebracorn/ Zunicorn made from polymer clay accentuated with mica powders for shimmering details.
This cute little fella has a striped body, black, white and hot pink highlights, a gold unicorn horn and feet. One of a kind and self-assured, a bit of a rock zebra, never a dedicated follower of fashion this zebra is a true trendsetter.
Motto is to 'be true to yourself' your Zunicorn a kind a loyal friend.
Your Zebracorn makes the perfect keepsake, cake topper, collectible figurine and lucky charm.
You will receive:
* The exact Zebra as pictured.
* height 7.5cm (3in) from horn to hoof
* SHIPPED FROM THE UK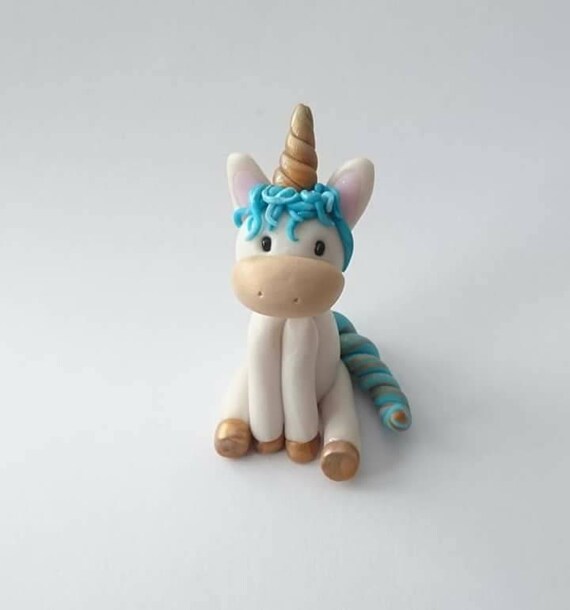 Unicorn cake, unicorn cake topper, christening gift, clay ornament

An individual turquoise shimmering unicorn made from marble effect polymer clay accentuated with gold-clay horn and mica powders.
You will receive:
* One turquoise-haired unicorn
* One bag of unicorn food with a charm
These polymer clay unicorns make the perfect keepsakes, wedding, christening or birthday cake toppers, collectible figurines and guardians.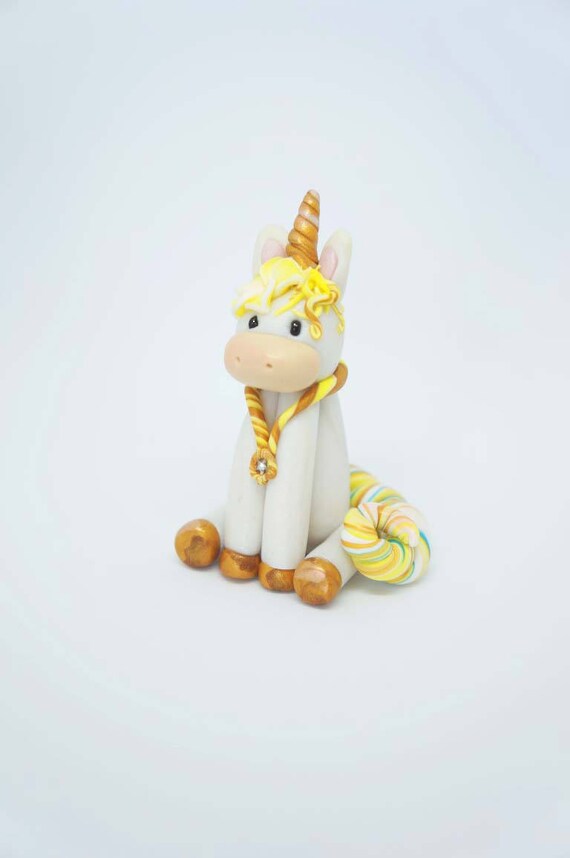 Miniature horse

Polymer clay miniature horse with lemon drop colouring. The perfect sunshine unicorn or miniature horse keepsake to brighten your home or give as a gift. This yellow-haired pony is a delightful mixture of golds and canary yellows – she looks up with an adorable butter wouldn't melt face.
Can be used as a small horse ornament, unicorn theme decor for a nursery, equestrian present or a caketopper/keepsake. She has a tiny star gem embedded in her necklace.
YOU WILL RECEIVE:
The exact unicorn as pictured
Height 6 cm from horn to hoof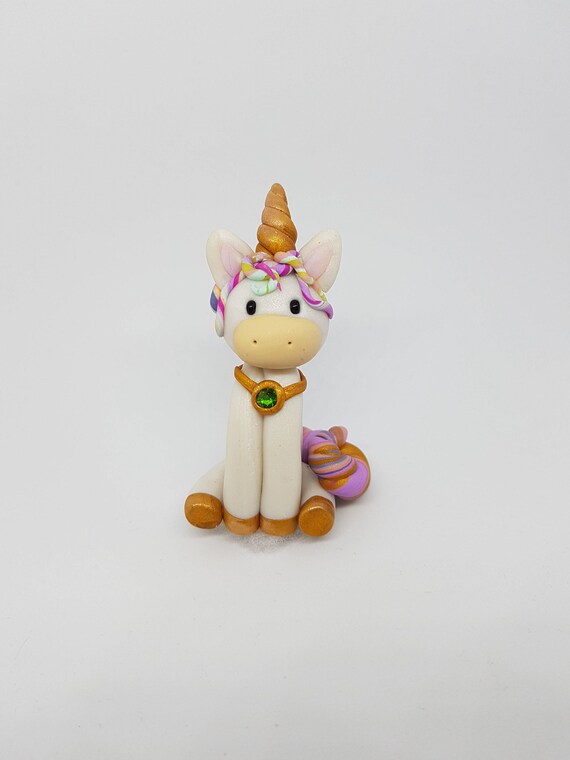 Girl birthday, unicorn cake, rainbow unicorn

Make your little girls birthday the best ever with this superb unicorn cake topper. The rainbow twist locks make her a truly stunning cake decoration. Whether you are after a special piece of birthday decor or your little girl's 1st birthday cupcake topper, wow your guests and invest in an ornamental keepsake for her to treasure in years to come.
This is a MadeByMeClay individual white unicorn made from white marble effect polymer clay accentuated with an emerald green Swarovski flatback crystal embellishment necklace and a fabulous mane of pastel rainbow colours. Just the tail alone will have you lovingly gazing at swirls of colour. Mica powders reflect the light and the white clay glistens giving your unicorn a truly magical feel. Each unicorn is made entirely by hand with no moulds and will be unique.
Your polymer clay unicorn makes the perfect keepsake, cake topper, collectible figurines sweet 16 or bridesmaid gift.
You will receive:
*The exact unicorn as pictured
Note colours will appear differently on different monitors so exact shade may vary slightly.
The unicorn measures approximately 6.5 cm (3.1 inches) from horn to hoof.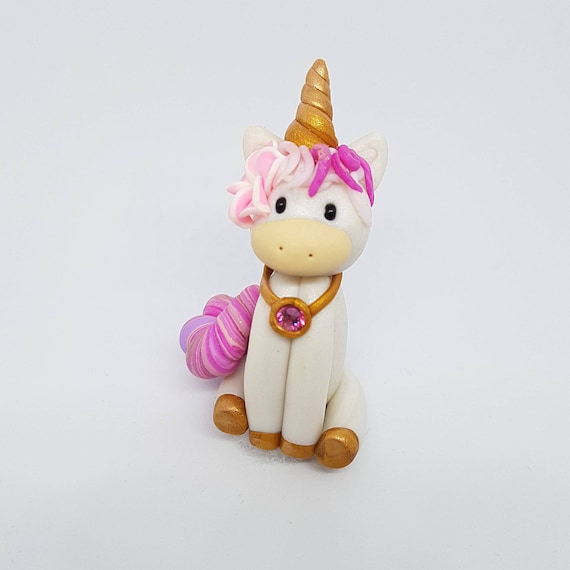 Unicorn cake topper, 1st birthday cake topper

Unicorn cake topper. An individual white unicorn made from white marble effect polymer clay accentuated with a pink Swarovski flatback crystal necklace celebrates it's a girl with this lovely clay topper. These exquisite unicorn clay keepsakes can be used as cake toppers, nursery decor and keepsakes. Take a picture of your little one with it proudly on her cake and then present it again as a sweet 16 gift.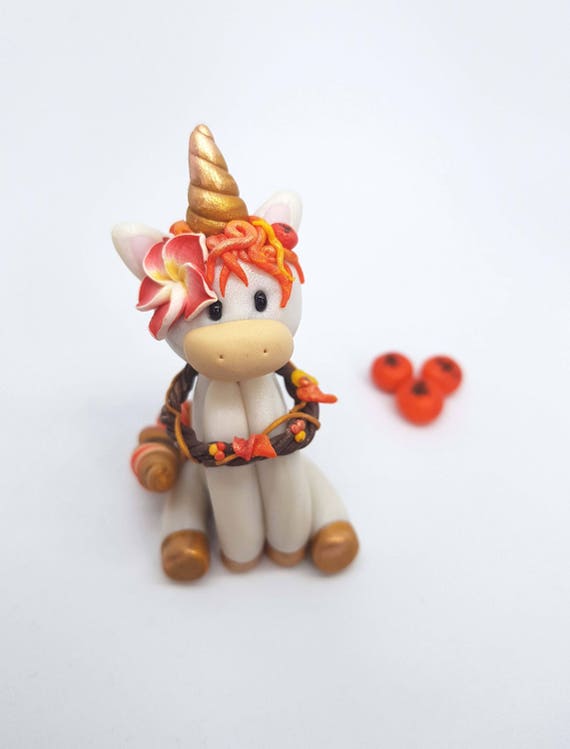 unicorn fall, decor for mantel, autumn decor

Autumn berry, an adorable little polymer clay unicorn figurine. A true collector item, this super cute fall-themed unicorn with added sparkle has exquisite details from tiny berry in her hair to the fabulous orange, chocolate, white, gold and red tail. She's wearing an autumn wreath around her neck. Probably by accident whilst she was foraging for those juicy looking berries.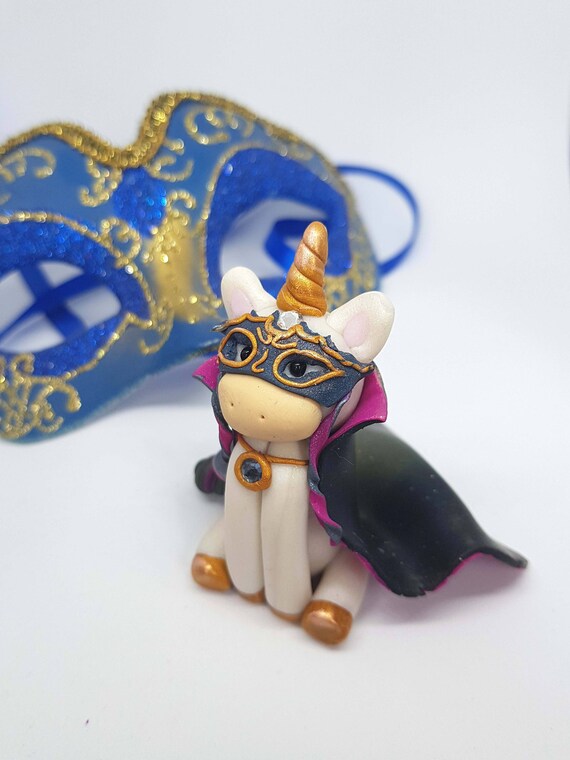 masquerade unicorn, phantom unicorn, opera unicorn

Phantom of the Opera inspired polymer clay masquerade unicorn figurine. A true collectors item, this exquisite opera unicorn has superb details from the theatrical magenta-blue ribbon twirls cascading from the mask itself to the horn embedded crystal sparking like a diamond. Opera mask unicorn has a real sense of drama with this fabulous phantom opera cloak.
'Midnight', the most stylish and sophisticated unicorn is about to be whisked off to a masked ball or masquerade party – perhaps about to deliver a magical performance. Inspired by my love of Phantom of the Opera and a venetian mask from Prague, this theatrical unicorn ornament is striking with iconic tiara shape and ornate decoration masquerade mask.
Made entirely from polymer clay with the exception of his/her glass bead eyes and the addition of a genuine clear Swarovski flatback embellishment in a pendant around it's neck, this is fantasy art at it's cutest. Deep magician galaxy blue hues hiding a flamboyant magenta lining in the cloak; a wonderful contrast adding to the drama. The hooves and horn are a shimmering gold effect from the touch of mica powders added prior to firing.