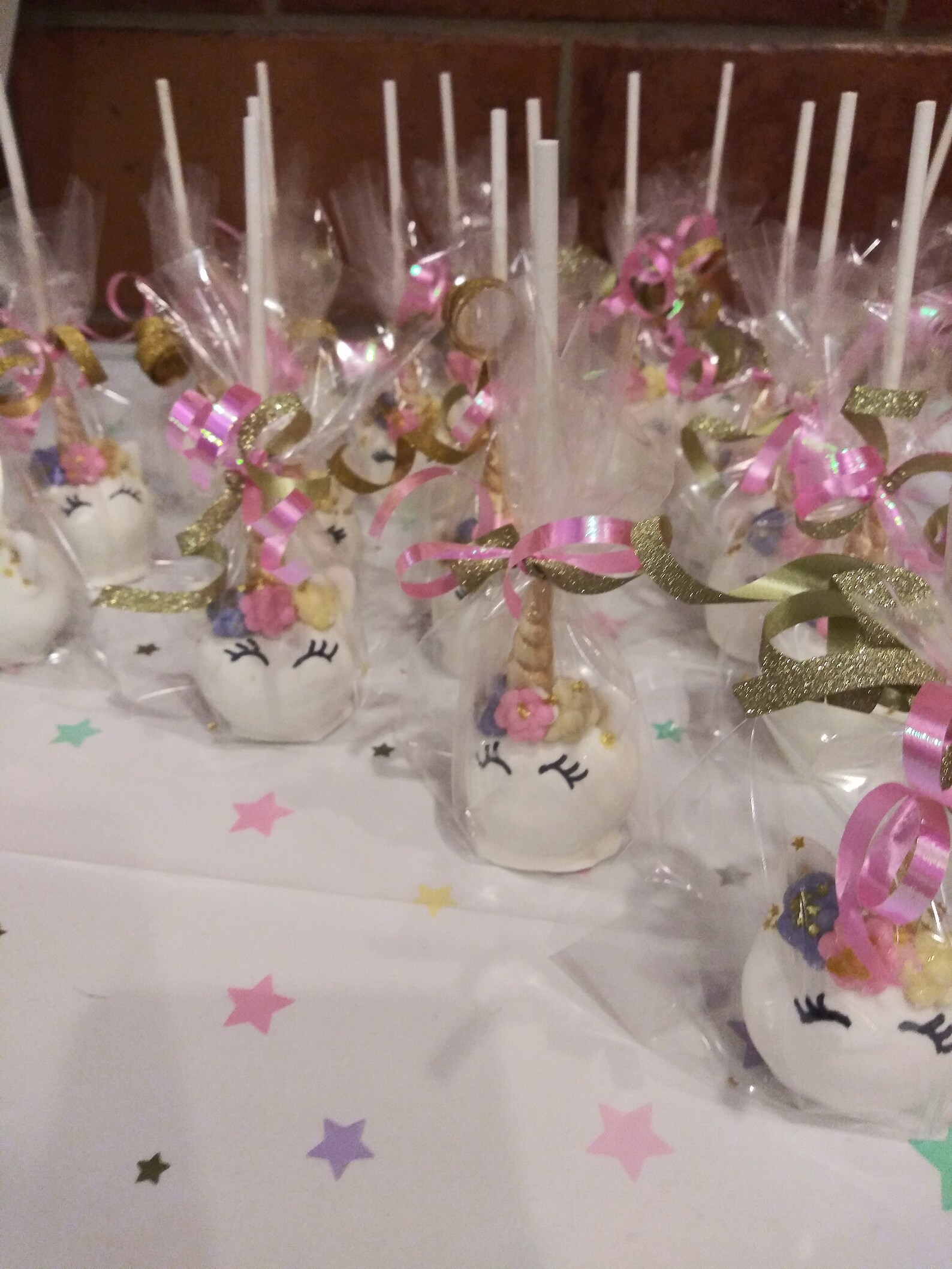 Unicorn cake pops come in vanilla, red velvet or chocolate birthday cake pops and are a big hit at all parties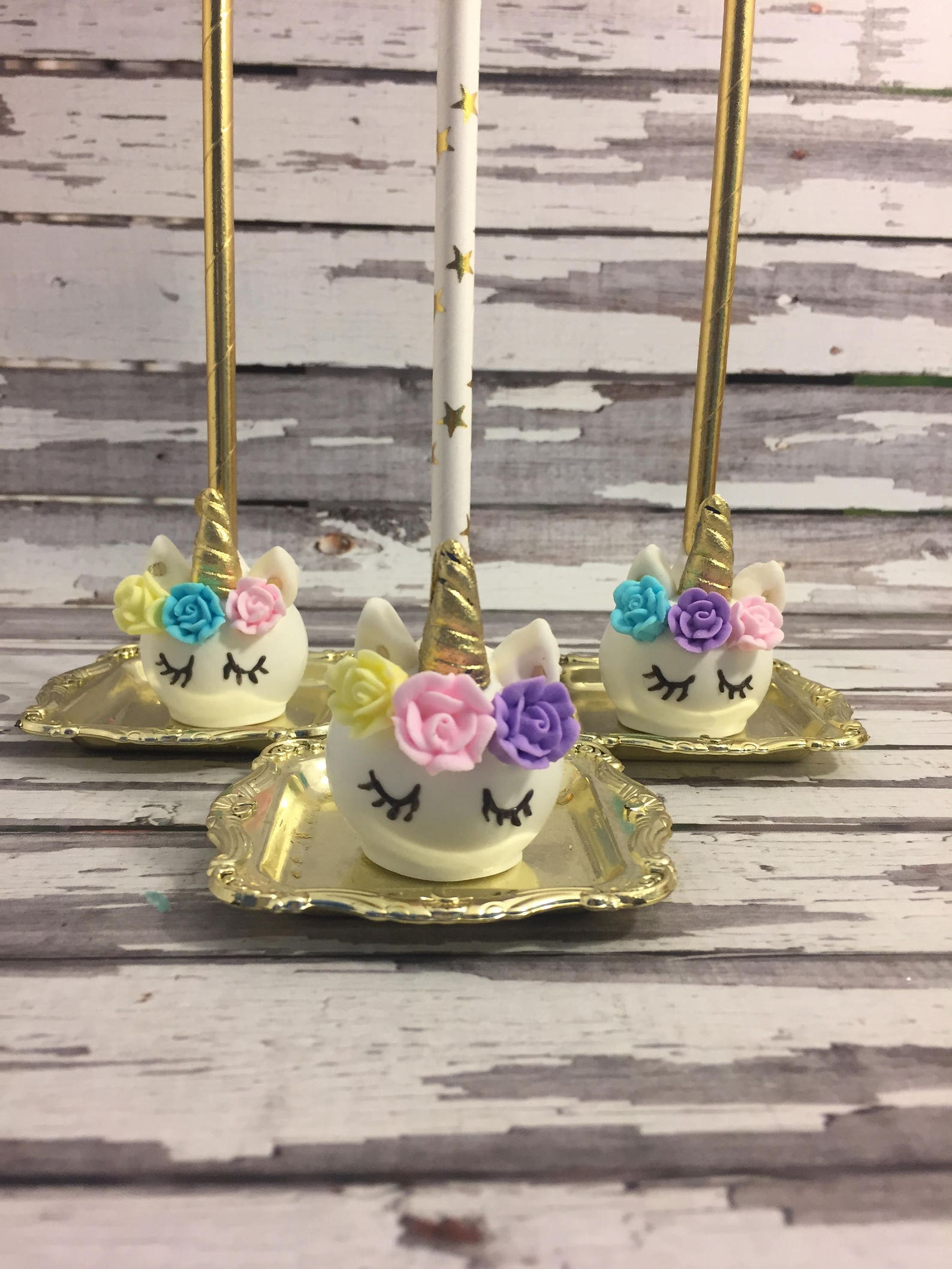 12 Rainbow Mini Unicorn Cake Pops Roses Golden Horns Birthday Party Favors Sweets Table Treats Gold
12 Unicorn cake pops
Available in chocolate or vanilla cake
Each cake pop features pastel royal icing roses, gold horn, and ears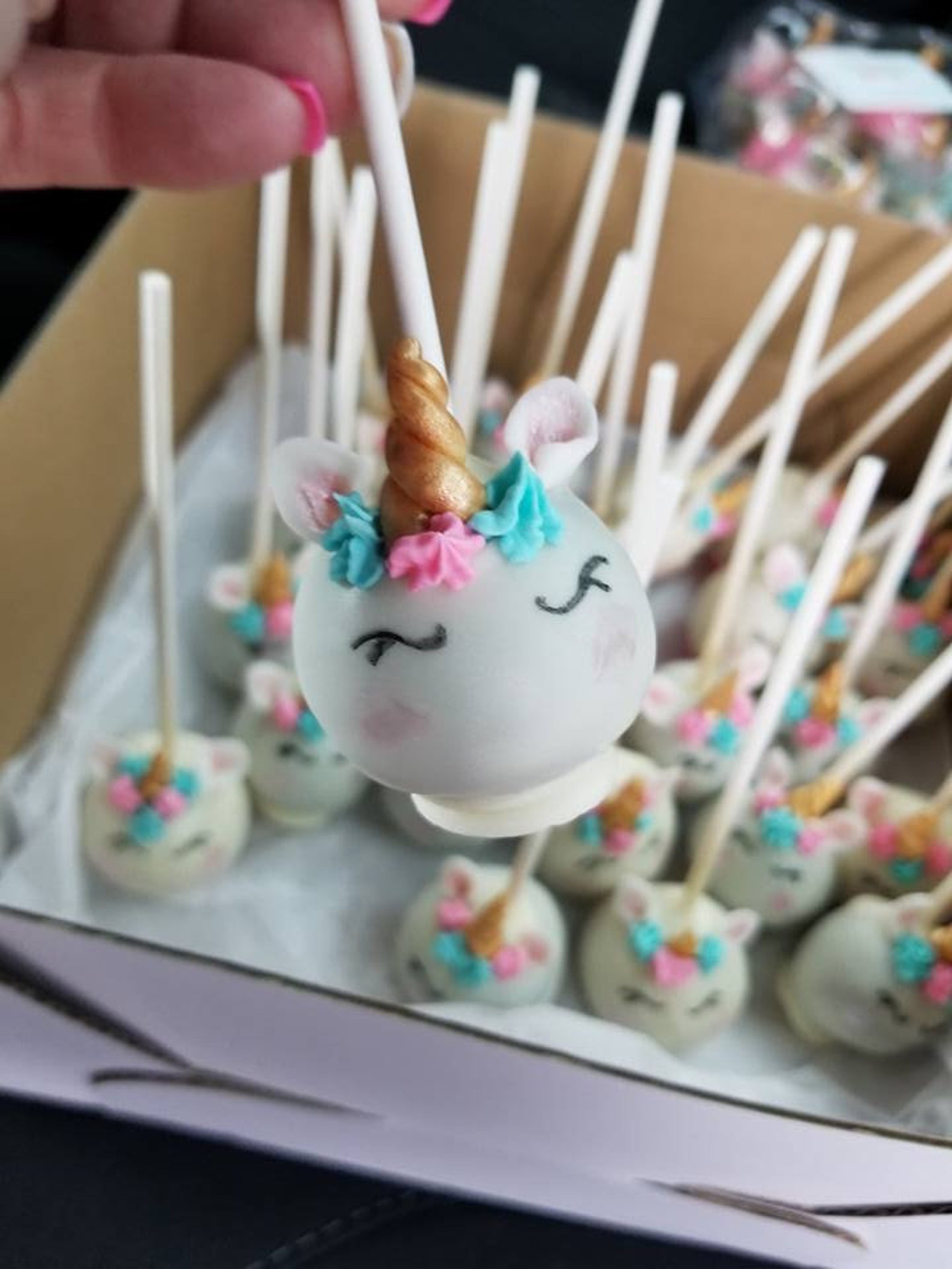 Edible Unicorn Cake Pop Toppers ,horns and ears only ,one dozen, unicorn party
Handmade fondant toppers for unicorn cake pops , each set is for one dozen cake pops . Includes horn and ears.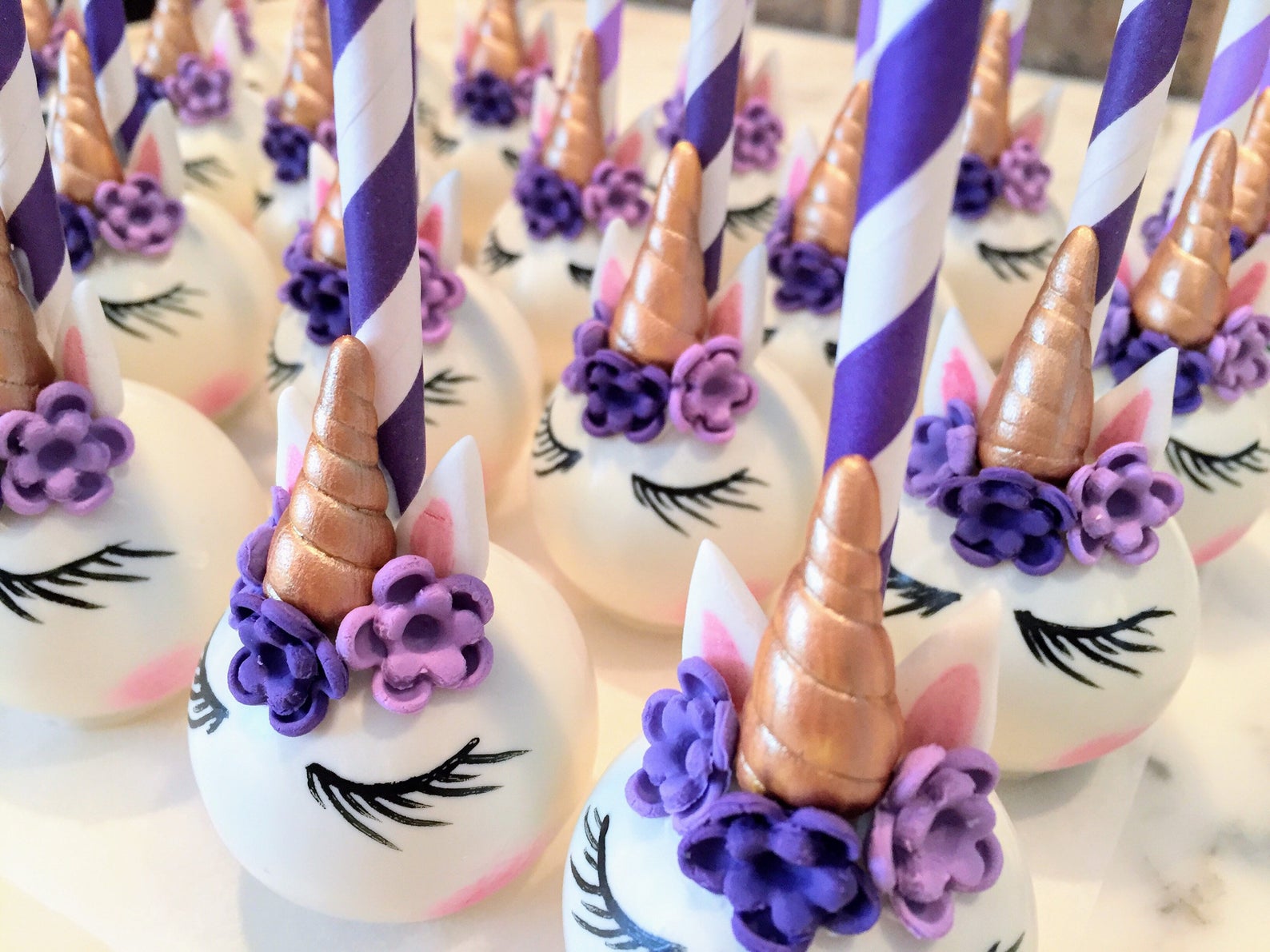 Make any birthday party a little more magical with these precious Unicorn cake pops. Listing is for one dozen delicious cake pops. Cake Pops are individually bagged, tied with ribbon, and carefully boxed.
*If you order personalized tags, please enter your exact wording in the notes section of your order.
Paper straw and flower colors are customizable to match your party decor. Please add your color selections (up to 3 different colors) in the notes section of your order. If no flower selection is made they will be purple, pink and yellow.
Paper straw colors are subject to availability. If no color is requested in order notes, purple, pink, or yellow will be used. Paper straws in photos are subject to availability and may be substituted with different styles in similar colors. Please message me to confirm availability for specific straws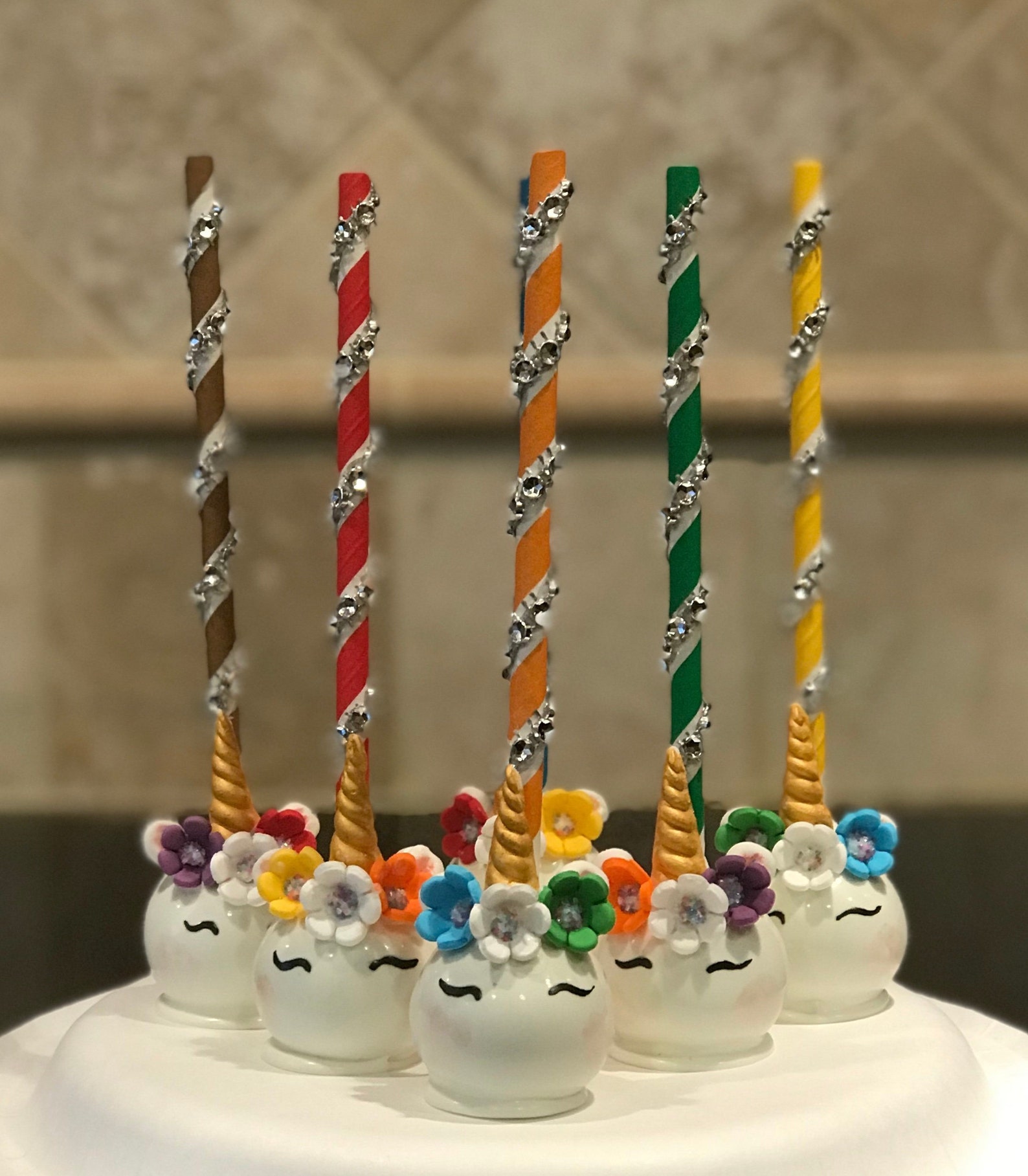 Unicorn Cake Pops-Birthday-Chocolate-Vanilla-Funfetti-Chocolate Chip Cookie Dough
Order includes 12 or 24 Unicorn Cake Pops as shown with your choice of:
Bling sticks with Bow or Twist tie —Choose Bling B or Bling T
Plain Sticks with a Bow or Twist Tie—Choose Plain B or Plain T
In your choice of flavors:
Chocolate
Vanilla
Funfetti
Chocolate Chip Cookie Dough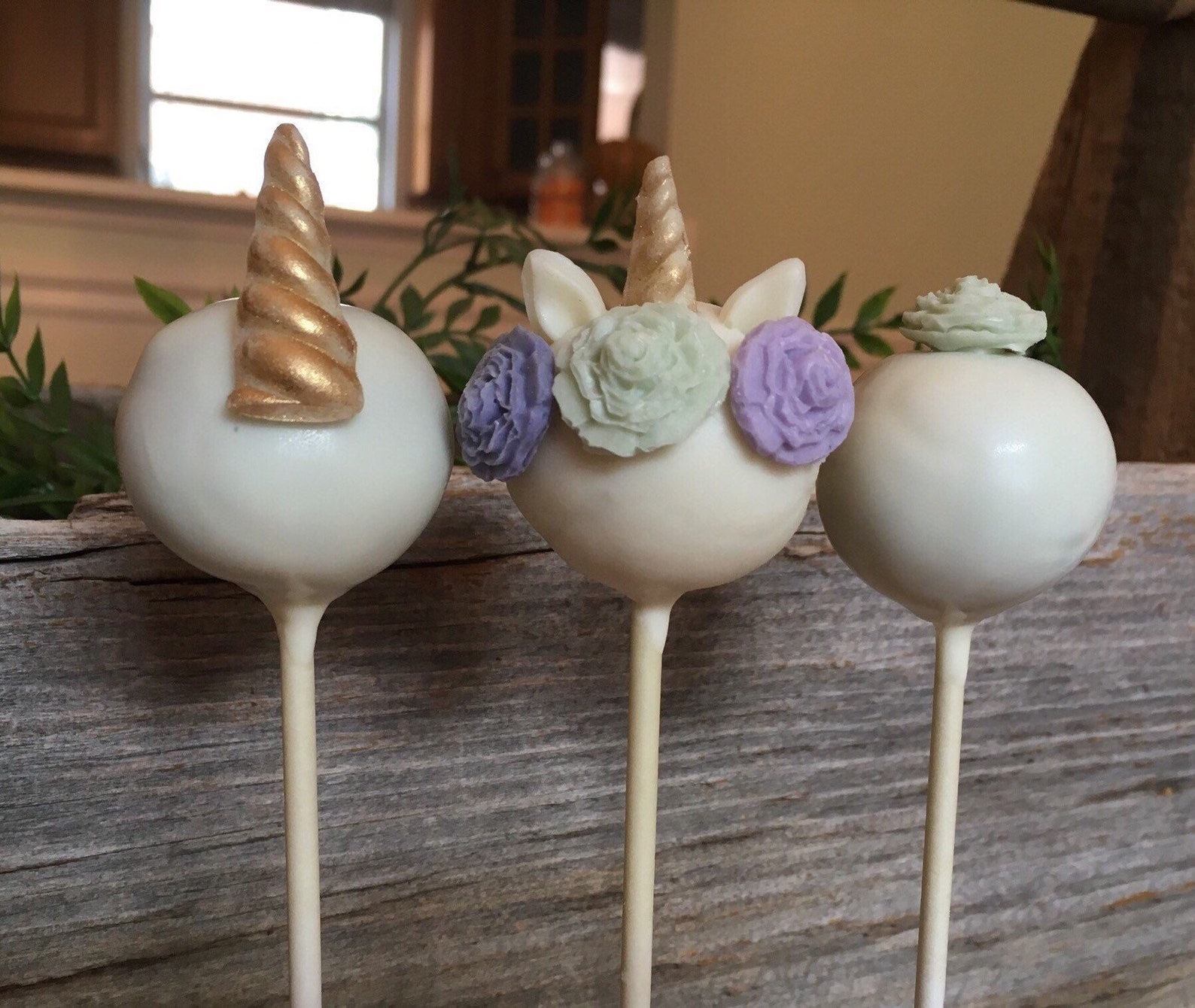 Unicorn Cake Pops – Unicorn Party – Unicorn Favors – 1 Dozen
These beautiful and whimsical unicorn Cake pops are the perfect favor for your unicorn birthday party! They are both beautiful and delicious and are sure to make the perfect addition to your party.
Each cake pop is hand rolled and dipped in white chocolate and then decorated with flowers and a unicorn horn with gold glitter detail.
Each treat will be individually wrapped and tied with a festive ribbon.
Customization is welcome and encouraged! You can choose the colors for the flowers. Colors will vary because they are all custom made.
You have your choice between chocolate, vanilla, red velvet, or strawberry cake.
Bling sticks available for an additional charge. Please let me know what color you want when ordering. Bling sticks add 2 days processing time to the order.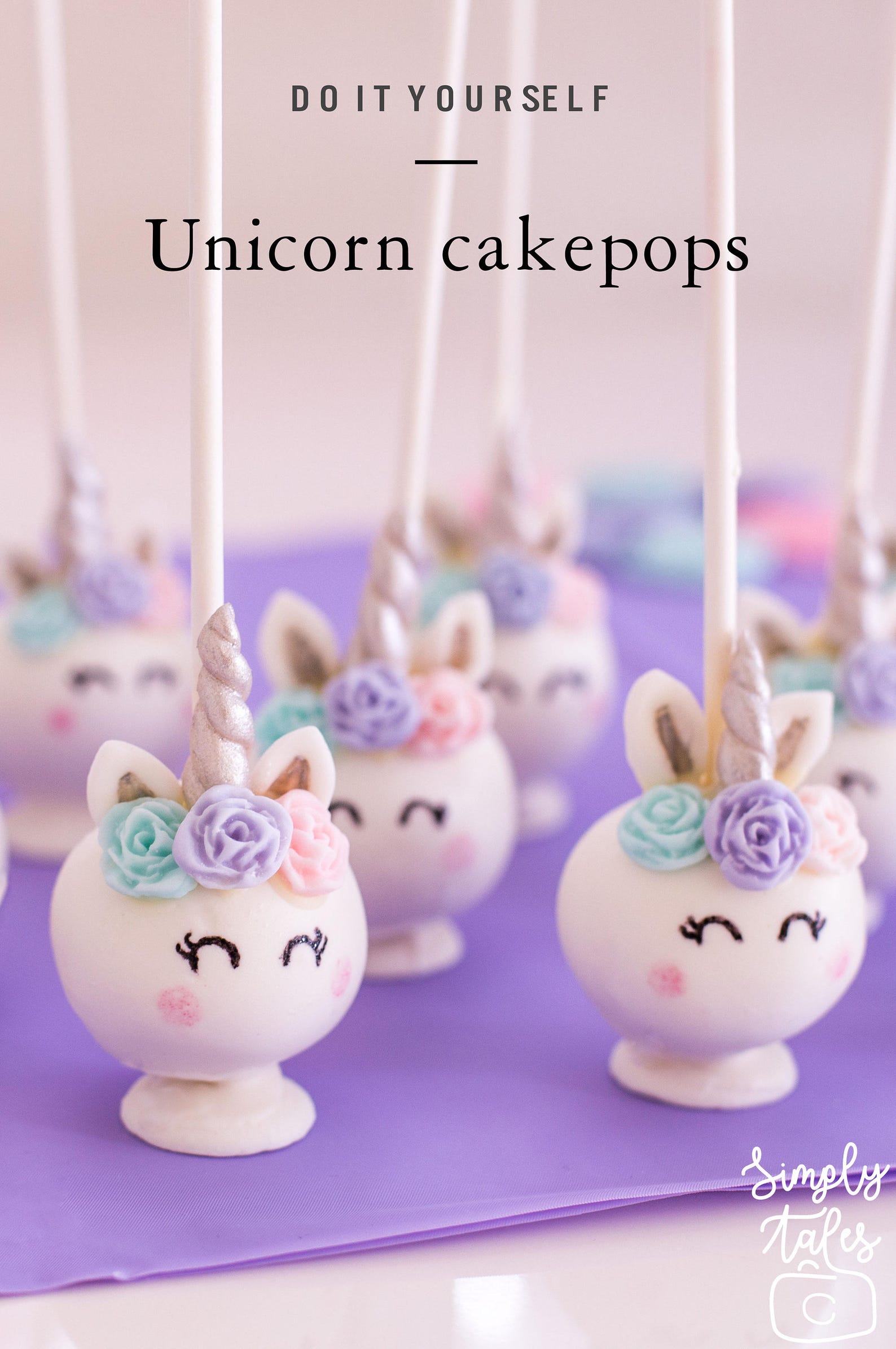 12 Unicorn Narwhal fondant cake pop kit with roses and horns
Let's make your celebration exclusive!
Turn a simple cake, cake pops or cupcake into something special ! This Unicorn kits will help you make your own unicorn cake pops or marshmallow pops.
These Unicorn kits will add a great touch to your cakes and cupcakes for baby showers, birthdays, or just fun !
THIS LISTING CONTAINS:
12 pieces of 100% edible fondant Unicorn horn in soft gold, metallic silver and metallic gold for your cake pops. (see pic. #7)
36 edible fondant Roses in 3 colors : light pink, light purple and light teal. (as seen on pic. #4)
12 pairs of ears (OPTIONAL)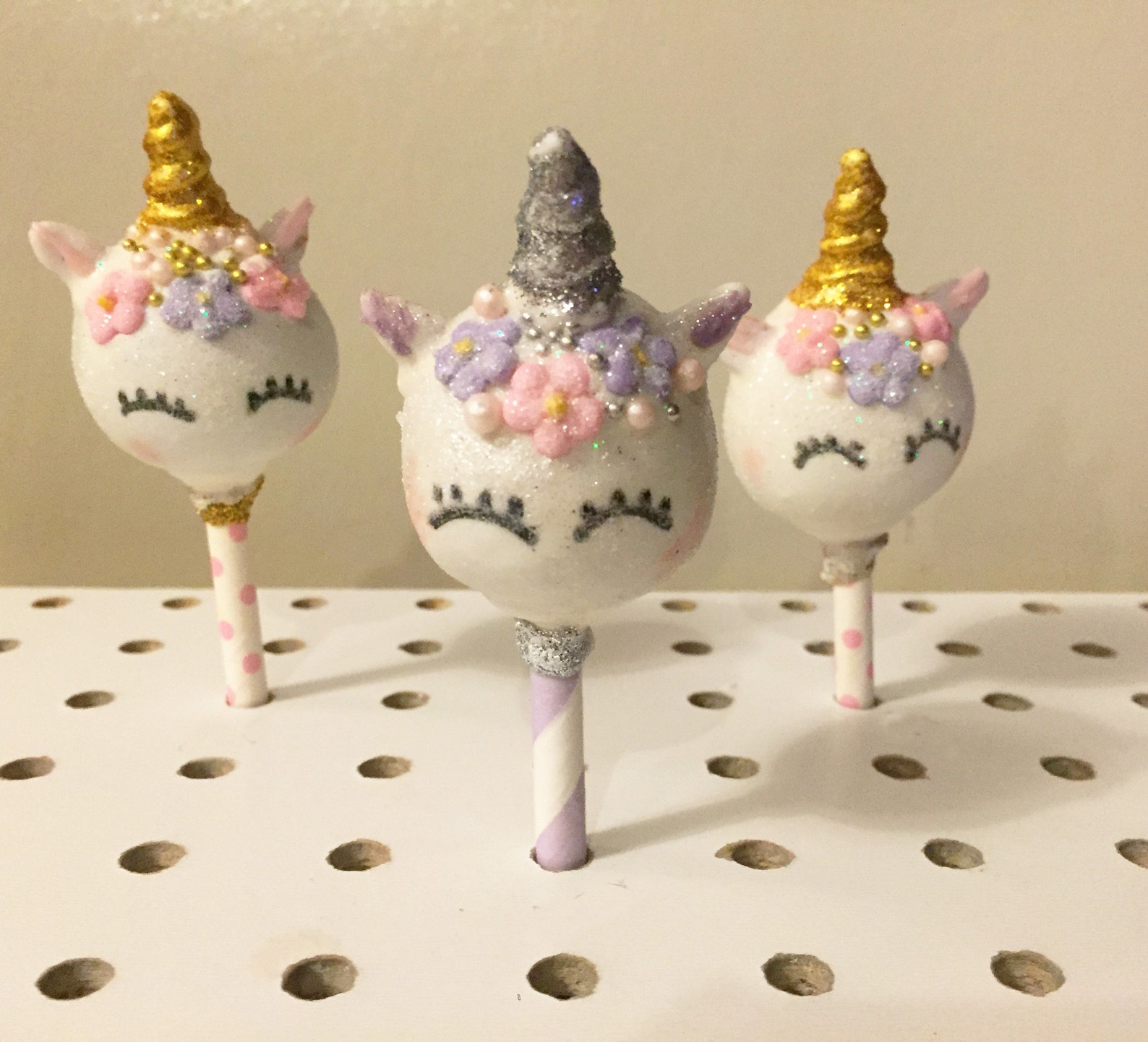 You will need to purchase 1 signature confirmation per every 12 to 24 treats.
Please click on link below or find listing at the RESERVES section of this shop. Being that all of our products are made with chocolate, therefore easy to melt,
and the fact that the Postal Carrier Vehicles are not air conditioned, we will NOT ship any orders without Ice Packs.
You will need to purchase 1 set per every 12-24 treats.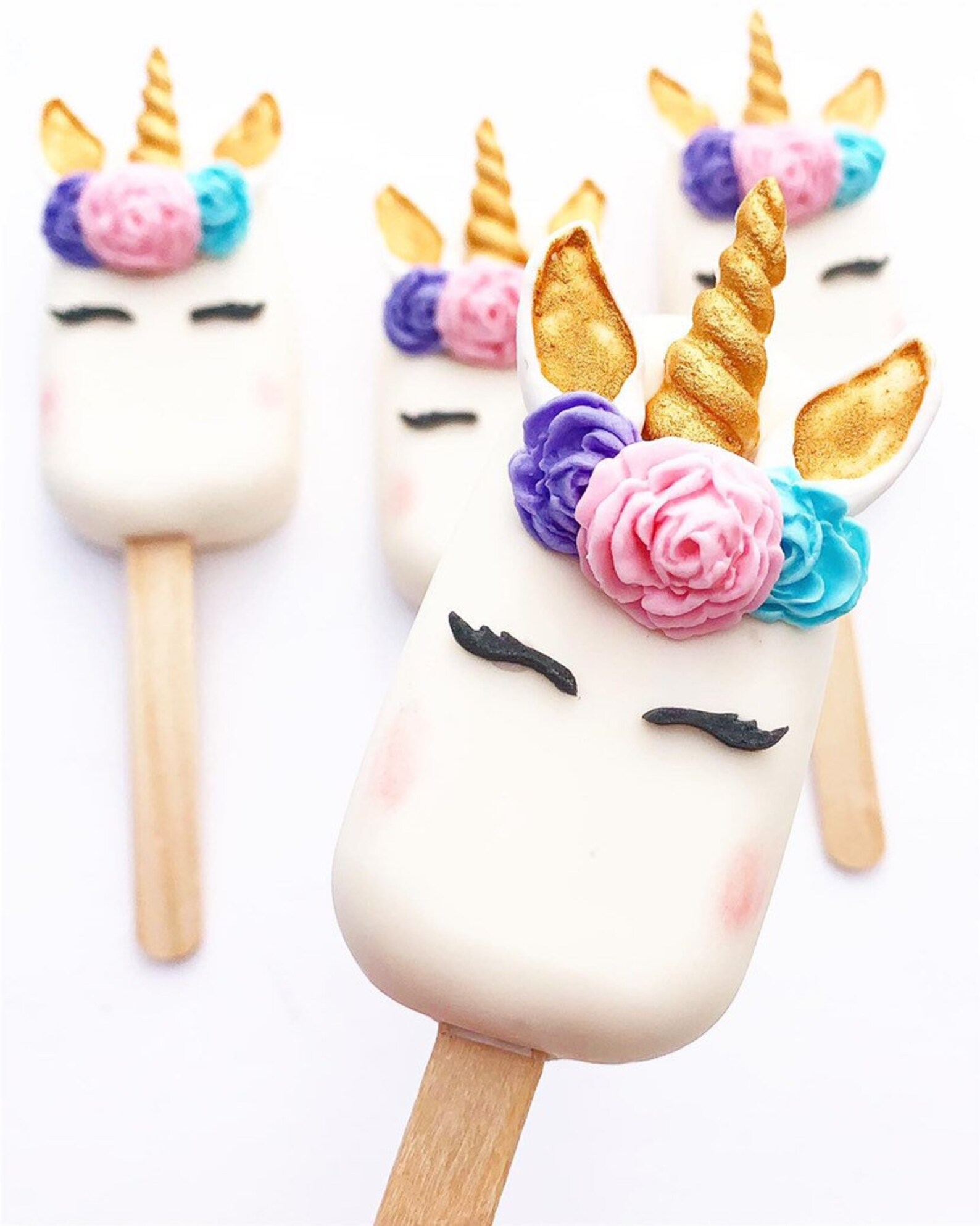 All order are MADE TO ORDER and should be scheduled 1-3 weeks in advance depending on order quantity.
+ Listing is for 1 dozen (12)
+ Custom design available (please message)
+ Custom color available
+ Save when you order more!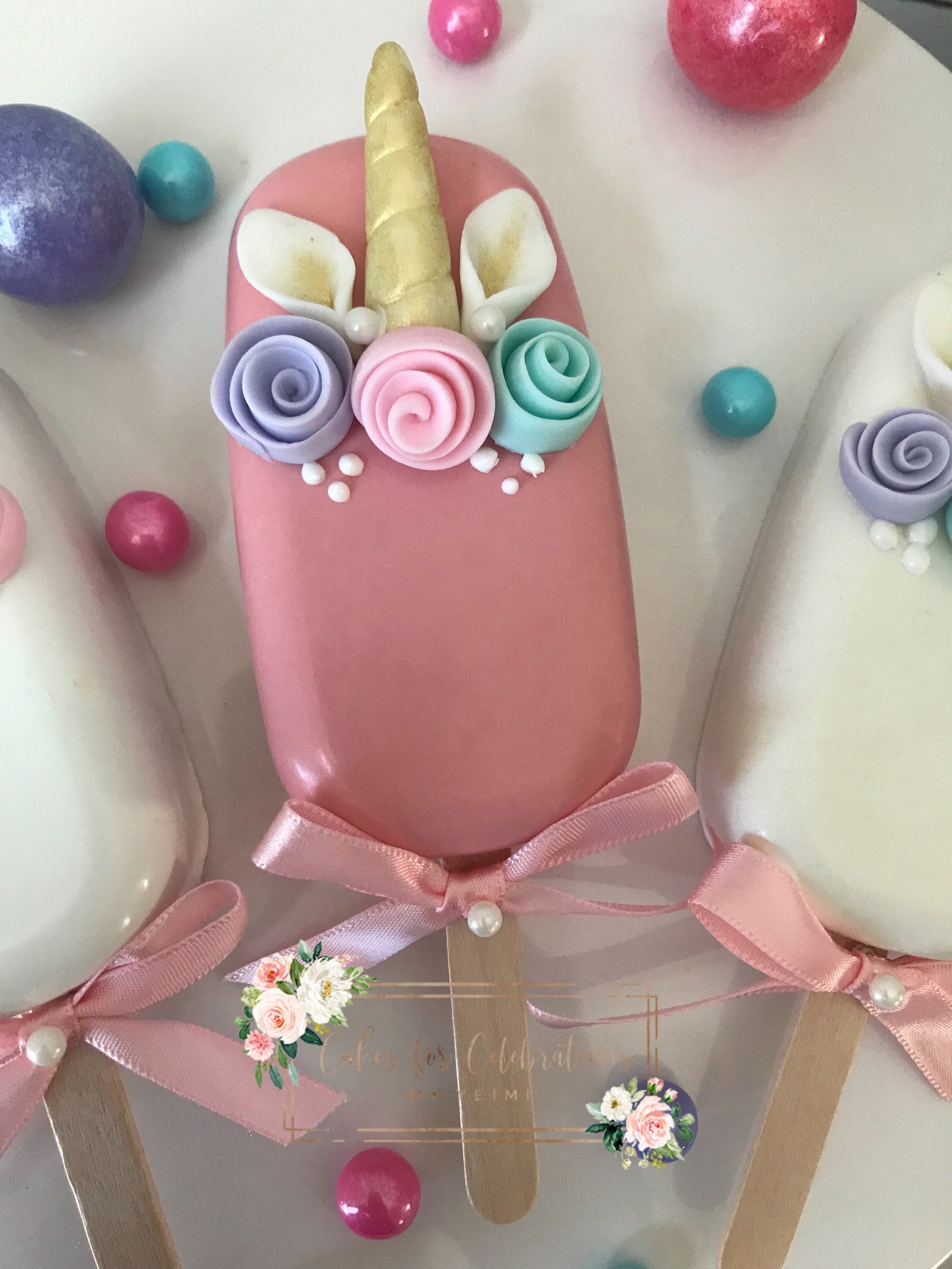 Unicorn cake pops/ Unicorn cake popsicles
These beautiful cake popsicles are the perfect complement for your unicorn party themed event.
You will receive exactly what is shown in the pictures.
These are 3.5′ inches long
Choose a cake flavor before checking out.
Cake popsicles are filled with delicious from-scratch cake of your choice, then covered in candy melt and decorated with fondant.
AT CHECK OUT PLEASE INCLUDE:
•Date needed by
•Any color OR theme changes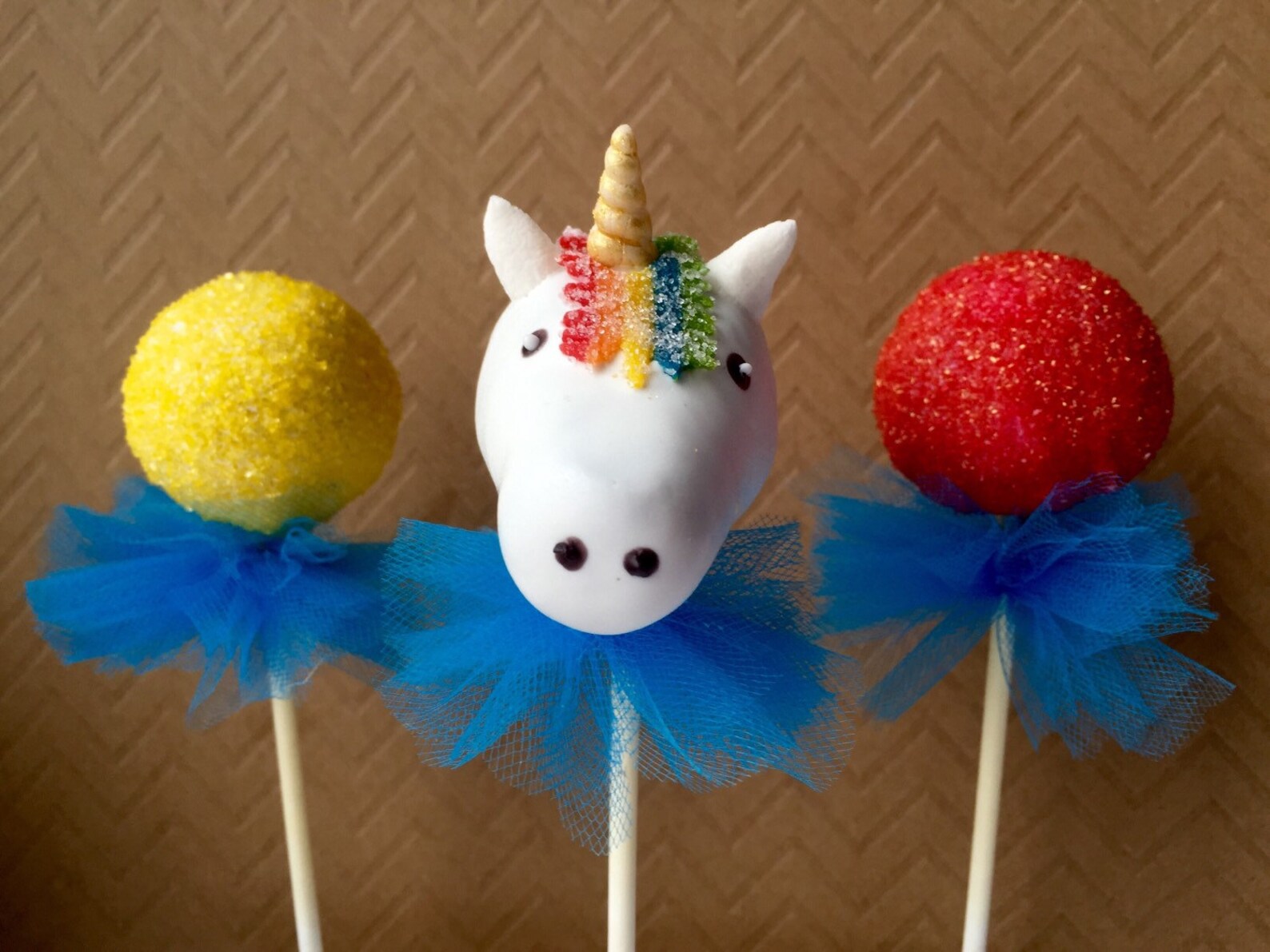 12 UNICORN Cake Pops , Unicorn Birthday Party
This listing is for 12 Cake Pops 6 Unicorn and 6 Rainbow pops.
They look great !!! And are a cute addition to your party!!! Contact me for different quantities, they come individually wrapped with a ribbon (your choice of color) they make great favors for a birthday party.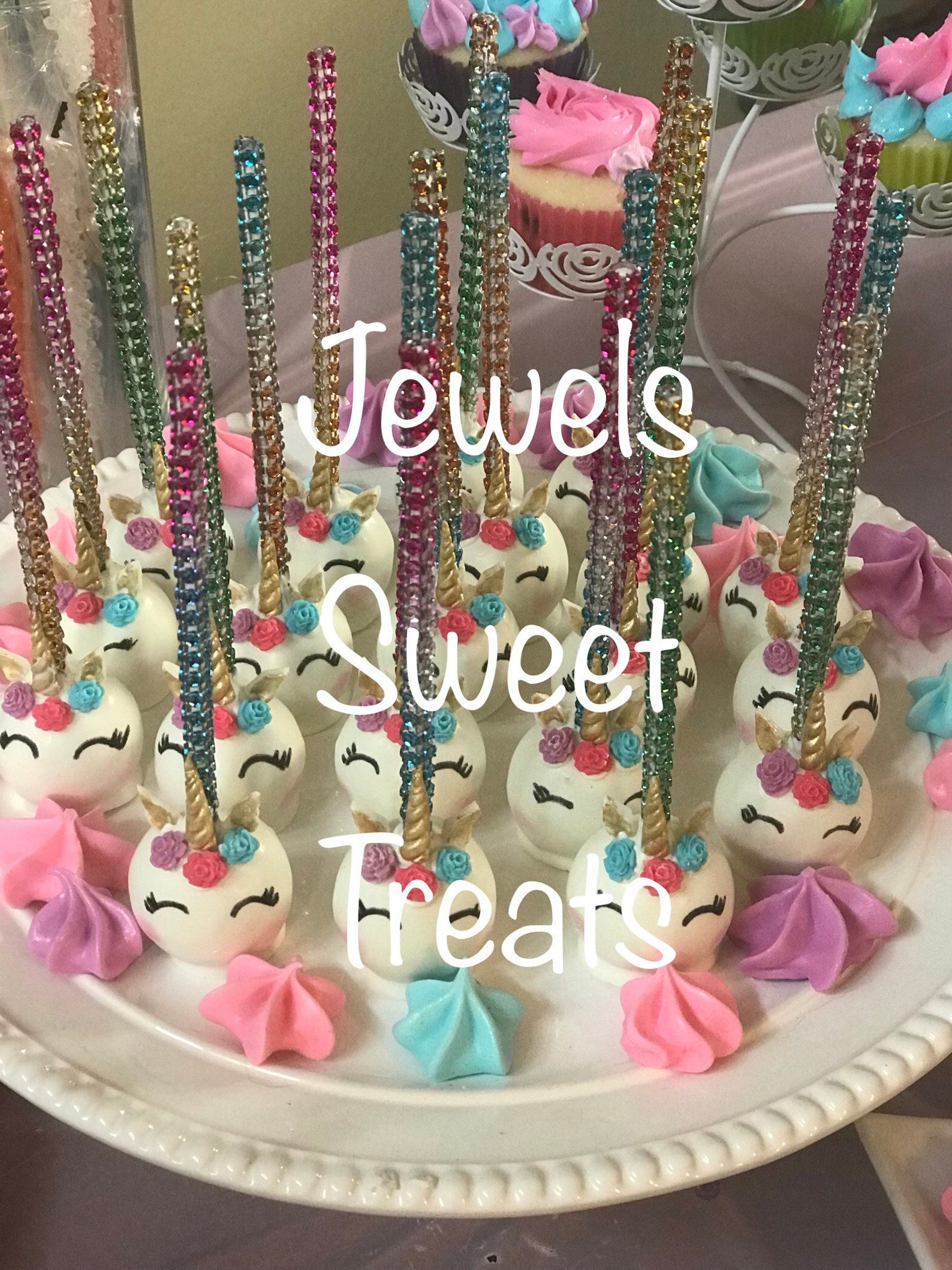 Unicorn cake pops rainbow birthday party
12 unicorn cake pops With bling sticks rainbow
Individually wrapped tied with bow
Add any item to complete your party
Unicorn horn pretzel rods
Rice krispy treats
Unicorn food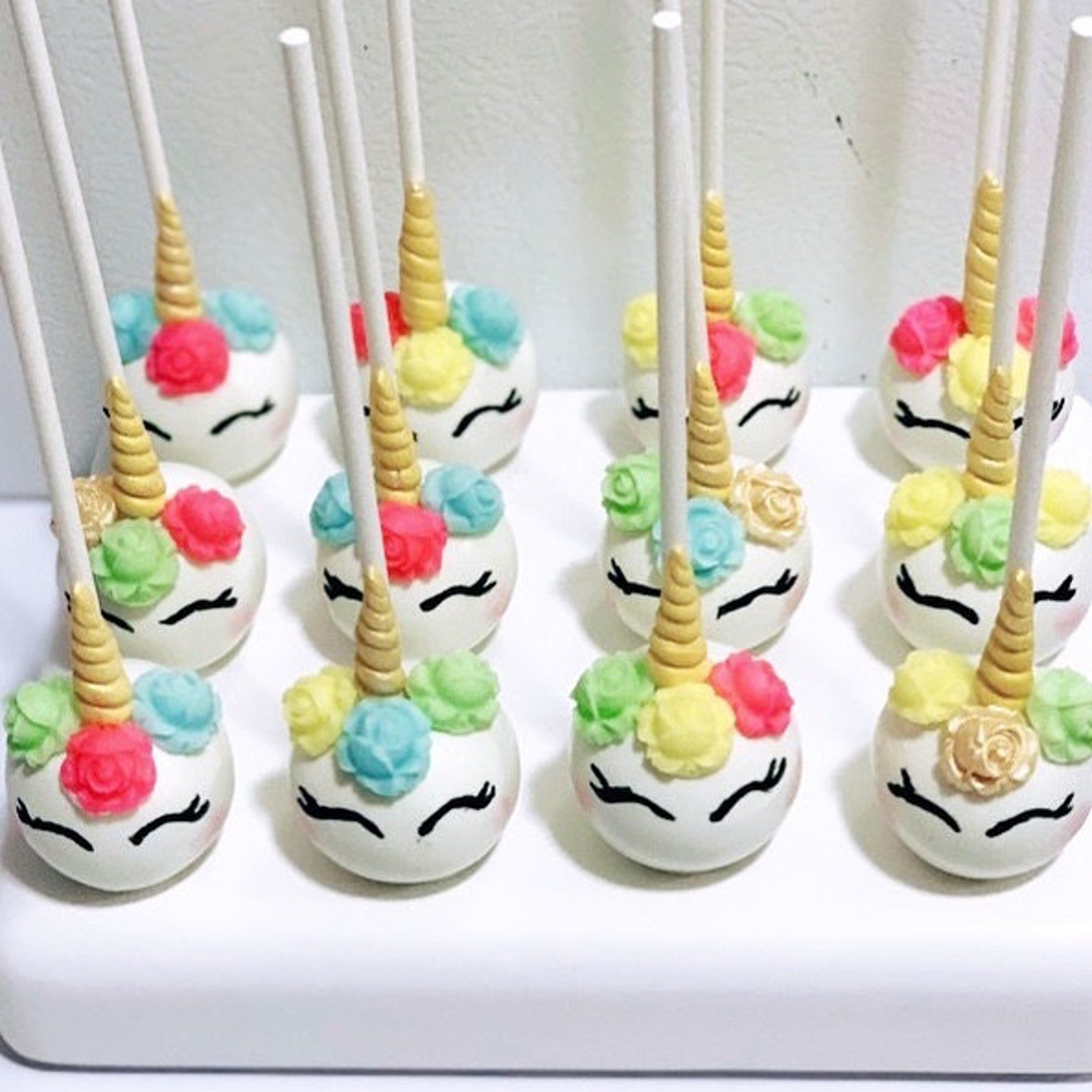 Unicorn Cake Pops, rainbows and a sleeping unicorn. Add this extra treat to your table to make a wow statement your guest are sure to talk about for days to come. This listing is for a dozen cake pops (12), this is made to order.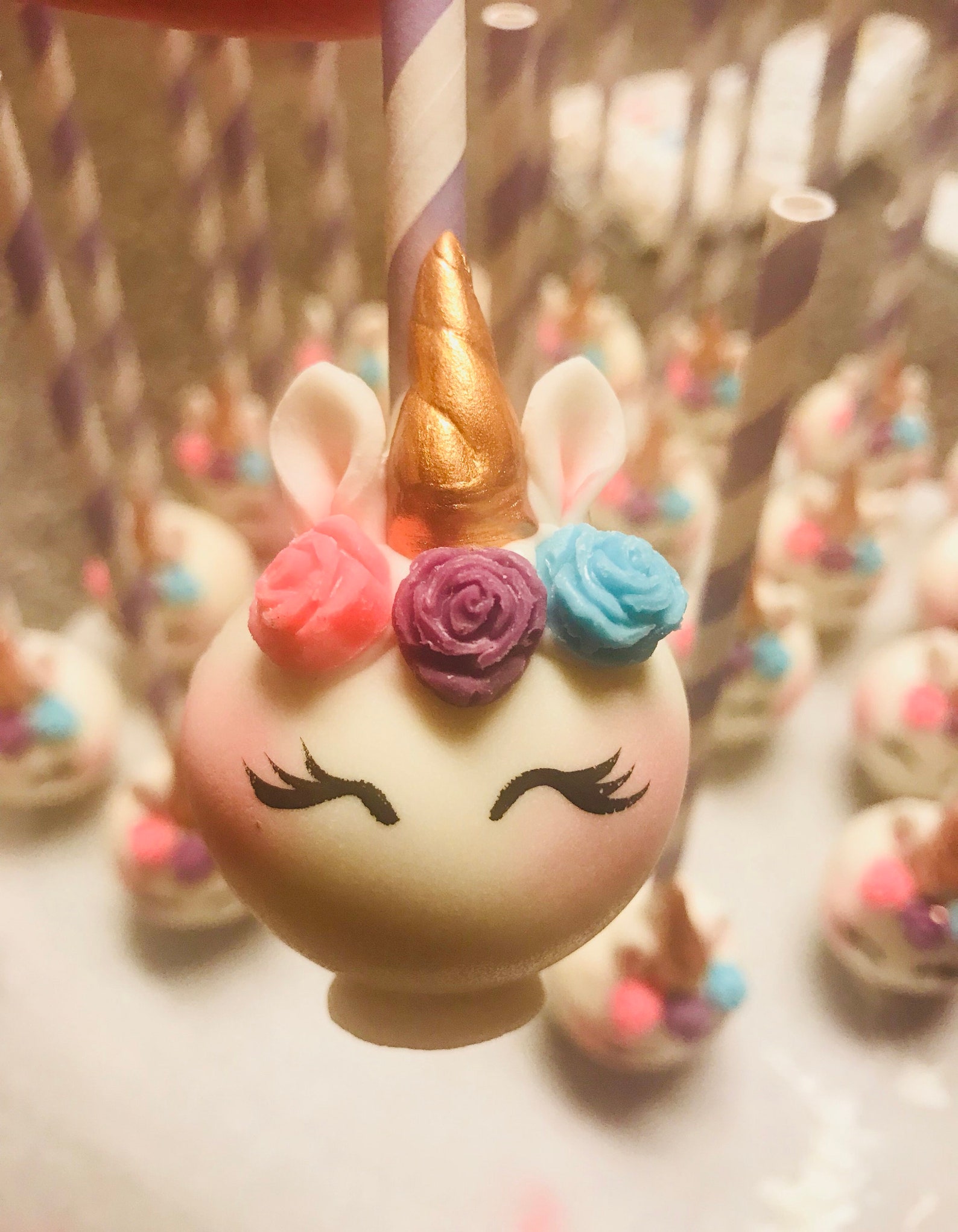 12 per order. Chocolate covered cake pops.
Selection of flavors available. Chocolate, vanilla, red velvet, strawberry and lemon.
Made fresh to order.
Each individually wrapped for freshness and tied with ribbon.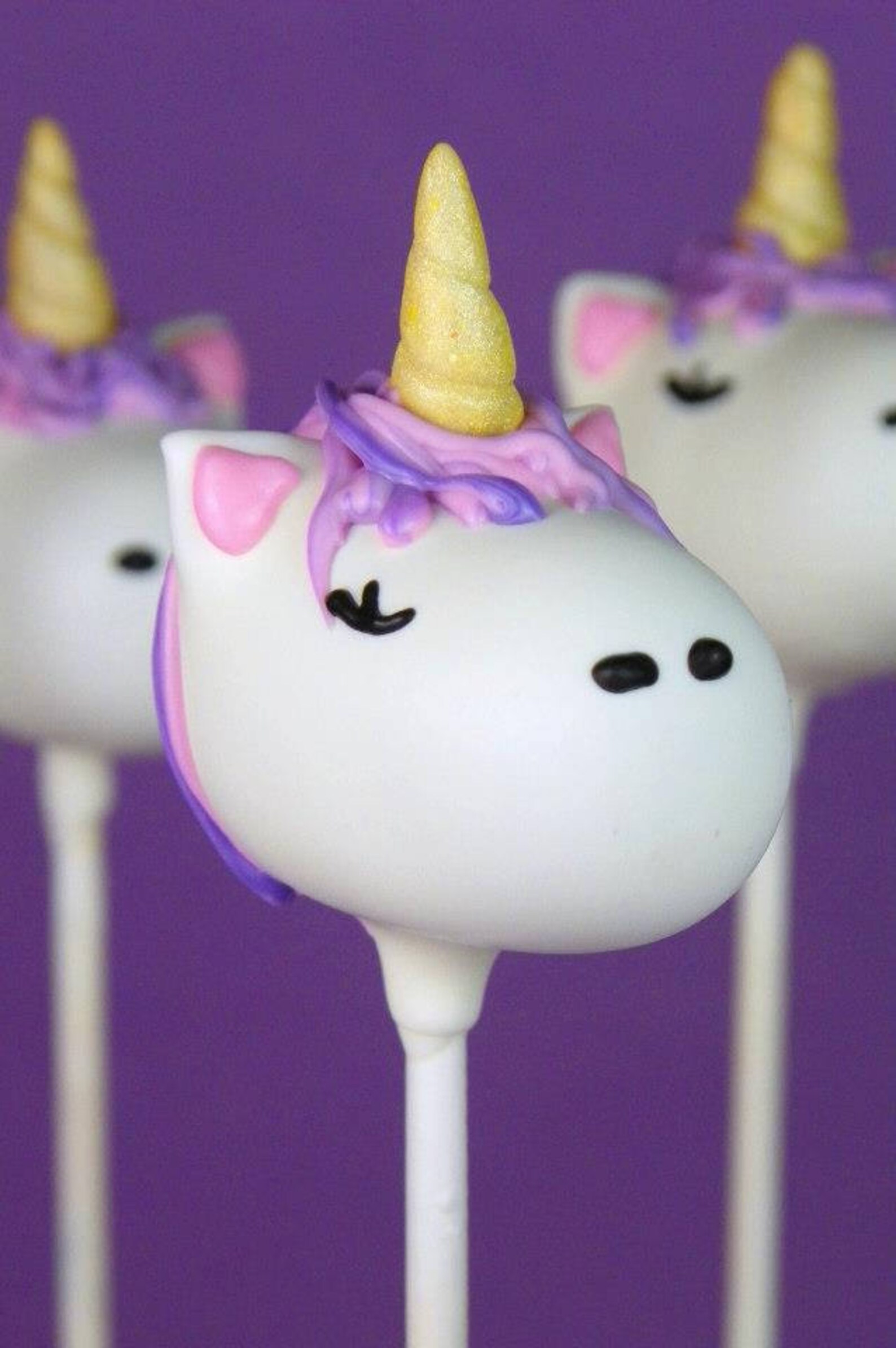 A dozen of our signature Unicorn cake pops.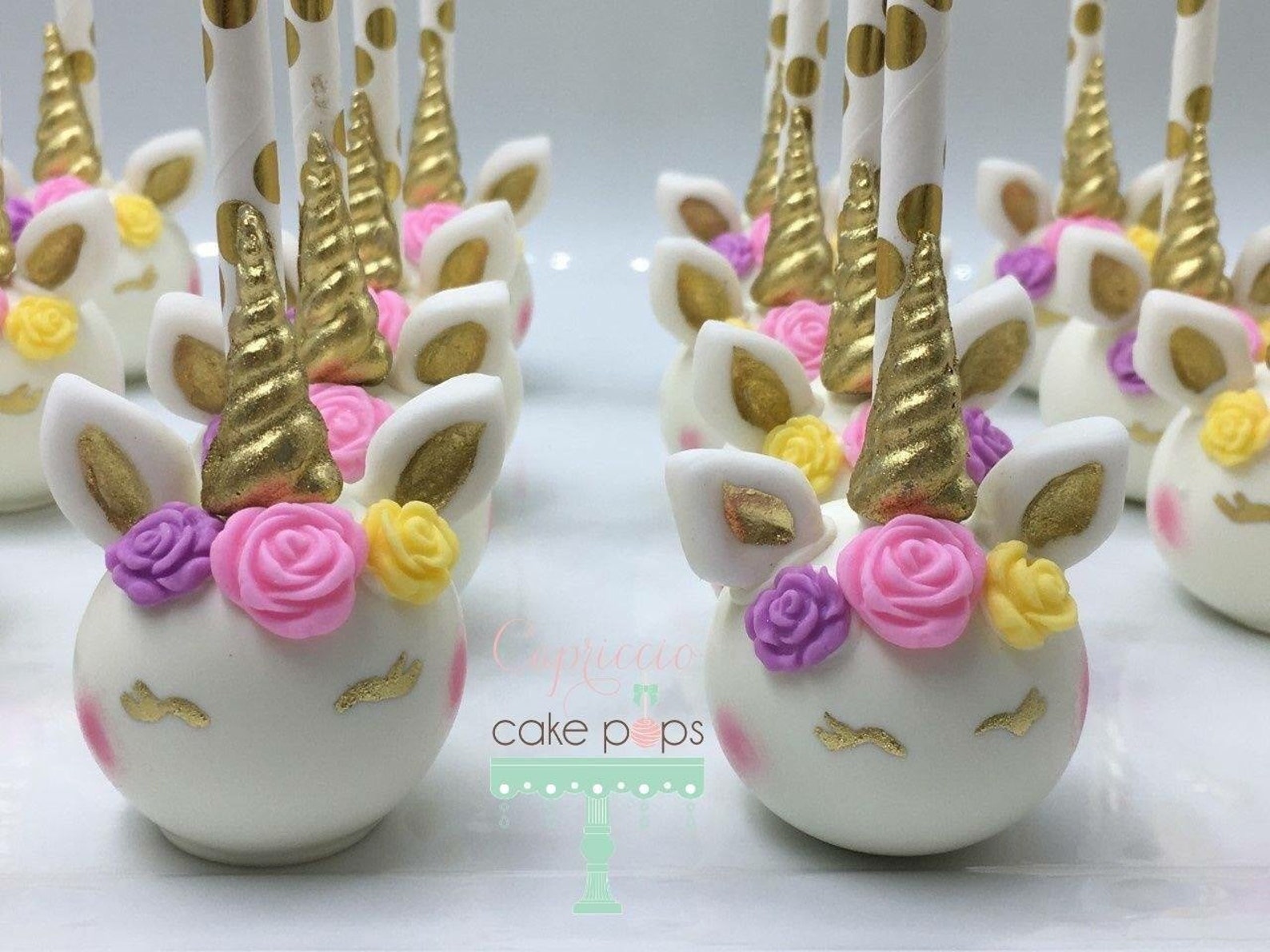 Listing is for 12 Unicorn cake pops. They come with straws or white sticks on top of cake pops so they stand on your table platter. Straw color and design varies.
Each cake pop comes individually wrapped in a clear bag tied with a twist tie. One flavor per dozen.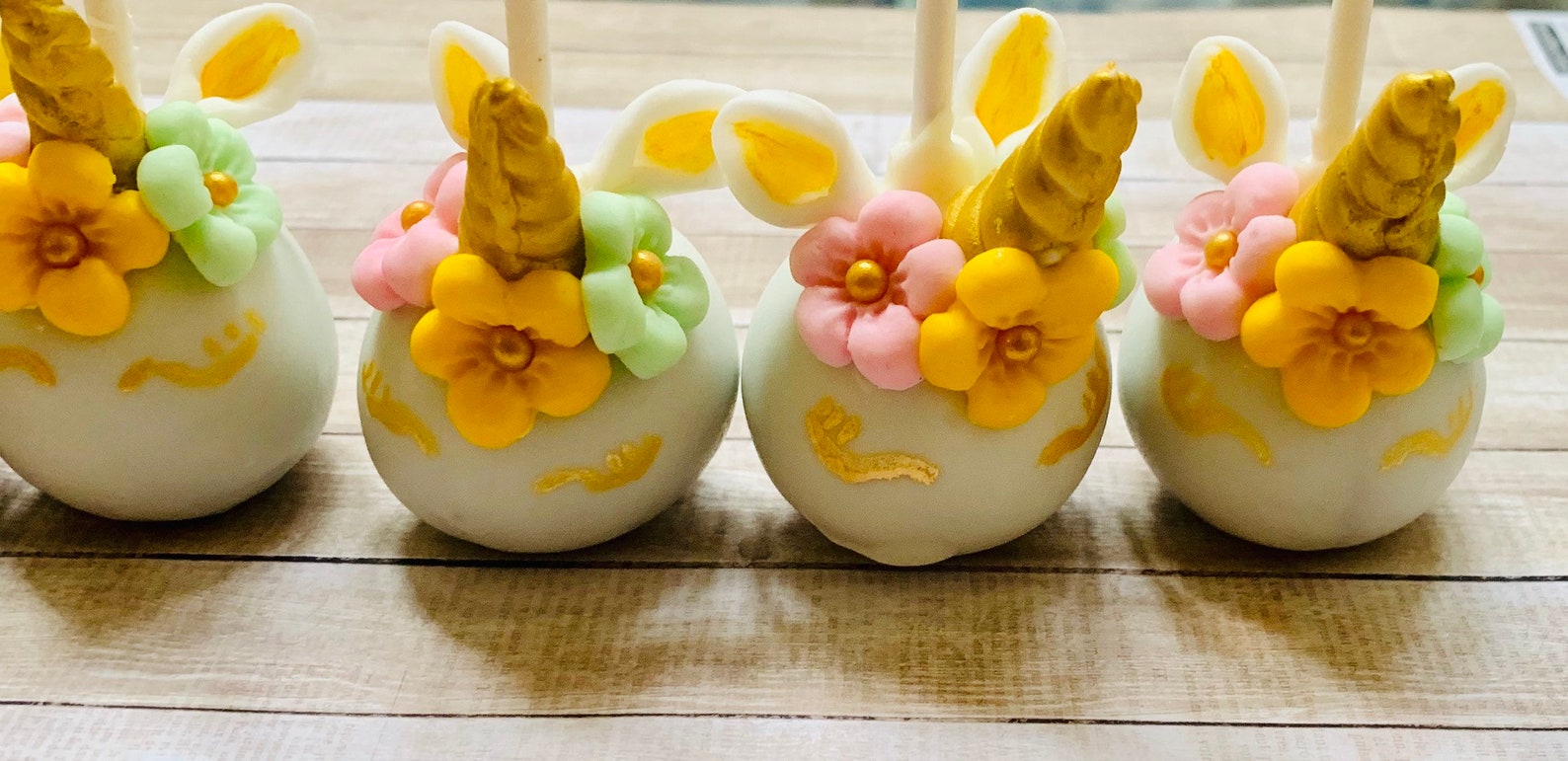 Edible Unicorn Fondant Cupcake Toppers
This listing is for
~ 12 Unicorn Fondant Cake pops topper set ( cake pops not included)
Includes :
12 unicorn horn
36 mini flowers
24 unicorn ears
Perfect for cake pops decorations or to place on top of an ordinary frosted cupcake to make them look super glamorous and expensive!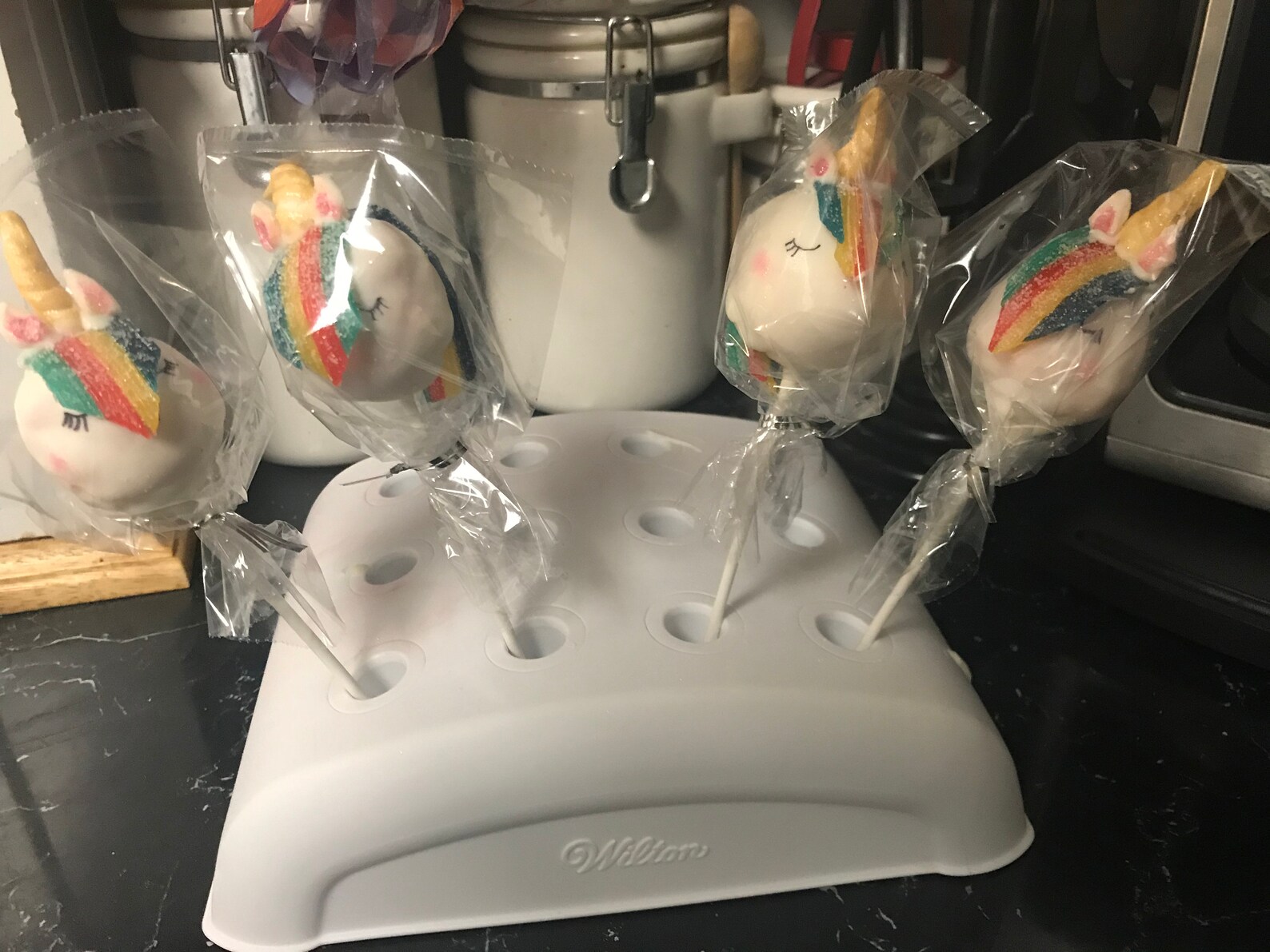 12 dozen of cake pops with the choice of any flavor. Homemade. It will come fully wrapped and packaged in a gift box.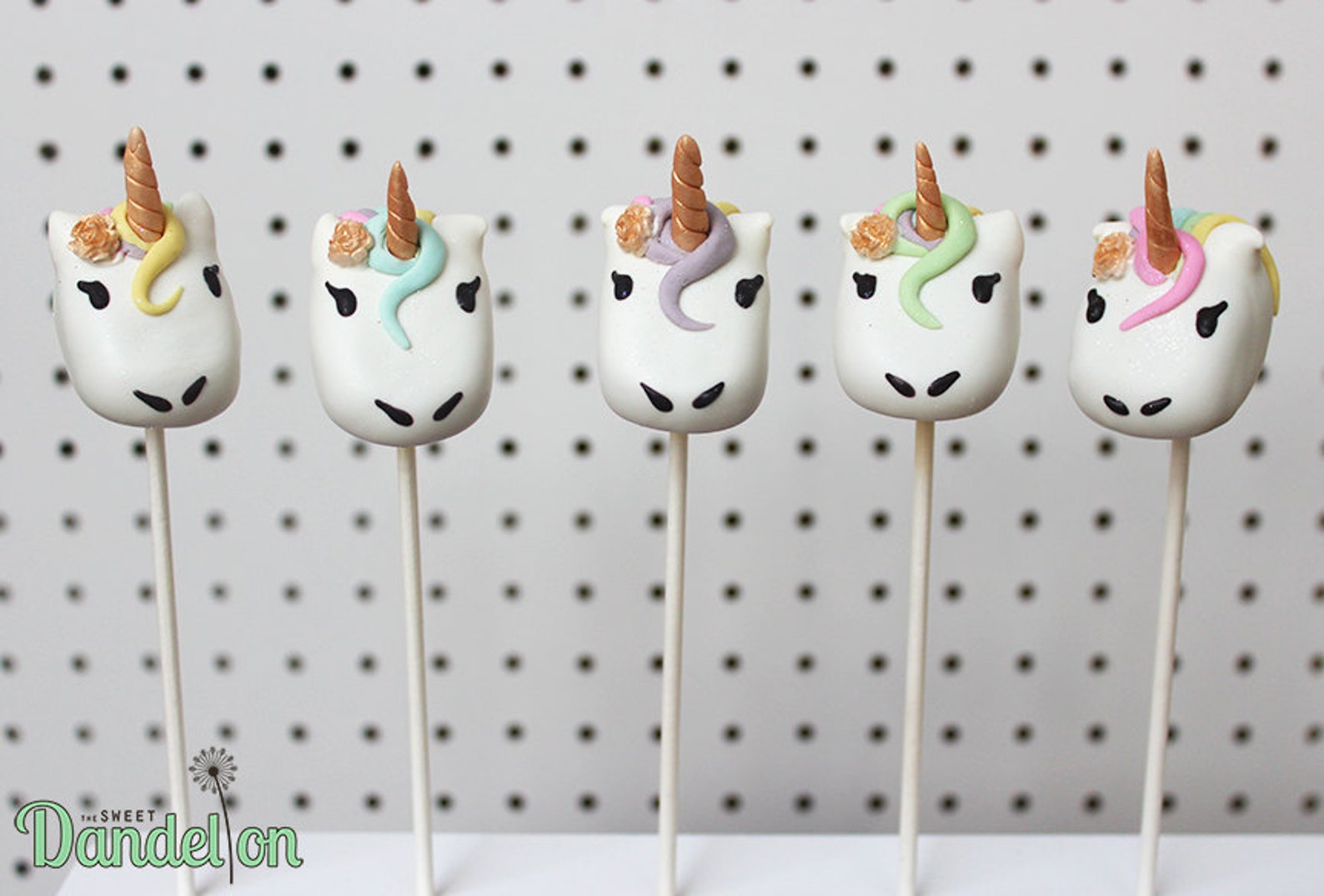 This listing is for a dozen (12) gourmet Unicorn cake pops.
Available in these flavors:
‌• French Vanilla
‌• Chocolate
‌• Red Velvet
‌• Lemon
‌• Strawberry
‌• Dark Chocolate
‌• Sweet Dandelion Signature Mint Chocolate
‌• Matcha Green Tea
At The Sweet Dandelion, each cake pop is carefully rolled by hand, dipped in high quality chocolate and topped with edible sugar decorations. Great care is taken in the creation of each cake pop to ensure you receive the highest quality product.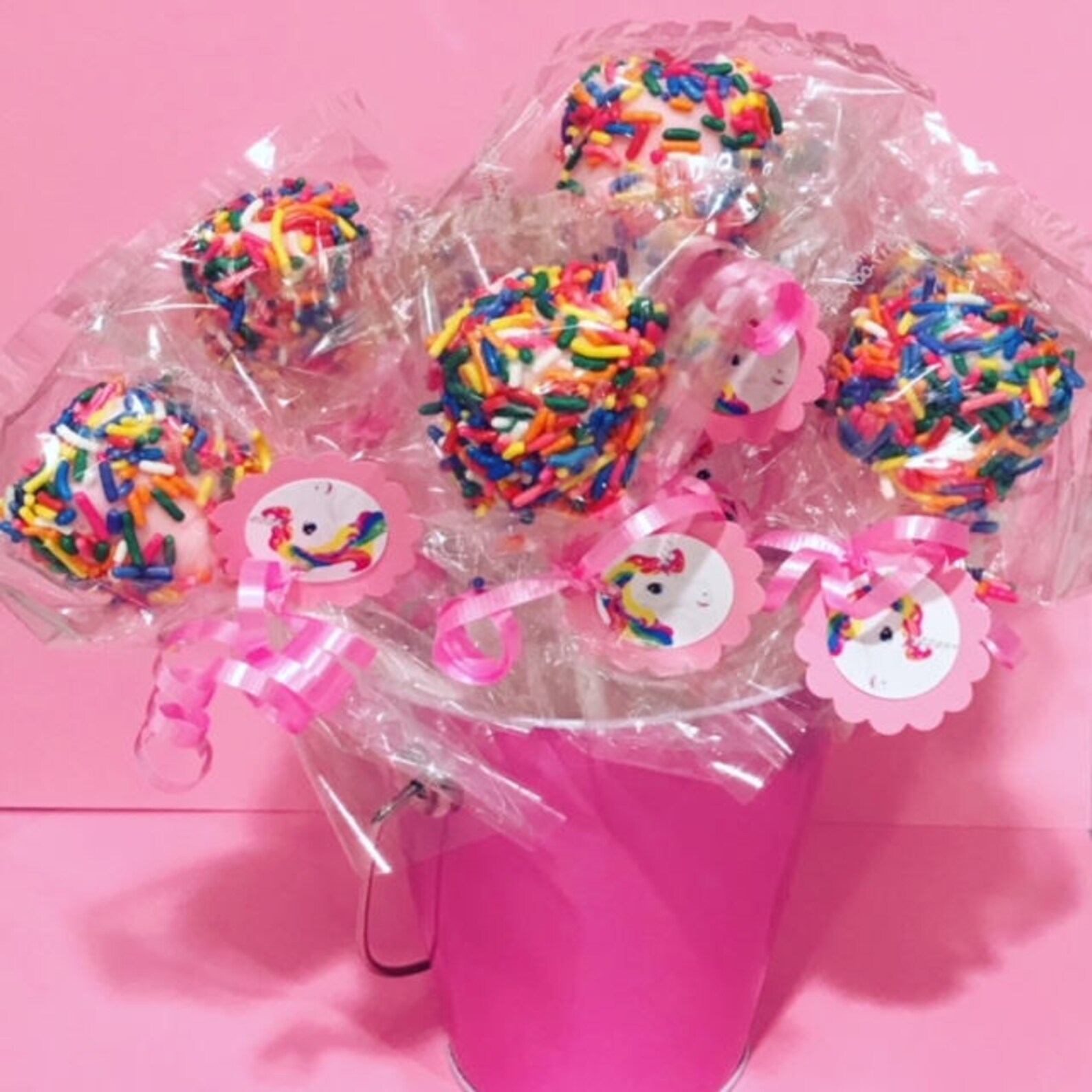 Unicorn birthday Unicorn party favor chocolate marshmallow pops
This listing is for 12 pink chocolate covered marshmallows. Additionally, each is covered with rainbow sprinkles, individually bagged and finished with curly ribbon and unicorn character tag. Additional photos show coordinating items in our shop available for purchase to complete your party theme.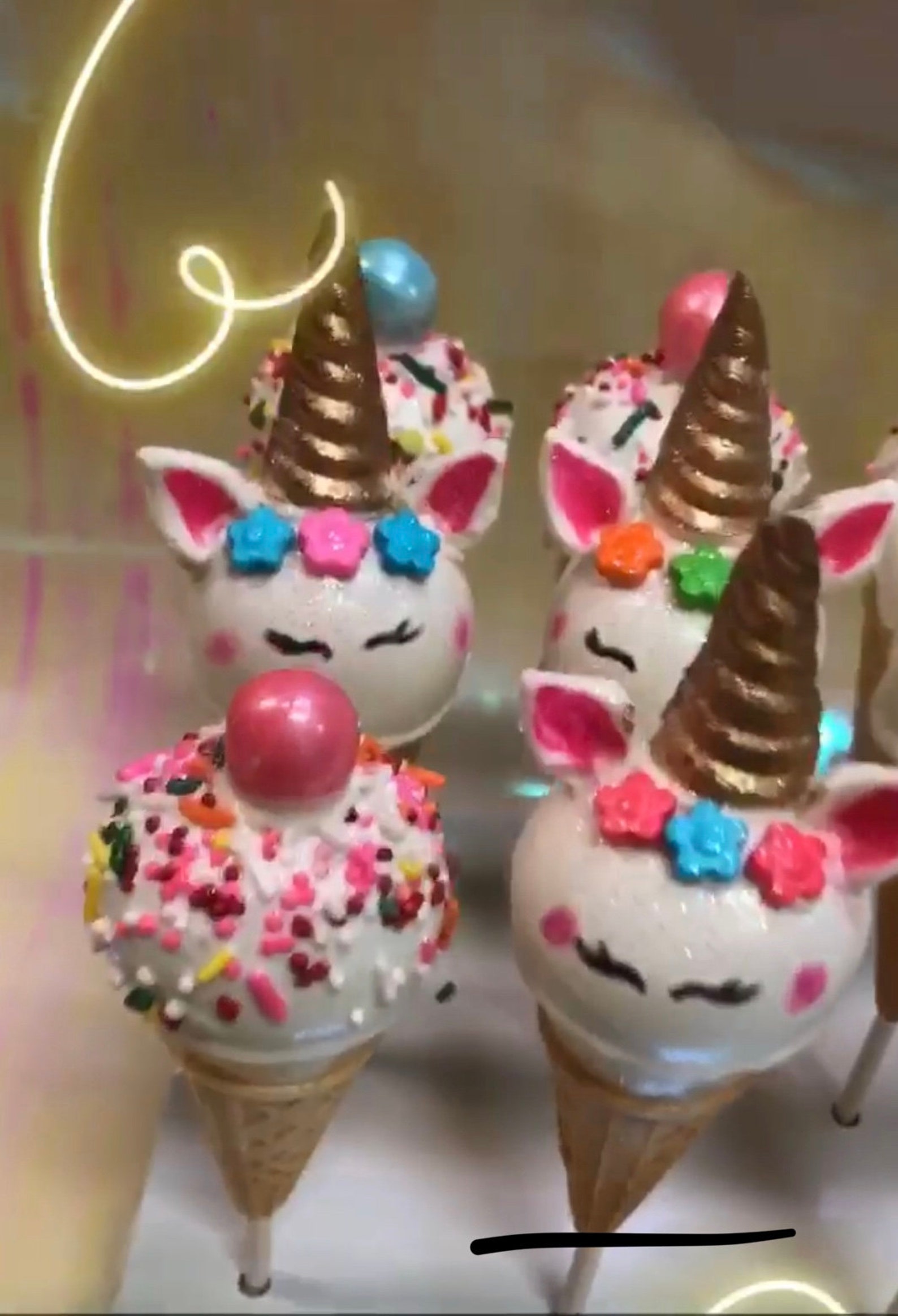 This cute unicorns are made on a ice cream cone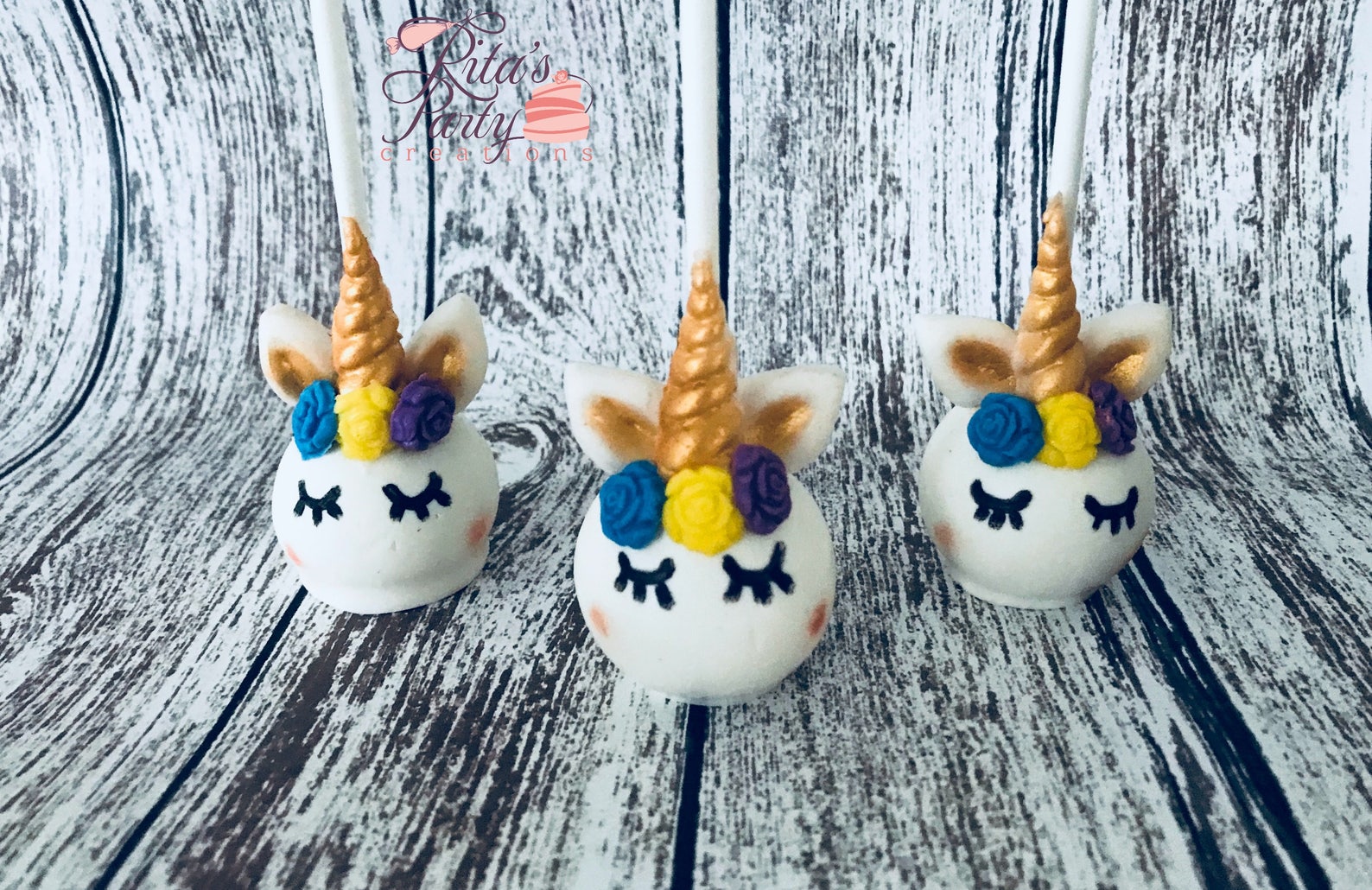 12 Rainbow Unicorn Themed Gold Cake Pops Birthday 1st Birthday Sweet Table Customize Available
1 DOZEN (12) UNICORN RAINBOW THEME CAKE POPS. 🍡Cake pops are made with crumbled baked cake and Swiss meringue buttercream
then dipped in chocolate candy and decorated. All handmade!!!!
Cake pop Flavors & Buttercream:
Vanilla w Vanilla or Chocolate
Chocolate w Vanilla or Chocolate
Red Velvet w Cream Cheese
Lemon w Lemon or Vanilla
Coconut w Vanilla
Banana w Nutella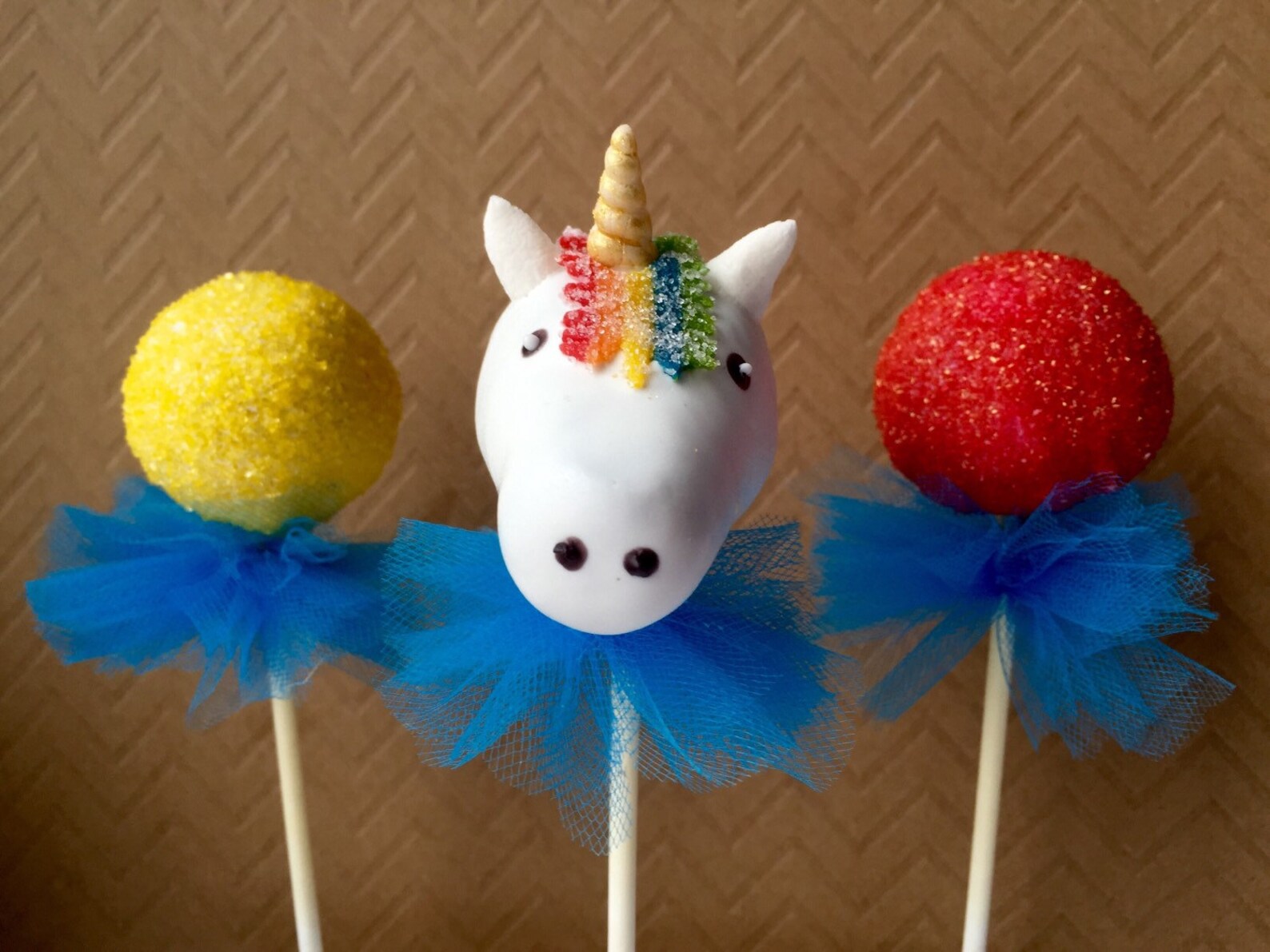 12 UNICORN Cake Pops , Unicorn Birthday Party
This listing is for 12 Cake Pops 6 Unicorn and 6 Rainbow pops.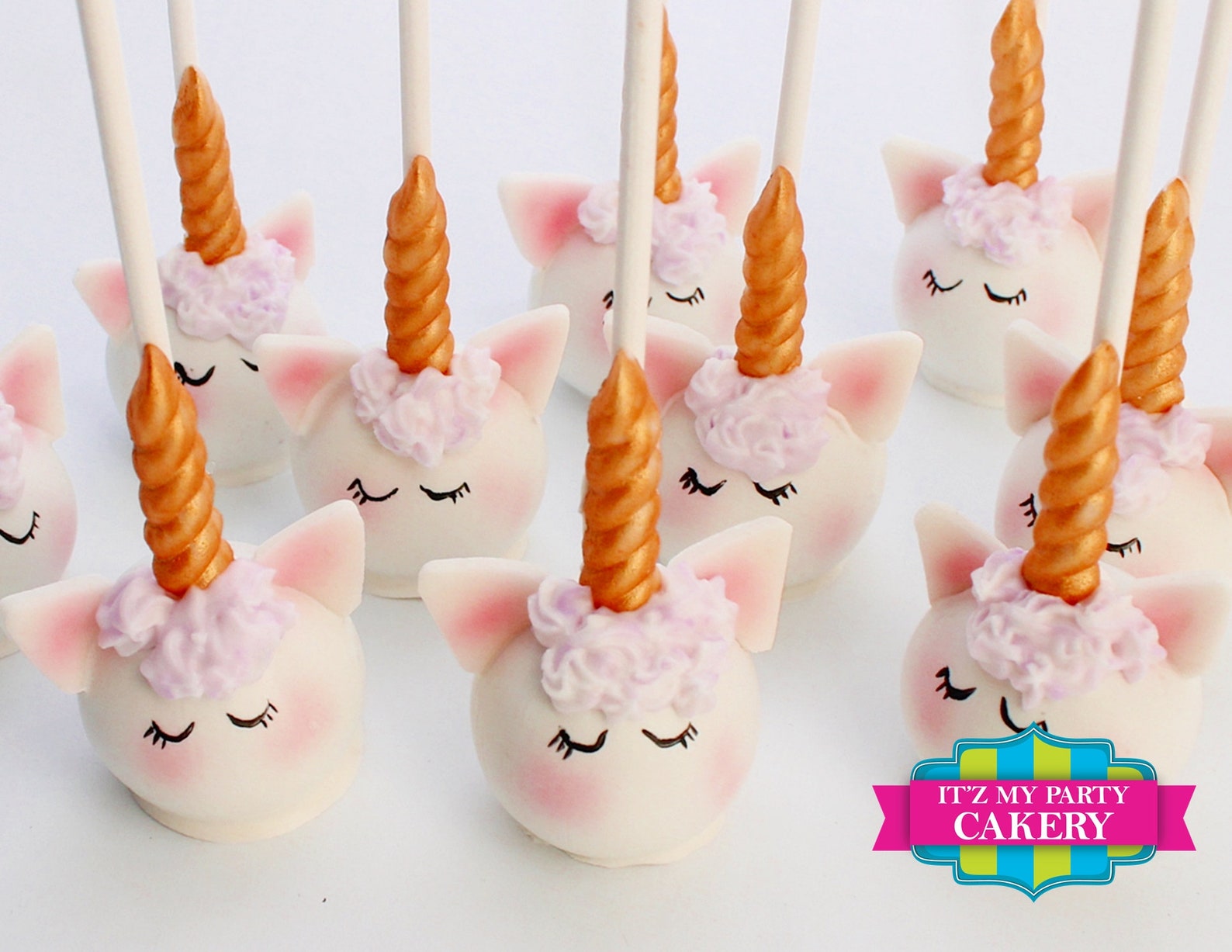 Unicorn Head Cake Pops (1 Dozen)
Our Cake Pops are hand shaped cake and dipped in white chocolate with a mix of swirls & designs and decorated with an edible image chocolate button. Each one ends up having their own cute personality.
*Cake Pops make great gifts, party favors, and look great on dessert tables!
*Each comes individually wrapped. You can choose whether you want the cake pop to have the stick down to place into a cake pop holder OR have the stick up, to allow you to place them onto a dessert platter. Please indicate your option in the notes section when ordering. If you do not choose a preference, we will default to the stick being down.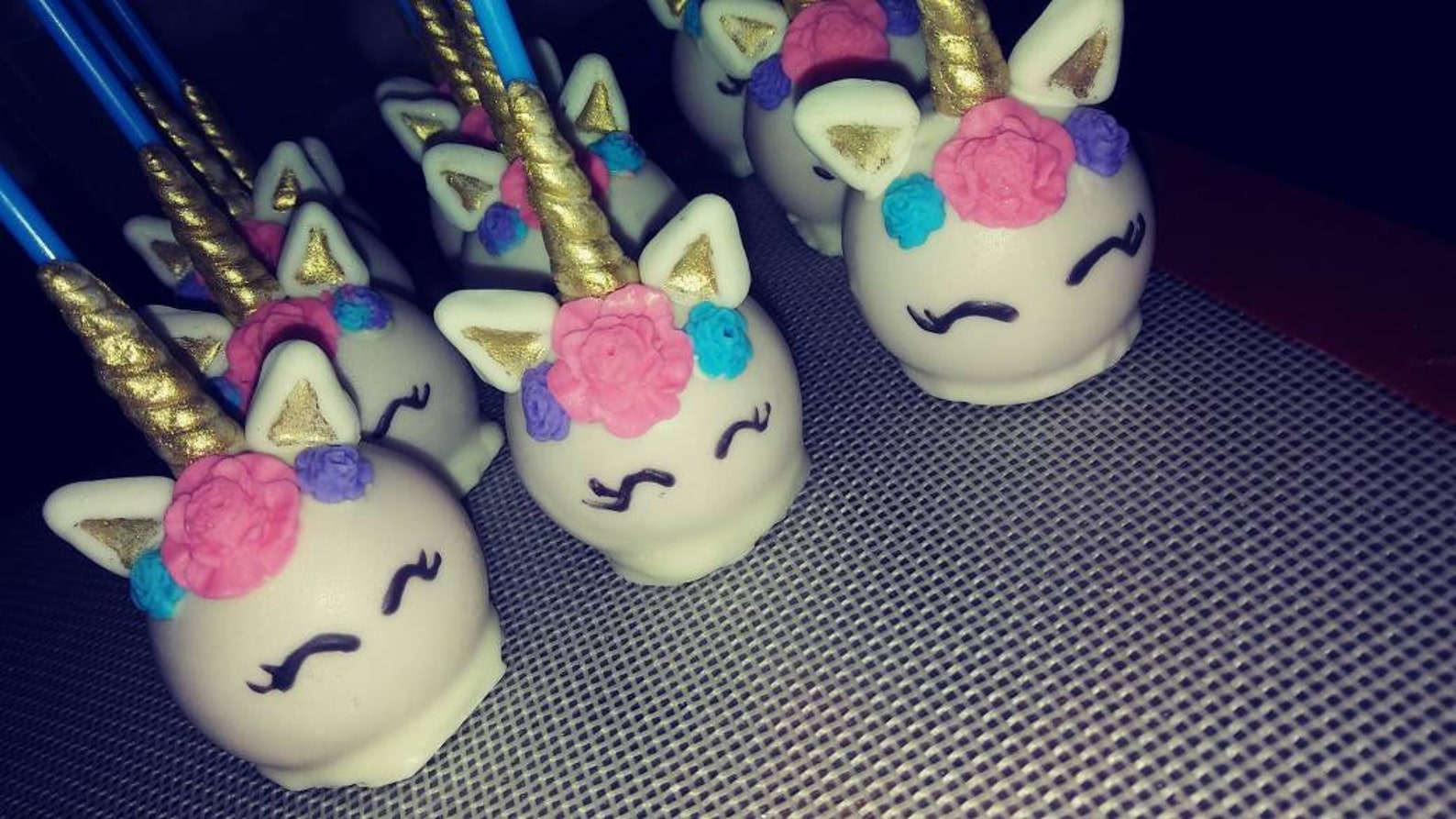 This listing includes (12) unicorn cakepops in 1 flavor of your choice. Each cakepop is individual wrapped and tied with color ribbion.
Delicious Unicorn Theme (12) gourmet cake pops topped with fondant and candy melt.
Use these Cake Pops as party favors or to accent your decor.
For an added touch, you can request custom tags to match.
Our gourmet cake pops are made to order – each one is hand made of moist delicious cake, combined with creamy frostings, dipped in chocolate candy or candy melt and hand decorated.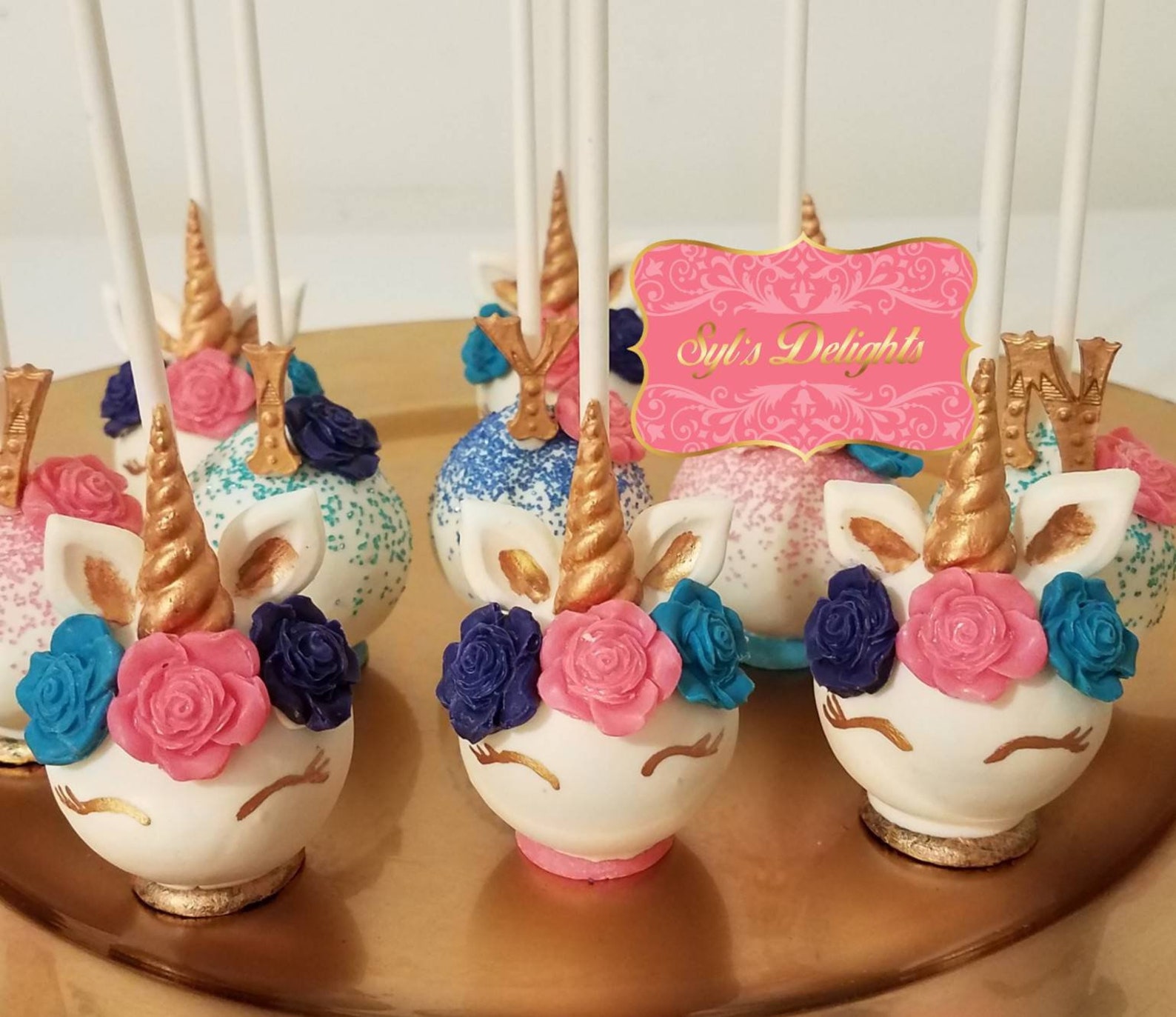 Unicorn cakepops. unicorn horn and ears
Colors will be changed to your 3 favorite choice of colors.
Each item is carefully wrapped to keep fresh.
One flat shipping rate when you order from this listing!
All our products are exclusively made with Belgian chocolate!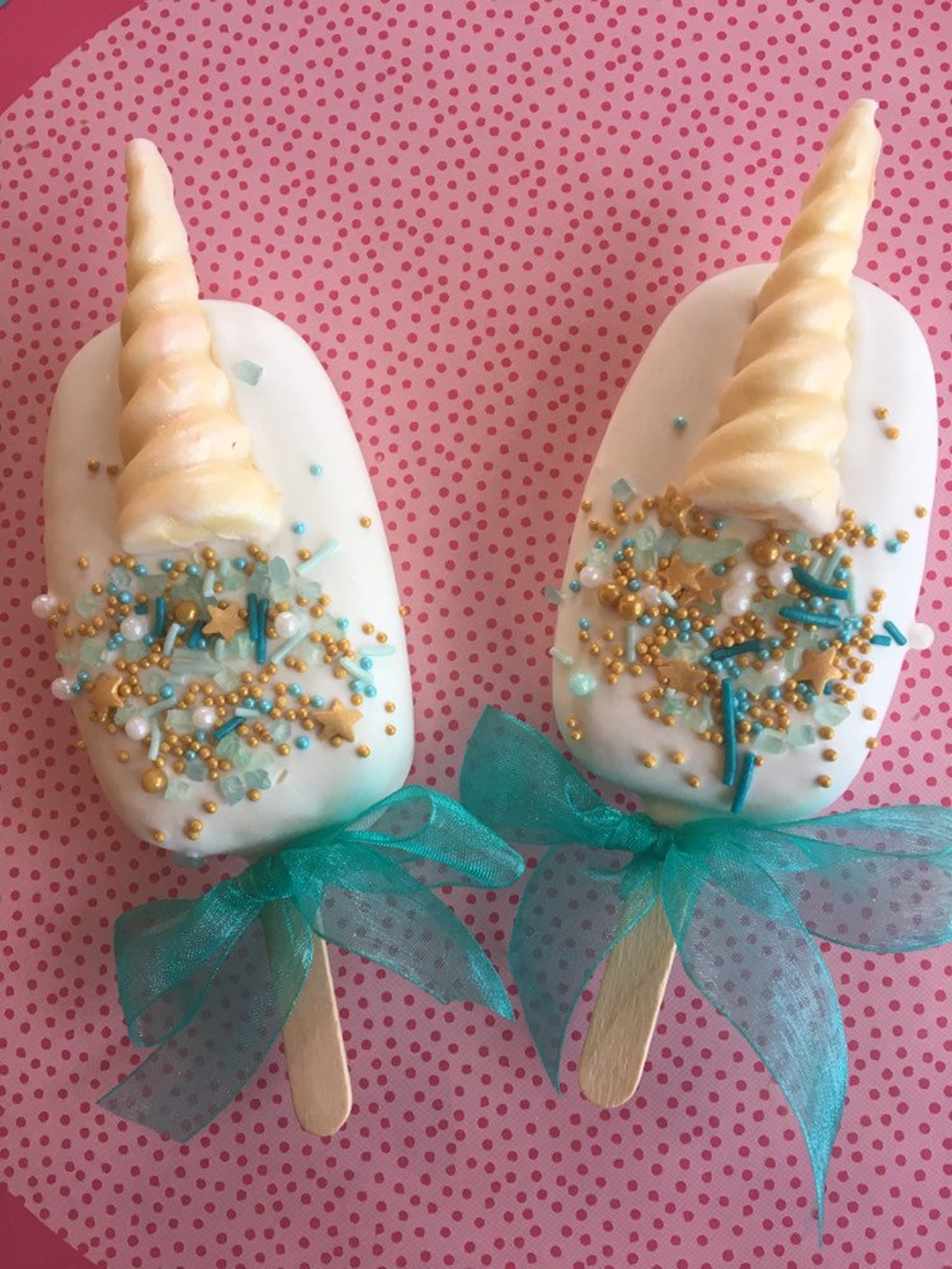 Unicorns Cakesicles/Cake Pops (6 Pops)
6 beautifully decorated milk or white chocolate dipped Cakesicles. (like a cake pop, but SO much better. Choose large size 4"x2"x1" or the identical 3"x1 1/2"x 1" smaller version. The Cakesicles begin with a mix of homemade cake in your choice of flavors mixed with chocolate. Then they are Dipped and decorated to perfection, in creamy, Milk or White Merckins chocolate. Adorably decorated (as pictured), and individually wrapped with coordinating ribbon. Sold in quantities of 6. Stays fresh for about one week.
Check out the Mermaid available too (can be ordered together, mention in messages)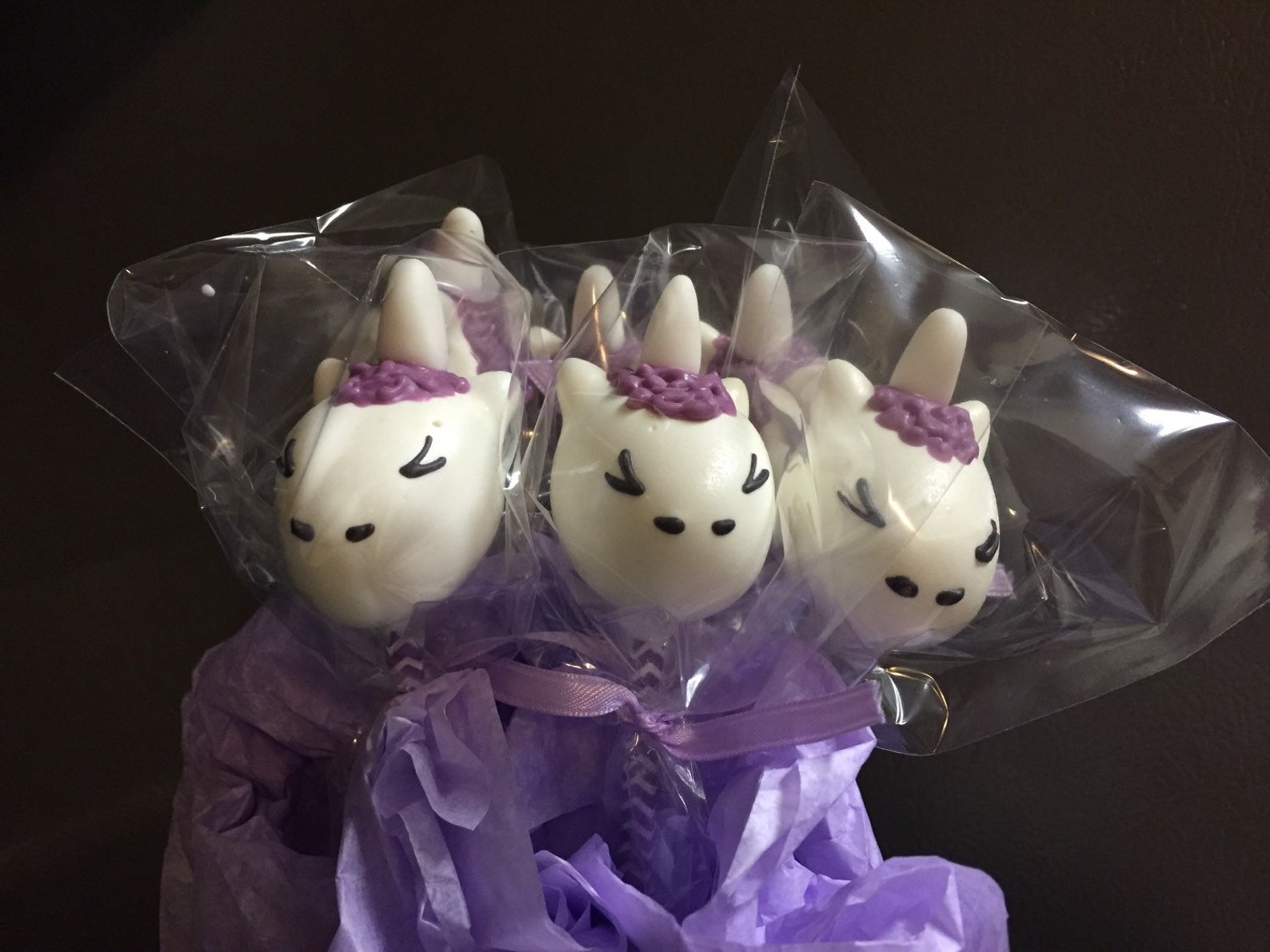 Specialty Flavors – (add an additional $3.00 per dozen)
Chocolate Chip Cookie Dough (these can not be made into specific characters – they are too heavy and they slide down the stick, however, they are so delicious that I don't think anyone will mind that they are just dipped in delicious dark or milk chocolate)
Pumpkin Cake with Cream Cheese Frosting dipped in vanilla candy that has been spiced up with cinnamon
Banana Cake with Chocolate Chips dipped in Peanut Butter with Bacon Sprinkles
Chocolate Mint – chocolate cake with andes mints, dipped in chocolate mint candy and sprinkled with andes mints
Caramel Chocolate – chocolate cake with caramel balls inside, dipped in chocolate candy with caramel drizzled on top.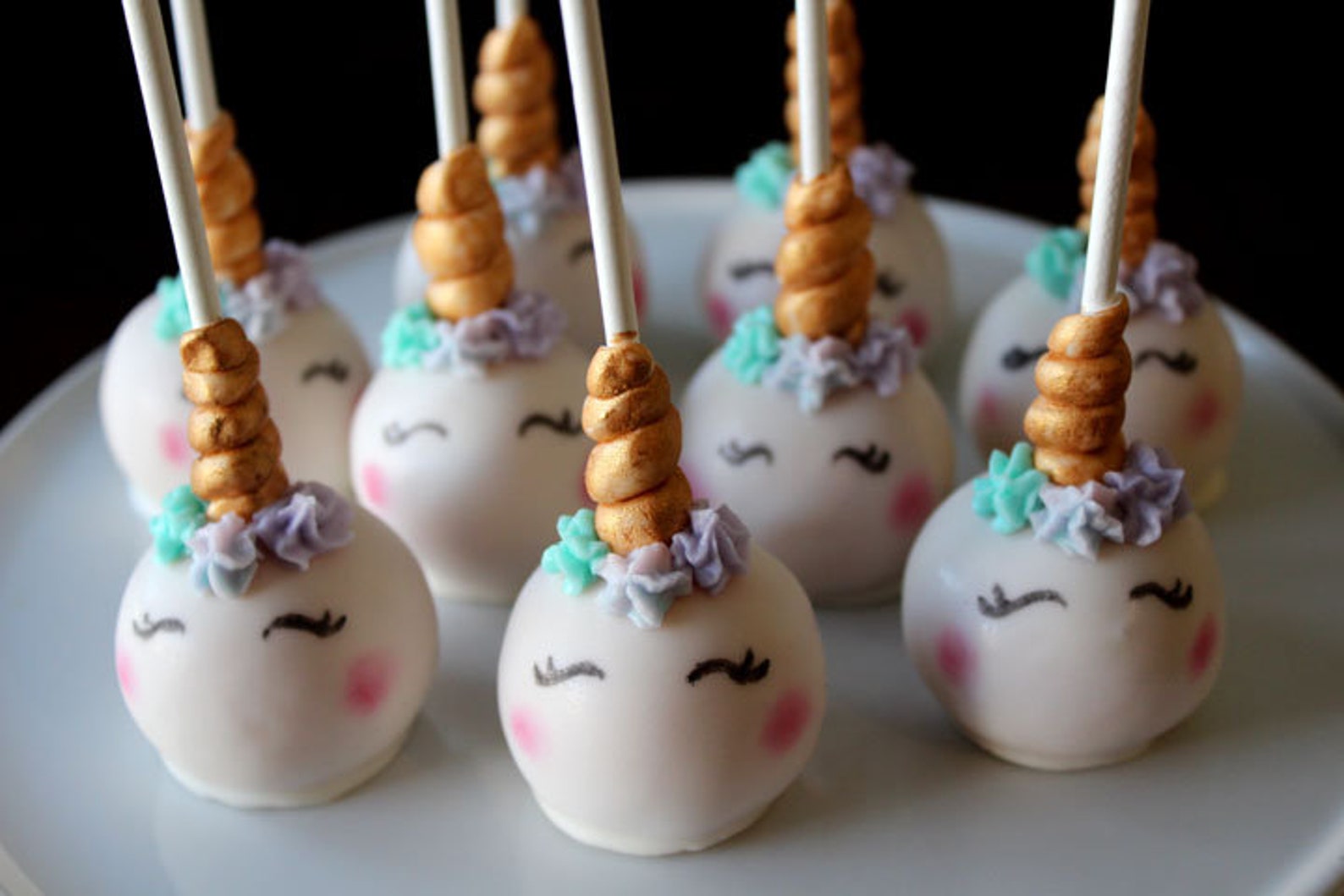 Custom made cake pops for any occasion. See examples in photos. Please message me with ideas.
Each order contains 12 cake pops.