Christmas Tree Cake Pan

The Christmas Tree Cake Pan makes it easy to bake and decorate a shaped cake or cookie that you can serve at your Christmas party
Uses one cake mix
Non-stick for easy release, making cleanup a breeze
Use Wilton Decorator Icing, Sprinkles and Shaped Sprinkles to trim this edible tree
Top-rack dishwasher safe


Wilton Tree Cake Pan

Non-stick for easy release
Dishwasher safe
About 14 inches tall, 10 inches wide at bottom, 2 inches deep
Cold-rolled steel
Bubble-wrapped to protect during transit


Christmas Tree Baking Pan, by Nordic Ware

Nordic Ware Quality
Aluminum Body
Reflective Exterior for Even Browning
4.5 Cup Capacity
Non-Stick Interior


Wilton Iridescent Green Tree Pan

This bright, colorful shape is as much fun for serving party treats as it is for baking! Designed for quick, easy decorating. Also ideal for crisped rice cereal treats, molded gelatin, bread dough and more.


Foil Christmas Tree Shaped Bake Pan 10 / Pack

Tree shaped disposable foil pan, great for holiday goodies such as fudge, cookies, nuts, candies – or bake a cake in it. Green exterior – interior is natural aluminum -Bake and Serve right in pan A great serving piece, adds to the holiday atmosphere. Good quality, made in USA. Top outside dimensions (rim to rim): 11-3/4″ x 9-1/8″ Top inside dimensions: 10-5/16″ x 8-5/8″ Depth: 1-1/2″ Capacity: 36 fluid oz


3D Christmas Tree Silicone Mold – MoldFun Xmas Tree Pan Silicone Mold for Mousse Cake Muffin Baking, Ice Cube, Jello, Chocolate, Soap, Lotion Bar, Bath Bomb, Candle (Random Color)

SAFE FOOD-GRADE MATERIAL – All of our silicone molds are made of 100% pure, professional quality food grade silicone. Meets US FDA and European LFGB safety standards. BPA, PVC and Phthalate free. Innoxious, no peculiar smell.
WELL-DESIGNED AND MULTIPURPOSE – The fine design and the clear details make your works vivid and lively. And it is microwave, oven, refrigerator, freezer safe. You can create your own special chocolates, candies, ice cubes, jellos, soaps, lotion bars, crayons and more with this miraculous mold.
EASY TO USE AND RELEASE – Simply pour your favorite ingredients in the mold, and keep the ingredients static until completely formed. This flexible silicone mold offers a non-stick surface that allows the goods to pop right out with a little push from the bottom.


Nordic Ware Pine Forest Bundt Pan, Metallic

Cast aluminum provides superior baking performance
Holds 9 cups of batter
Measures 9.75″L x 9.75″W x 4.25″H
Lifetime Warranty
Made in the USA


Disposable Aluminum Christmas Tree Cake Pan with Clear Snap on Lid

Top outside dimensions (rim to rim): 11¼" x 9″ Top inside dimensions: 9¾" x 7½" Depth: 1½" Lid adds 1″ to height Capacity: 36 fluid oz.
Tree shaped disposable foil pan, great for holiday goodies Green exterior – interior is natural aluminum
A great serving piece, adds to the holiday atmosphere Perfect for cakes, brownies, nuts, cookies and more
Lid Snaps on tight keeping cookies and goodies fresher longer, and very convenient for transporting.
Made in the USA- Kosher Certified and 100% Recyclable


3-D Christmas Tree Cake Mold 8 X 5 1/2

Christmas Tree Cake Mold
Easy to Use
3-D
Dishwater Safe
Aluminum


Wilton Petite Christmas Tree Cake Pan

Can be used for cakes, cookies, gelatin, mousses and more.
Pan contains 12 molds
Each mold is 2in x 2in


Silicone Let's Celebrate Bakeware Collection Cake Pan, Christmas Tree

1-Christmas tree shaped silicone baking mold; made from platinum based liquid (lsr) 100-percent food-grade silicone
Measures 12.4 x 1.8 x 8.8-Inch; Christmas tree-shaped baking dish
Each mold fitted with patented removable fiberglass safe ring; insert on mold rim to ensure stability and best results
Ultra flexible for easy extraction, odorless and smokeless; does not add or take any flavors from food


Roshco Create -N- Celebrate silicone Christmas tree cake pan

3 dimensional cake mold create unique cake presentations
Refrigerator, freezer, microwave, oven, dishwasher, and metal utensil safe
Quick release permanent non-stick surface
Heats and cools quickly and evenly
FDA approved food grade silicone guaranteed oven safe to 500 degrees


Step-By-Step Holiday Tree/Christmas Tree

The contouring of the pan outlines the form and provides a generous backing to hold the cake. Crafted of quality aluminum, this bakeware heats evenly and keeps interiors moist while allowing surfaces to gently brown. Lightweight yet durable, it also retains its shape and transfers detailing clearly to the food surface. When the party is over, the pan cleans easily so there's less time spent in the kitchen washing up. Cake pan is used and not in original box.


Wilton Aluminum Treeliteful Pan

Christmas tree baking pan makes wonderful holiday cakes
Also perfect for gelatin molds
Comes with decorating instructions
Dishwasher-safe aluminum
15 by 12 inches by 1-3/4 inches


Nordic Ware Christmas Tree Classic Baking Mold

Cast aluminum
Non-stick finish
Easy and effortless clean up
8 cup capacity
Made in the USA


Mini Christmas Tree Cake Muffin Pan 6 Molds 1.5 Deep

Mini Christmas Tree Cake Muffin Pan 6 Molds 1.5 Deep


Eddingtons Christmas Tree Cake Pan

Width 19cm at widest part, Height 27cm, Depth 4cm
Hand Wash Only
An easy way to make a novelty cake


Christmas Tree Wilton Cake Pan Baking Mold

Christmas Tree Wilton Cake Pan Baking Mold


SILICONE CHRISTMAS TREE PULL APART CUPCAKE PAN CAKE BAKING MOLD GREEN

Flexible non-stick silicone pan.
Each Pull-Apart piece is a cupcake.
Measures 10¾" x 8½" (27.3cm x 21.6cm).
Dishwasher and oven safe at 225°C / 437°F
Cupcake recipe and care instructions included.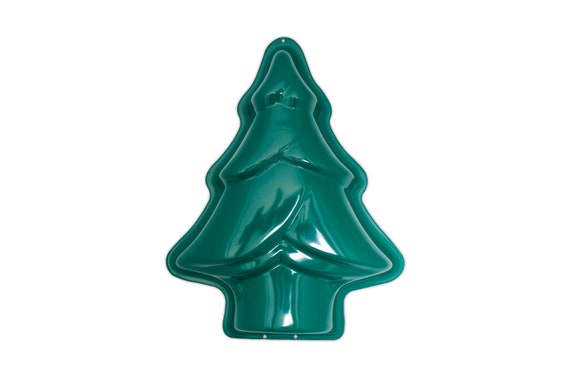 Christmas Tree Nonstick Cake Pan – 6 Cup

Christmas tree shaped non-stick cake pan, 6 cups.
Made in Portugal. Brand new.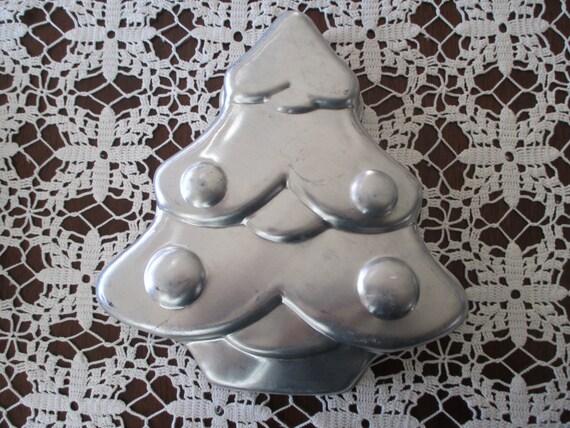 Vintage ALUMINUM Christmas Tree Cake Pan with ornaments

Ready for your holiday baking! A vintage cake pan shaped like a tree. It's in good vintage condition with some minor wear from time, but no damage.
measures 9″ x 8.5″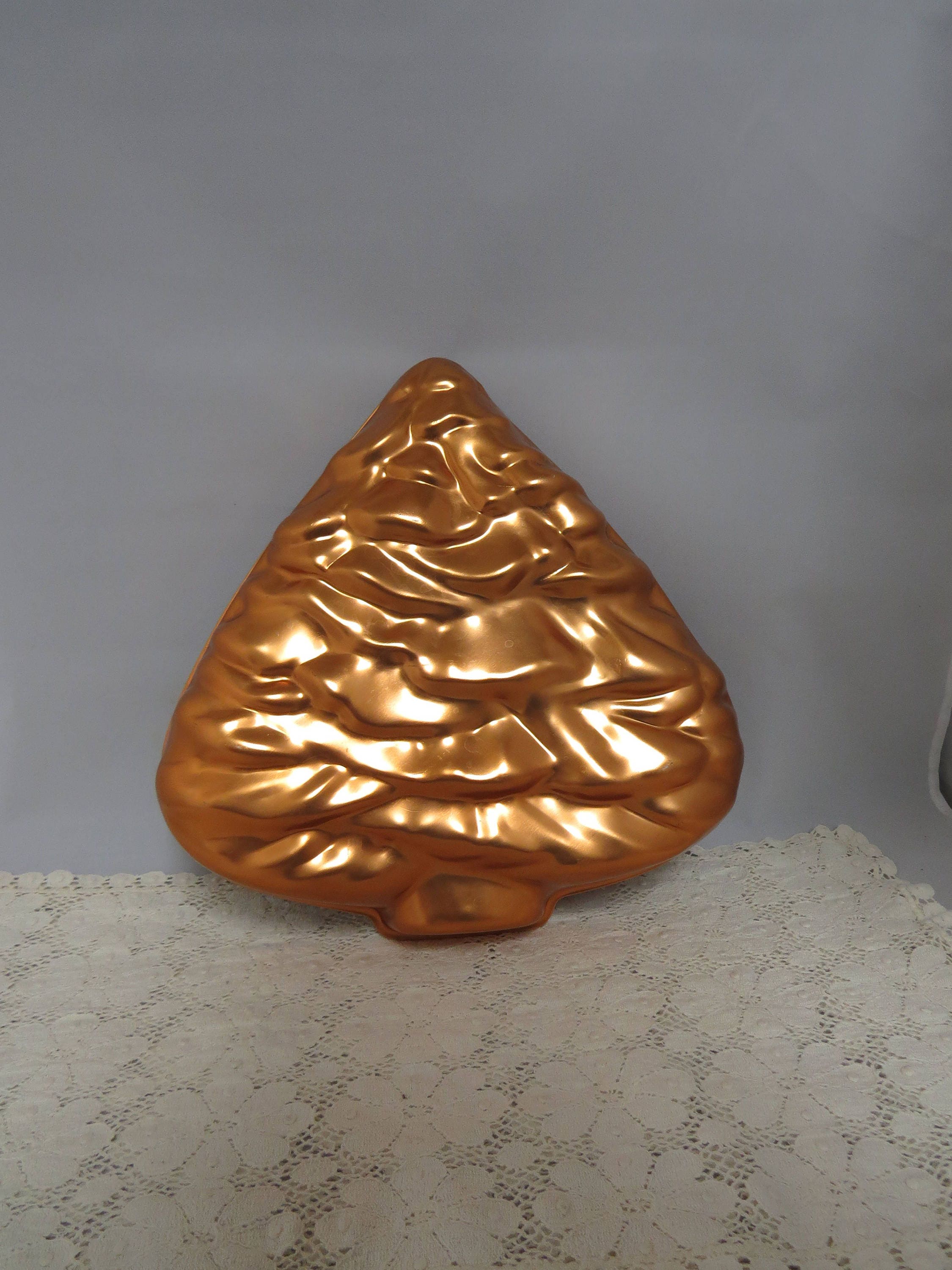 Vintage Christmas Christmas Tree Cake Pan Jello Mold Copper Tone Wall Decor

Vintage, copper tone, aluminum cake pan or Jello mold in the shape of a Christmas tree. There is a loop for hanging if you wish to use it as decor also.
I find no flaws.
Measures 11 3/8″ tall X 11″ wide X 1 7/8″ deep.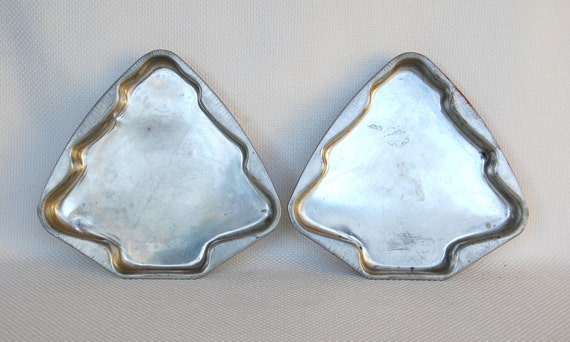 Set of 2 Vintage STEEL Christmas Tree Pans, Pine Tree Cake Pans, Steel Cake Pans

Great set of 2 vintage steel Christmas tree cake pans, with a tiny bit of rust included! These are not marked but have the heft and construction of quality baking pans. They measure 10.25 inches tall by 11 across (at the bottom bough of the tree) by 1 inch deep, one has a bit of rust, along with a few small dents, as shown in the photos.
Pans have scuffs, scratches and some light rust.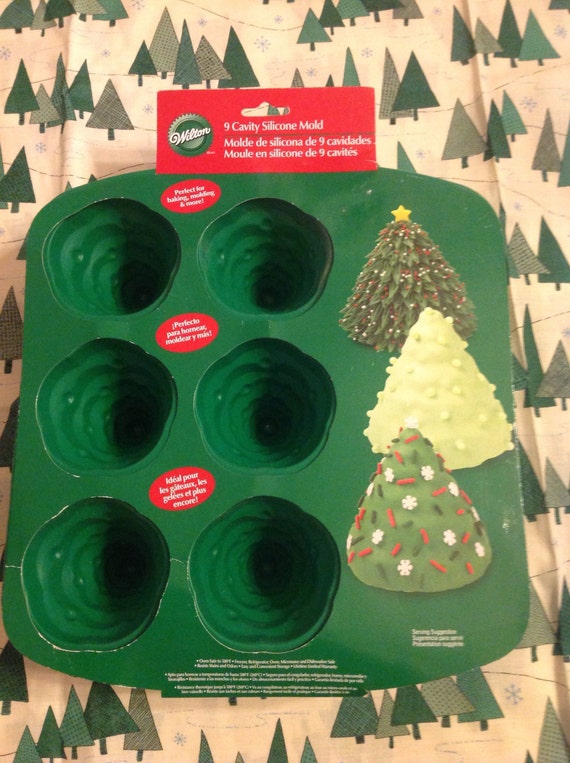 silicone Christmas tree cake baking pan winter baking W3

Tree silicone 9 cavity pan for winter and holiday fun with the
New but cardboard has wear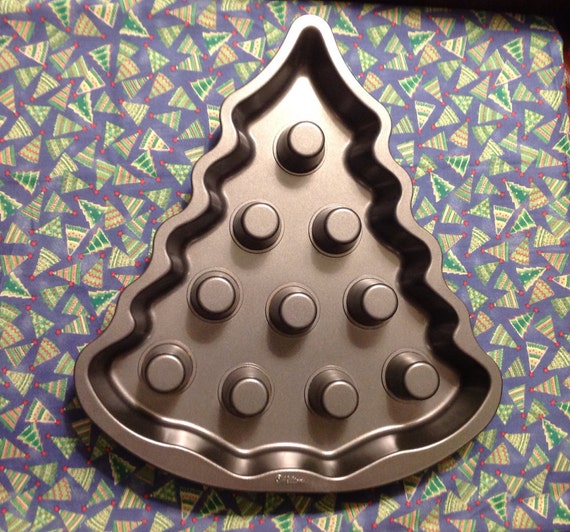 Christmas Tree Cake Pan Wilton

Extra Nice condition Wilton Christmas tree bake and fill cake pan.
What a hoot! Lots of possibilities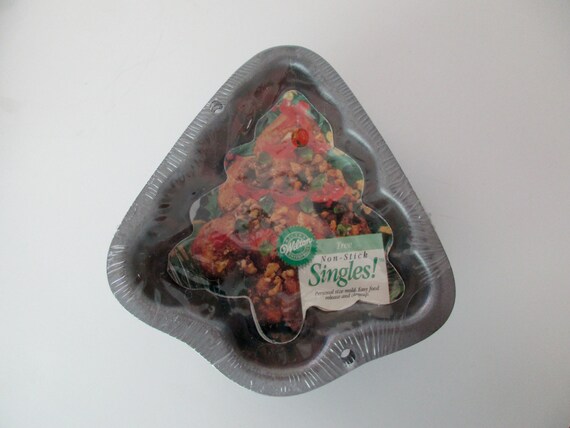 4 vintage Wilton non stick Tree Cake single pans – new, unused, molds

Ready for your holiday baking! A set of 4 cake pans by Wilton shaped like trees. New, in the package….
measures 5″ x 5″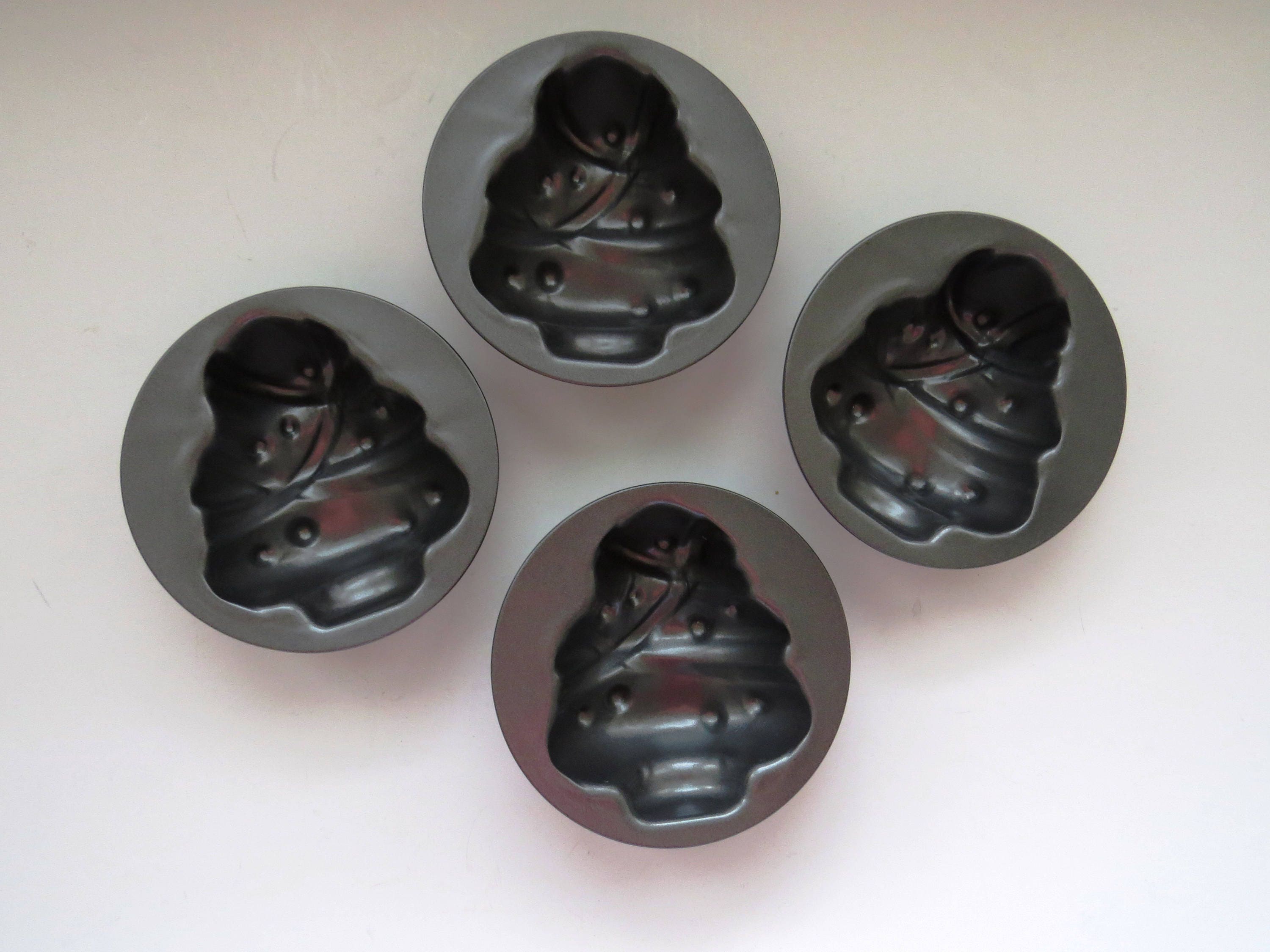 Christmas Tree Cake Pans – Four Aluminum Mini Cakes Cupcakes Muffins Jello Brownies Tins –

Surprise the children this holiday with mini cakes, cupcakes, muffins, brownies or jello in the shape of little Christmas trees. Adults and children will enjoy decorating the mini trees – a great way to spend quality time as a family!!
This set includes FOUR mini Christmas tree baking pans.
Features:
– Non stick
– Aluminum
– Tree size – 4″ long by 3″ wide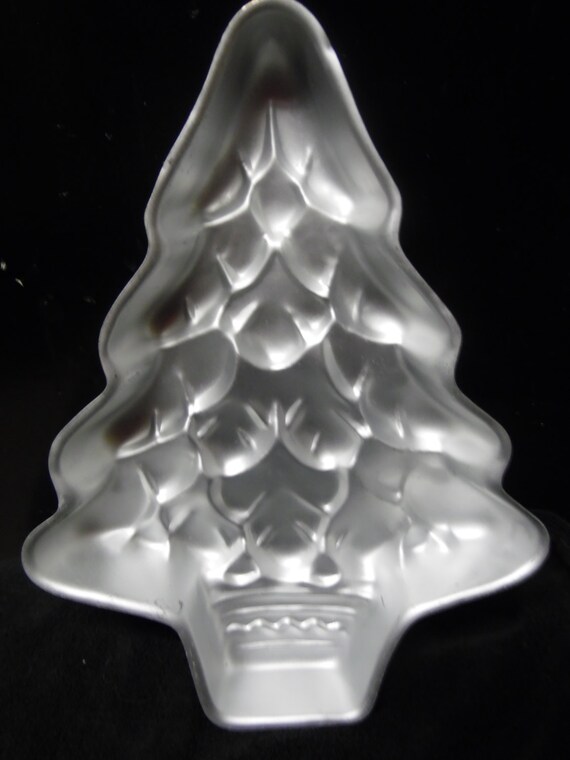 Christmas Tree cake pan by Wilton

Here we have a Christmas Tree cake pan by Wilton. It is a used item. No pattern page comes with this cake pan. Has scratches from use.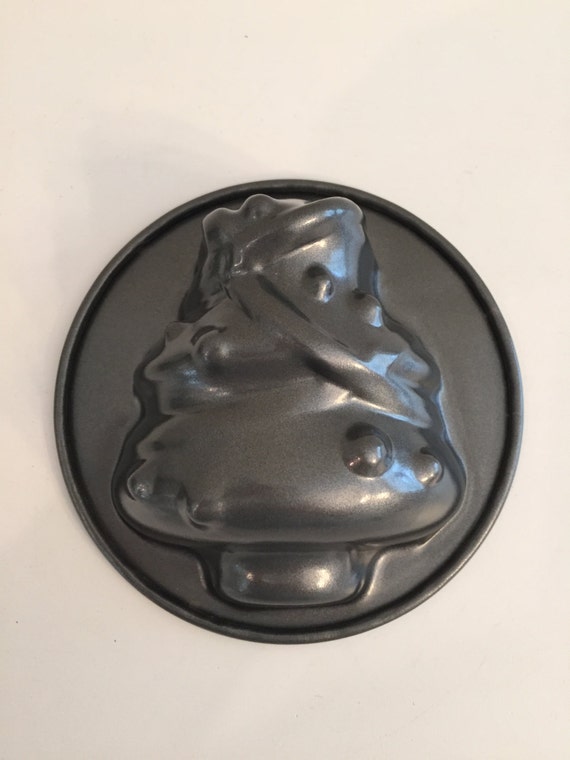 Five Individual Christmas Tree Cake Pans, Molds

Such a cute Christmas tree to bake and decorate!
A lot of 5 Christmas tree baking pans/molds. New in the sealed cellophane (except the one I opened to take the photo). Non stick pans.
Nice for making individual cakes for Christmas parties at home or for school. Or freeze water in them for ice molds for the punch.
Tree is 4″ tall.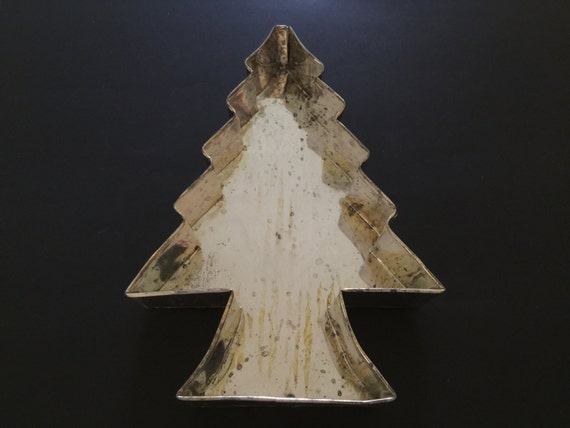 Vintage Williams Sonoma Tree Cake Pan

Vintage tree cake pan.Vintage condition, some dents: please look at pictures for furthers details.
Measures approx 12 1/2″ long x 9″ widest x 2 1/2