Black Panther ~ Cupcake Topper ~ Edible Frosting Image


Easy to use. Trim image with regular scissors. Purchase your cupcakes from your local bakery or grocery store or create your own and add your image later. Contains no known allergens or peanut products. FDA approved and certified kosher. Edible icing art is a great way to make a cake and cupcakes look fantastic and professional. These are an easy and inexpensive way to make your cake look like a masterpiece. All icing images come with instructions. Simply remove the edible icing art from backing and place on top of freshly iced cake or cupcakes. After 15 to 25 minutes the edible icing art will blend with the frosting to give your cake a professional look. Prints are professionally printed on compressed icing sheets. Each topper is shipped in a plastic zip lock bag. No refrigeration is necessary! Kosher! Gluten Free! Trans-Fat Free! No Peanut Products Added! Printed on high quality edible icing paper (not wafer or rice paper) using high quality edible ink, also certified kosher. IINGREDIENTS: Tapioca Starch, Corn Syrup Solids, Microcrystalline Cellulose(E460), Sugar, Water, Glycerine (E422), Canola Oil, Polyglycerol Esters (E475), Titanium Di oxide (E171), Algin (E401), Potassium Sorbate (E202), Citric Acid (E330), Sodium Bicarbonate, Soy Lecithin (E322). Contains Soy. Cyan – water, propylene glycol, glycerine, FD&C blu e #1. Magenta – water, propylene glycol, glycerine, FD&C red #3, blue #1, and red #40. Yellow – water, propylene glycol, glycerine, FD&C yellow #5. Black – water, propylene glycol, glycerine, FD&C re d #40, blue #1, and yellow #6. Looking for another theme or design, contact us for more options!


Marvel's Black Panther Warriors Edible Wafer Cupcake / Cookie Toppers Licensed by Decopac ~ Pre Cut 2 1/2″ Round BUY TWO GET THIRD FREE!

12 per package. Pre Cut Wafers
Licensed Images by Decopac
Measure 2 1/2″ Round. Standard Cupcake Size or Cookie.
Ingredients: Potato starch & Water. FDA Approved


8 Black Panther Stickers 2″ circle Superhero Glitter Cupcake Toppers Picks Birthday Party Super Hero Wakanda Forever Party Supplies

Set of 8
Premium Glitter Paper
Crafted in the USA
You won't find these anywhere else!


Marvel's Black Panther Licensed Edible Wafer Paper Oreo Cake Pop / Mini Cupcake Toppers by MAKCreationsCakeSupply ~ 30 Pre Cut Wafer Paper 1 1/2″ Round Toppers.

30 per package. Pre Cut Wafers
Measure 1 1/2″ Round. Fits Oreos or Mini cupcakes.
Ingredients: Potato starch, Water and Vegetable Oil. Kosher & FDA Approved
Image licensed from Decopac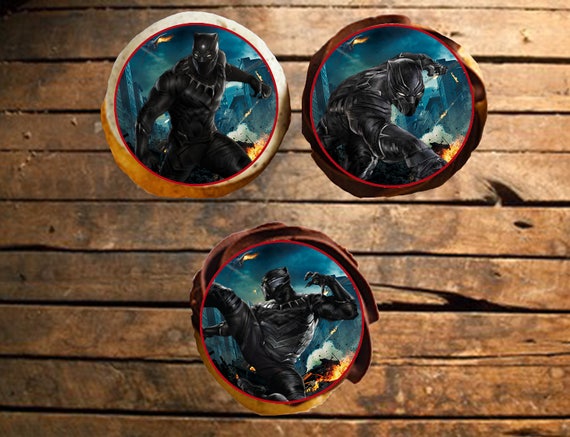 Black Panther Edible Cupcake Topper

The edible images are printed with edible ink on high quality frosting/wafer sheets.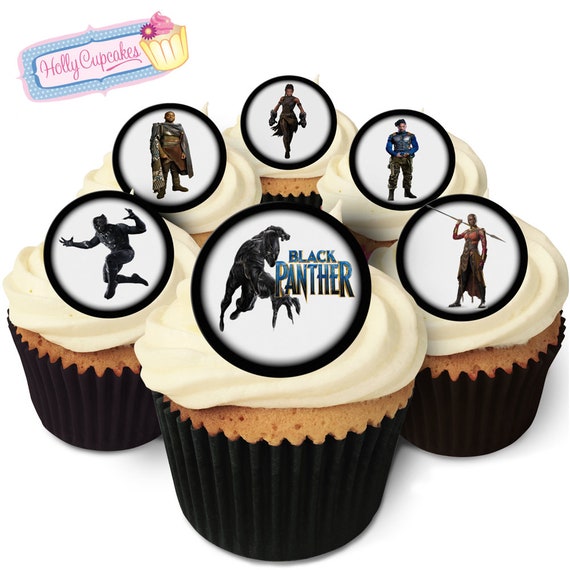 Black Panther: 24 Edible round wafer cake toppers

The pre-cut edible discs are 45mm in diameter- the perfect size for cupcakes!
The edible paper used for the decorations is sugar free, gluten free, suitable for vegetarians and will last for 12-18 months in a dry cupboard.
The edible inks used are vibrant and bright and the decorations have a lovely finish.
These fabulous edible cake decorations are designed and made with love in the UK.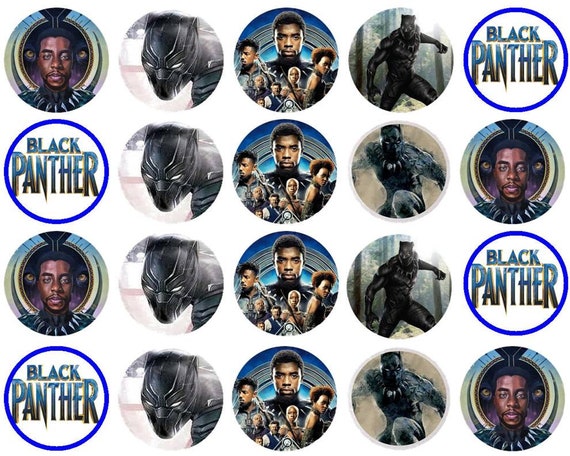 BLACK PANTHER CUPCAKE Toppers #660, Edible cupcake toppers

This listing is for 1 (one) edible frosting/icing sheet. Approx. 8 1/2″ x 10 1/2″. This sheet has 20 cupcake design. Each circle (cupcake design) can be cut out and placed on cupcakes, cookies, brownies, etc.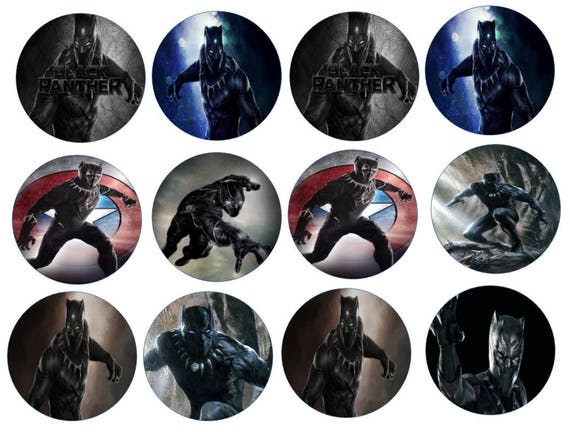 Black Panther Marvel Edible Images Cupcake, Cookie Toppers

Personalized Edible Images
Black Panther
20 or 40 Count – Cupcake, Cookie Toppers
Topper are approximately 2 inches
Topper come uncut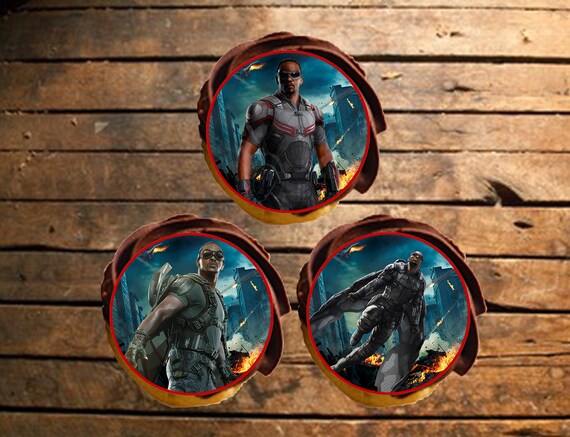 Avengers Falcon Edible Cupcake Toppers

The edible images are printed with edible ink on high quality frosting/wafer sheets. All images are customized to your requirements and printed after you have approved the proof. No printing occurs until we receive approval.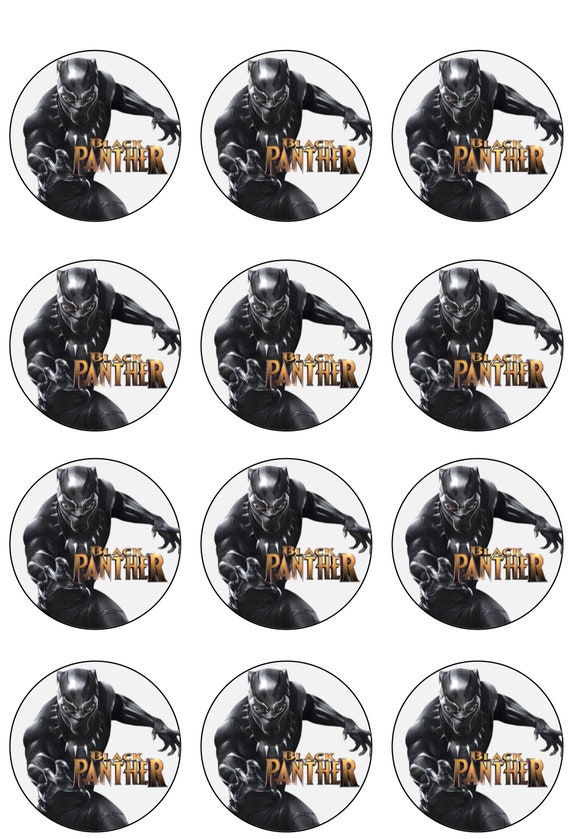 Black Cat Edible Image Cupcake Toppers | Shore Cake Supply

1 sheet of images on edible frosting paper. Each image is about 2″ round, good for cupcakes or chocolate covered oreos. There are 12 images on this page.
Edible image is not pre-cut, use clean scissor or paper punch to cut out images.
Edible paper and ink are certified Kosher. Instructions for use will be included with your order.


Marvel's Black Panther Licensed Edible Cupcake / Cookie Toppers ~ 12 Per Sheet 44527


Licensed Cake Topper by Decopac
2 1/2″ Round Toppers. 12 Images per one sheet as shown. Toppers are not Pre Cut. Toppers are printed on a solid quality Frosting Sheet and need to cut out.
INGREDIENTS Water, cornstarch, corn syrup, corn syrup solids, cellulose, sorbitol, glycerin, sugar, vegetable oil, Arabic gum, polysorbate 80, vanilla, titanium dioxide, citric acid. Packaging also states: No known allergens, gluten and dairy free. Kosher They are FDA Approved