Black Panther Cookie Cutter & Fondant Cutter Classic Superhero Black Logo for Kids and Parents – Perfect for Cookies Cake Decorating Cupcake Toppers (1 Medium 2'' x 3'')

This listing is for Black Mask Cookie Cutter. Measurements are approximately as shown. Great size for making fun cookies for any occasion, its about 1/2 " deep , enough to make thick cookies

PROTECT WAKANDA! This 3-inch Black Panther Cookie Cutter & Fondant Cutter features a movie-inspired face mask design, and imprints the face of one of the most iconic superheroes in the Marvel Universe. Decide who will be the next king (or queen) to look over Wakanda!
VIBRANIUM-GRADE TECH: Black Panther slashes his way into Battle from Wakanda! Equipped with Vibranium-Grade Technology, Marvel fans can now bake the Perfect Black Panther Cookies. Nothing says "I am the Black Panther" like perfectly designed cookies for kids and parents alike.
DIY BLACK PANTHER IDEAS FOR THE FAMILY: Make all kinds of projects your kids will love, including desserts, snacks and packed lunches. Your cutter is flexible and durable enough to make perfect Black Panther symbols for cookies, brownies, fruit shapes, cake toppers, snacks, and more.
GUARANTEED FAMILY FUN: Bakelights mission is to bring families closer together through fun activities in the kitchen. We believe in promoting bonding, togetherness, and creating memories that last a lifetime.
MADE IN THE USA: All products are made and packaged in the United States.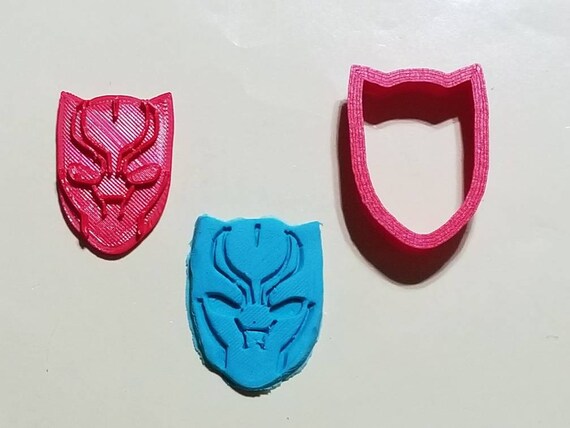 Black Panther Cookie Cutter with Detail Impression Disc/Fondant/Candy/Soap Cutter

A must have for all Superhero themed parties, this cutter is perfect for cookies/fondant/ and candy making and is available in multiple sizes. Included is also our custom detail impression disc to decorate the mask shaped goodies.
-Available in 2, 3, and 4 inch cutters and are 1/2 inch deep. Custom sizes available upon request.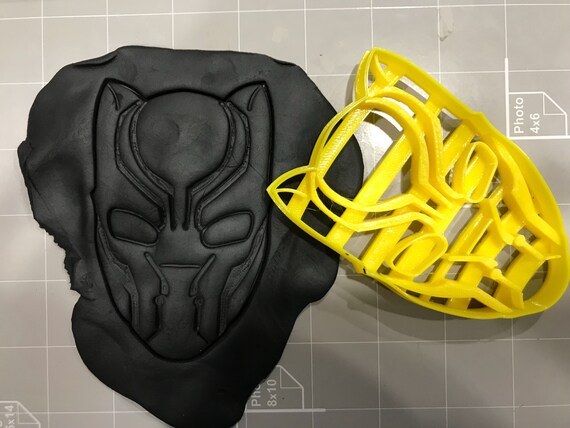 Black Mask Cookie Cutter

If you have a custom shape or logos in mind please contact us for your unique custom orders.